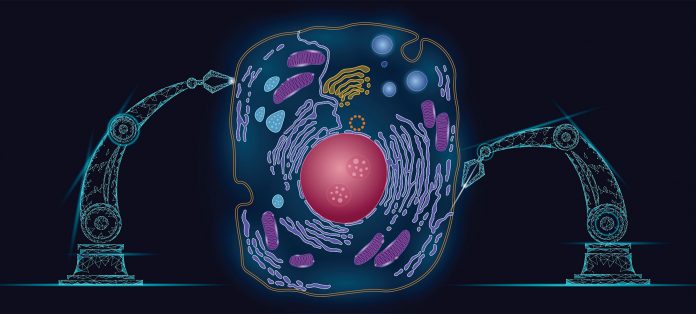 If hundreds of thousands of mu of raw material medicine planting vegetation can be replaced by a 100 square meter production workshop, this will undoubtedly save a huge cost for the upstream raw material medicine production of drug research and development. Such a design is not a dream. Since its establishment, SynBioLab has been focusing on the development of synthetic biology in the fields of biomedicine and functional food, and based on this, it has built a proprietary synthetic biology green manufacturing platform.
Synthetic biology mainly refers to artificially "designing" the structure and biological functions of living organisms through computational design, synthetic reconstruction, and editing control, so as to break through the limitations of natural biological evolution and promote disruptive technological innovation. These artificial life forms (cells) often need to be directed to accomplish various tasks envisioned by designers.
"We are experiencing a revolution in synthetic biology. Through synthetic biology, from the design of biological elements to the design of living organisms, the ability of microbial cell factories to produce chemicals is improved, and the creation of new strains and new processes can effectively replace traditional processes. Significantly reduce pollution, greatly reduce energy consumption, and improve the technical level of traditional industries." This is the prediction recorded by SynBioLab on its official website. The company is using genetic modification to artificially design bacterial strains that can produce target compounds ( Cell factory) to replace tens of thousands of acres of raw material compounds that need to be planted.
Solve the problem of scarcity of Chinese herbal medicine resources and save 30% of the cost of synthetic green manufacturing
Xinbele CEO Wang Xiao is a PhD in genetics from the Chinese Academy of Sciences, focusing on big data analysis of biological information. Before founding SynBioLab, she had been exposed to a large number of Chinese herbal medicine resources while studying in Yunnan, and had cooperated with many pharmaceutical companies. It was also this experience that made her keenly aware of the pain points in the production of APIs upstream of pharmaceutical companies.
In the four years from 2013 to 2017, 10 synthetic biology start-ups have completed financing of 100 million US dollars and above, such as Zymergen, Editas Medicine, Juno Therapeutic, Novome Biotechnologies, etc. The rapid iteration of synthetic biology technology, and the related track It is mushrooming and developing rapidly.
After graduating from his Ph.D. in 2018, Wang Xiao and several other partners who were also cross-border began to experiment in this direction based on synthetic biology technology. The founders have their own strengths, and their expertise is diverse and complementary, and they can help the SynBioLab project to be implemented quickly from different perspectives.
As the first echelon company in China to intervene on the track, SynBioLab is based on the various advantages of synthetic biology, uses "all molecules in all microorganisms", and focuses on the improvement of strains and the transformation of industrialization into medicine, agriculture, chemistry and materials. , Electronic technology, fragrance, health care and medicine, household and industrial cleaning, personal care and waste treatment, etc. provide solutions for many industries that cover almost all aspects of people's lives.
Wang Xiao told Artery Network that SynBioLab has its own selection criteria when selecting suitable target compounds:
First, the selected compound must have high added value and has been recognized as having high clinical medicinal value;
Second, consider whether the traditional production method of the compound has barriers that are always difficult to overcome;
Third, we will judge the market development potential of the compound at the core, and it must have a large market scale.
Under the guidance of this set of standards, SynBioLab took the lead in selecting biosynthetic cannabinoids as a core project in 2018. Cannabinoids are a group of terpene phenolic compounds found in marijuana. They also naturally exist in the animal nervous and immune systems, and have a variety of pharmacological effects on the nervous system. Taking cannabinoids as an example, we discussed the exploration of natural products from Chinese herbal medicines in synthetic biology.
SynBioLab CEO Wang Xiao said that biosynthetic cannabinoids are a core means of concentrating cannabinoids. It provides an affordable way to obtain rare, potent and sustainable ingredients. SynBioLab first finds the metabolic pathways of cannabinoids metabolized by the cannabis plant through computational analysis, and then designs the cell factories that can secrete cannabinoids through functional module design and metabolic pathway optimization methods. This cell factory can replace traditional cannabis cultivation to obtain cannabinoids, and help pharmaceutical companies obtain large amounts of high-purity cannabinoids in a short period of time (no more than half a year).
Compared with traditional plant extraction methods, biosynthetic cannabinoids can effectively get rid of the influence of weather and geography and save arable land; occupy less resources and can be produced quickly on a large scale; only a few weeks of fermentation cycle, replacing months or even A planting cycle of several years; it can create high-purity rare raw materials, and the structure of the medicine is the same as the natural structure and has the same effect.
It can be said that the biosynthesis method uses a dense and efficient form, replacing tens of thousands of square meters of planting area with a hundred square meters of fermentation workshops, synthesizing high value-added core drugs with low-cost raw materials, and biosynthesis with high purity The cannabinoids also avoid the interference of THC (addiction-causing ingredients) when traditional cannabinoids are extracted.
Regarding the cannabinoid market, according to the latest data report of the Bank of Montreal, the United States and European countries have completely legalized cannabis, and the global cannabis market may increase to US$194 billion within 7 years. It is estimated that by 2024, Europe will have the largest legal cannabis market, of which the medical market accounts for 57% of the total value. The total value of the European market is expected to reach 39.1 billion US dollars in 2024.
Faced with such a huge market, Wang Xiao said that choosing the cannabinoid project is not chasing hot spots. The technological core behind this pipeline has great radiance and ductility. Through the opening of the cannabinoid technology path, Simbele can be effective. Establish a cell factory library of terpenoids and related drugs and a series of enzyme element libraries to achieve more links and radiation in the drug market.
Wang Xiao told Artery Network that in the future, artificial biosynthesis of cannabinoids can save pharmaceutical companies nearly 20% of the raw material production costs. The layout of SynBioLab goes far beyond cannabinoids. The company also synthesizes a variety of compounds including but not limited to paclitaxel, phloretin, etc., using cell factory pure enzyme reactions. The production cost of these compounds can be directly reduced by 30% to 50% in the next few years.
In terms of strategy, SynBioLab adheres to the "walking on two legs" model of long and short projects. While developing biomedical plant-derived raw materials (long projects), it is also developing functional foods (tagatose, stevioside). Etc.)-based foods with functional effects (short items) to quickly and accurately enter the market and obtain capital flows.
It is reported that SynBioLab recently launched a pre-A round of financing plan. It plans to raise 15 million yuan in order to improve and iterate the synthetic bio-green manufacturing platform and promote the faster pilot and industrialization of existing projects. Together with other young teams in the field of biology, this cutting-edge technology and the industrialization that is still in its infancy stage can be better implemented and germinated, and burst into more vitality.