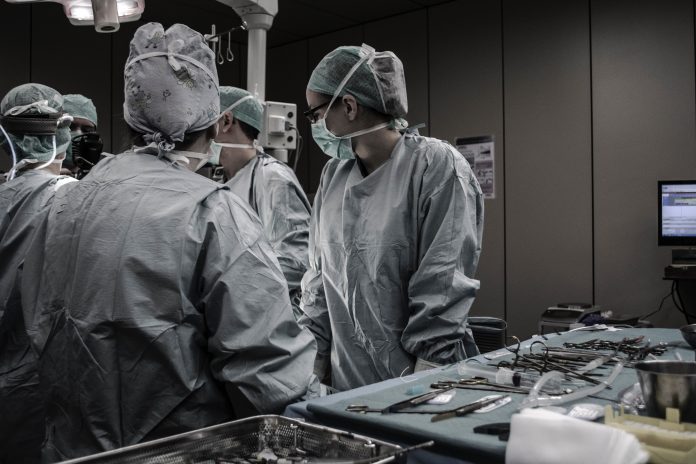 Chinese customs statistics show that the export value of China's medical equipment products in 2018 was 23,630 million US dollars, an increase of 8.88% year-on-year. Among them, in 2018, the export value of medical device products in countries and regions along the "Belt and Road" was US $ 4.963 billion, a year-on-year increase of 10.89%.
In recent years, medical devices made in China have begun to be favored by more and more countries due to their cost-effective advantages. Many domestic medical device companies have taken the development of overseas markets as one of their priorities. Yiliaomsl is an S2b company focusing on medical devices going abroad.
Yiliaomsl is committed to reducing intermediate circulation and directly selling medical devices to overseas terminal hospitals through the model of Internet + offline partners. Compared with the traditional offline visit + participation model, the Internet + offline partner model can significantly reduce marketing costs and improve efficiency for companies. Since its establishment in 2013, Yiliaomsl's products have been sold to 178 countries. In the past six years, the company's turnover has grown rapidly at a rate of over 95%, and it has started to achieve continuous profitability in 2017.
Marketing methods such as offline visits and participation in exhibitions are costly and inefficient
In 2013, China put forward the strategic ideas of constructing the "New Silk Road Economic Belt" and "21st Century Maritime Silk Road". The "Belt and Road" has improved cross-border payment, customs clearance, cross-border logistics and other mechanisms, and has established a bridge for economic exchanges between China and the "Belt and Road" region.
The proposal of the "Belt and Road" has made Yixinmsl's founder Hu Xinlong see the huge market opportunities for Chinese companies going abroad. "In addition, Chinese medical devices were more than 10 years behind Europe and the United States at that time, so the next 10-20 years will be a period of rapid growth of Chinese medical devices, and medical device products involve electronics, mechanical engineering, and medical interdisciplinary interdisciplinary. Barriers, like Buffett's theory of rolling blood cells, have a long slope, and the snowballs are thick enough for us to do our whole life. "Therefore, in 2013, Hu Xinlong and Chen Zhangbiao founded Yiliaomsl in Guangzhou, focusing on medical devices Go to sea.
Hu Xinlong said that there are obvious pain points in the field of medical equipment.
From the perspective of China's medical device manufacturers, medical devices going overseas require independent foreign trade teams and local marketing strategies. Moreover, in terms of marketing model, China's medical device shipping companies usually adopt offline visits and participation in exhibitions for marketing, and the marketing cost is as high as 25%, which is very high.
Hu Xinlong said: "There are 18,000 domestic medical device manufacturers, and the average annual sales in overseas markets are less than 20 million." Many well-known domestic medical device manufacturers, currently the main market is still domestic, encountered when developing overseas markets Many challenges. But it also means that the track that Yiliaomsl is on and what it is doing is very valuable.
From the perspective of overseas terminal hospitals and clinics, hospitals and clinics have pain points such as high procurement costs, difficult one-stop procurement, and difficult customs clearance. "Domestic medical device manufacturers-foreign national agents-foreign regional distributors-terminal hospitals" is the traditional medical device shipping model. After many resales and resellers' price increases, the final selling price of medical devices is far from the ex-factory price.
Internet + offline partner model, sold directly to overseas terminal hospitals
Before founding Yiliaomsl, Hu Xinlong worked for Global Vision Group, responsible for overseas marketing of medical devices, and has many years of Internet marketing experience. In addition, Yiliaomsl's core team has an international perspective and rich experience in overseas sales and online marketing of medical devices.
Internet technology offers unlimited possibilities for low-cost marketing. Hu Xinlong believes that the Internet can exchange information beyond time constraints and space constraints. It has the characteristics of low cost and strong timeliness. It can effectively solve the disadvantages of high cost and low efficiency of the traditional marketing model and achieve accurate marketing.
Hu Xinlong said: "Yiliaomsl has a strong network marketing gene." Regarding how to do a good job in network marketing and increase exposure, the company has a unique strategy.
After case precipitation, Yiliaomsl's internal experts sorted out the case library, and used the keyword index function to quickly and accurately provide personalized one-stop purchasing solutions, improve service efficiency, and promote sales. In addition, the company's sales team will provide reminders such as consumable repurchase reminders, mechanical maintenance reminders, and product iteration recommendations based on customer sales data, product characteristics, global climate change, and the environment.
Yiliaomsl integrates the domestic medical device industry chain, creates an Internet platform, improves product exposure through online marketing, sells domestic medical devices directly to overseas terminal hospitals, shortens the circulation link, reduces product prices, and saves procurement costs for hospitals. It is understood that Yiliomsl's official website daily visits about 1800 people, the average single traffic cost is only 0.8 yuan.
In terms of supply chain, Yiliaomsl has established cooperative relationships with more than 500 domestic medical device manufacturers, becoming the world's only distributor for multiple manufacturers.
In addition, Yiliaomsl emphasizes enhancing user stickiness, and will conduct in-depth communication and continuous maintenance with each customer, develop customers into offline partners, expand overseas markets through partners, and better serve terminal hospitals.
"The traditional marketing method costs up to 25%. Through the Internet + offline partner marketing model, Yiliaomsl reduced the customer acquisition cost to 1%, and the product price has also been reduced by at least 50%." Hu Xinlong said.
Will set up subsidiaries overseas to solve after-sales problems efficiently
After-sales service is a headache for medical device companies. At present, Yiliaomsl mainly guides customers to carry out maintenance through online methods.
In December 2019, Yiliaomsl completed a Pre-A round of tens of millions of yuan. Yiliaomsl will use this financing for the construction of the SAAS system and the establishment of Philippine subsidiaries and overseas warehouses. After the completion of the system, it is expected to double the company's internal operating efficiency. The establishment of subsidiaries and overseas warehouses will enable core products to be delivered in the Philippines within 48 hours. Up to 24 hours to solve after-sales problems of hospital customers.
According to Hu Xinlong, from the home office to the formation of a team of more than 30 people, it has become Alibaba's dream-finding base. It took only two years for Yiliaomsl. At present, Yiliaomsl has more than 5000 customers, SKU exceeds 8000, and its products are sold to 178 countries and regions around the world. The annual turnover has grown at a rate of 95%, and it has achieved continuous profitability in 2017.
At the beginning, Yiliaomsl set a mission to "reduce the medical expenses of patients and make the people in the world see the disease." One thing, Hu Xinlong has been impressed so far. He noticed in Congo that a black and white ultrasound that cost more than 700 US dollars in the country, the price in Congo gold is as high as 5,500 US dollars, and the difference is as high as 4,800 US dollars. "$ 4,800 is enough for a local family of four to live for four years." Now, with the efforts of Yiliaomsl, the price of a black and white ultrasound overseas has dropped to about $ 1,200, and the price has dropped significantly.
In the future, Yiliaomsl will continue to deeply explore the medical device market, and provide more cost-effective medical devices to more patients.
Regarding the development potential of the medical device market, Hu Xinlong expressed optimism. "There is at least a 20-year golden development period for the medical device to go to the sea. There are two similar companies in the United States with a history of over 100 years. I believe that China can also create a century-old company in this field."