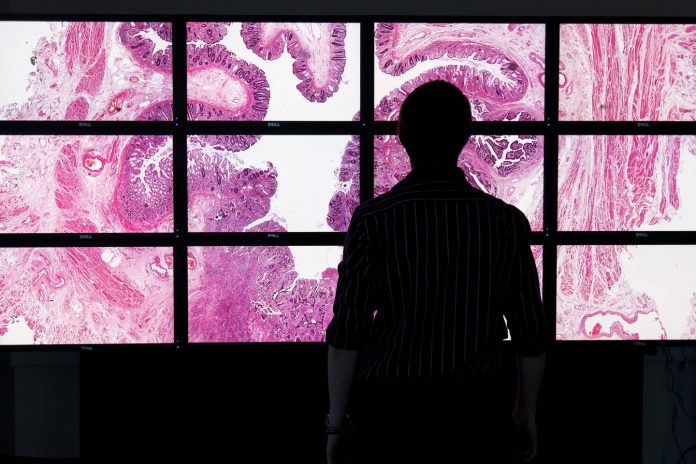 Pathological diagnosis is the "gold standard" of medical diagnosis and the cornerstone for doctors to treat patients correctly. At present, there are pain points in the pathological diagnosis work in my country that pathological resources are unevenly distributed, pathologists are lacking, and the level of diagnostic technology is relatively backward and uneven. However, with the further penetration of AI technology in the field of medical diagnosis, the growing demand for more efficient and accurate diagnosis at the grassroots level, and the policy-supported pathological service price increase, digital pathology has become a new breakthrough in the field of pathological diagnosis.
How popular is digital pathology? We can see the leopard from the market scale. According to the 2020 World Congress of Pathology report, it is estimated that by 2024, the pathology market will reach US$44.4 billion from US$30.3 billion in 2019, with a compound annual growth rate of 6.1% from 2019 to 2024. According to GrandViewResearch's forecast, the global digital pathology market will be worth US$767.6 million in 2019, with a compound annual growth rate of 11.8% by 2027.
Facing such a huge demand and market, many innovative companies are actively exploring and deploying. FOSUN AITROX is one of them with strong development momentum. As Fosun's first independently incubated artificial intelligence company, FOSUN AITROX is a high-tech company focusing on medical artificial intelligence. In its multi-product matrix, it currently mainly covers the three major product lines of imaging, pathology and information systems.
At the Digital Pathology Summit Forum on August 28, 2021, "AI Empowers, Smart Mirrors See Micro", FOSUN AITROX will bring the country's first multi-functional analysis system that can simultaneously realize microscopic scanning, intelligent analysis, and digital image microscopic management "Xingmai Jingling" appeared. The field of pathological screening has also ushered in a new technological leap.
Wang Jian, director of the Department of Pathology of Fudan University Cancer Hospital and head of the Bone and Soft Histology Group of the Pathology Branch of the Chinese Medical Association, said in the opening speech that Fudan Cancer Hospital and FOSUN AITROX have carried out close cooperation in some areas and achieved extraordinary results. . He believes that digital pathology is a major trend in the future. Under the background that FOSUN AITROX and AI technology urgently need to be implemented, the development and research of FOSUN AITROX in digital pathology at this stage is of great practical significance. He also hopes that Xingmai Jingling can really help To the pathology department, continue to develop good products to serve clinical pathology. At the same time, Wang Jian also hopes that Fudan Cancer Hospital can form an in-depth cooperative relationship with FOSUN AITROX, apply mature AI systems and technologies to the clinic, and better help clinical pathological diagnosis from point to surface, and truly create a digital and intelligent Pathology.
Liu Dongge, director of the Department of Pathology of Beijing Hospital and appointed chairman of the Pathology Branch of the Chinese Medical Association, said in his speech that from digital imaging to digital operating rooms, from image screening to preoperative planning, artificial intelligence has become a standard quality control in many departments. Missing tools. The Digital Pathology Department is equipped with artificial intelligence and has unique advantages. The deployment of artificial intelligence in digital pathology has also begun, and the preliminary results of many pilots are encouraging. We have seen a number of successful applications for national-level scientific research projects of pathological artificial intelligence, more and more industry-university-research projects have been implemented, and the country has a regulatory consensus on the registration and approval of related products. We look forward to the first three categories of pathological artificial intelligence. The registration certificate will come out as soon as possible.
Based on this background, FOSUN AITROX's first pathology department software and hardware integration system in the industry not only includes digital microscopic image scanners and image management systems suitable for use in hospitals at all levels, but also starts from a single disease and integrates the best in China. Excellent pathologists and the world's best R&D team have realized the development of artificial intelligence products on a digital basis.
As an enterprise that has been committed to the development of pathology for a long time and determined to be rooted in the pathology track, FOSUN AITROX also issued an initiative to all pathology experts and industry colleagues at this summit: together to establish the China Digital Pathology Alliance to create a close integration A high-quality digital pathology platform that integrates scientific research, comprehensive in-depth industry, and integration of various forces, promotes the digital and informatization development of my country's pathology career from academic research to industrial landing, and contributes to the country's ability to form a first-mover advantage in this field.
The summit also invited Siemens, Roche, Leica, AstraZeneca, Hao Luojie, Hengdao Pathology, Shanghai Pharmaceutical Medical Devices and other industry manufacturers to discuss the current situation, pain points and future development of medical artificial intelligence + pathology.
In recent years, domestic and foreign research teams have successfully realized the diagnosis and identification of multiple diseases in the imaging field through "AI + pathology", with partial accuracy rates exceeding 90%* (clinical verification scientific research data). At this stage, pathology AI is in the process of moving from data accumulation to algorithm refinement, and is being used as a part of the overall solution of the digital pathology department to make the entire pathology more efficient. Based on the current macro understanding of the domestic digital pathology industry, Artery Network believes that digital pathology has become an important development trend in the pathology diagnosis industry.
As a leading company in the domestic digital pathology industry, FOSUN AITROX is determined to provide the most complete and mature products for clinical use. Since its establishment, FOSUN AITROX has always used technology research and development and reserves as an important means to enhance the company's core competitiveness, and has now built high technical barriers. All its products and technologies are independently developed and have completely independent intellectual property rights. Its technological advancement, scale of business expansion and demonstration of development quality have also been recognized and affirmed by customers and the industry. In particular, it is worth mentioning that not only the software, FOSUN AITROX has also achieved complete autonomous controllability on the hardware, which solves the potential "stuck neck" problem of digital pathology in China, and realizes the domestic replacement of digital pathology diagnostic equipment. The rapid domestic development has laid the foundation.
It is understood that FOSUN AITROX now has more than 100 patents both domestically and internationally. In terms of scientific research results, FOSUN AITROX has also achieved outstanding results. It has published 16 scientific research results in top conference journals with a cumulative impact factor of 60+. FOSUN AITROX has completed 10 major ministries and commissions in total, including scientific research projects in cooperation with key departments of top tertiary hospitals, such as the National Natural Science Commission, the Commission of Economy and Information Technology, and the Science and Technology Commission.
In terms of the service layout of the digital pathology industry, FOSUN AITROX uses AI to drive medical technology and actively breaks through the AI ​​medical industry's energy level restrictions. Intelligent solutions companies. Its products include: digital microscopic image analysis system Xingmai Jingling, digital pathology image information management system (MIIS), artificial intelligence auxiliary analysis three mature auxiliary diagnosis solutions, has cooperated with dozens of domestic medical institutions, ranking in the industry The first camp, and Xingmai Jingling and MIIS system have obtained the second-class medical device registration certificate.
In the field of pathology, the blessing of AI technology has created new possibilities and value for disease diagnosis.
In response to the application requirements of pathological data intelligence, FOSUN AITROX independently developed the country's first multi-functional analysis system "Xingmai Jingling" that can simultaneously realize microscopic scanning, intelligent analysis and digital image microscopic management, and built "image scanning, One-stop pathology service process of "diagnosis analysis, report writing". Xingmai Jingling is composed of fully automatic microscope hardware and artificial intelligence analysis software. At present, it has accumulated more than 20 patents related to this product, and has won 7 achievements in top journals. It is the number one patent in the field of pathology AI and has been successfully selected in Shanghai. Catalog of artificial intelligence innovation products.
Through the automatic scanning of hardware, Xingmai Jingling can scan and convert traditional physical slides into digital images, and then analyze the digital images by the artificial intelligence model of deep learning; then use AI technology to intelligently analyze the lesion images and issue them with one click Structured reports can quickly, efficiently and accurately assist primary-level doctors in diagnosis.
In terms of accuracy, the intelligent analysis algorithm carried by Xingmai Jingling can accurately locate the lesion area and intelligently distinguish benign and malignant, covering various applications such as cervical cytology, immunohistochemistry, and rapid on-site cytology evaluation (ROSE), and has reached Sensitivity of more than 90% (clinical verification scientific research data), significantly reduces the probability of doctors' misdetection and missed detection, improves the accuracy of doctors' reading of pictures, and obtains more accurate pathology report results.
In terms of efficiency, Xingmai Jingling's digital microscopic scanning system can achieve full coverage of clinical specimens in both bright and dark fields, and can run fully automatically and stably for 1,000 consecutive hours to achieve high-speed scanning and panoramic imaging. The system can complete the entire process within 2 minutes, which not only guarantees accuracy, but also greatly shortens the time for doctors to read pictures while watching and scanning. Compared with the traditional reading method, under the blessing of the AI ​​system, a single device supports the scanning volume of 600-1200 slides per day, and achieves "zero fragmentation" scanning.
In terms of digital pathology image information management, FOSUN AITROX's self-developed digital pathology image management system (MIIS) integrates "digital pathology + AI" into an intelligent digital pathology sample management platform to help the digital development of pathology departments and meet the needs of pathology departments. Requirements for slice digital management, digital pathological diagnosis, quality control management, scientific research and teaching.
For doctors, the MIIS system can provide a supporting scanning workstation, which automatically connects to the digital microscopic image management system, realizes digital slice management, data design and digital slice browsing, and reduces the work pressure of pathologists; for clinicians, the MIIS system supports The slices are labeled for scientific research and teaching and training. At the same time, the patient information can be associated with doctors to view at any time to improve the level of clinicians' diagnosis and treatment. In terms of hospital quality control and department management, the MIIS system is also equipped with intelligent data analysis, intelligent review and evaluation, Diagnosis level comparison and other functions optimize the quality and standardization of the pathological diagnosis process, and improve the traceability and repeatability.
In order to promote hierarchical diagnosis and treatment, FOSUN AITROX has also actively developed a digital, cloud-based, and intelligent remote pathological diagnosis platform for medical consortia and medical institutions at all levels in the region based on MIIS's digital intelligence service function, realizing various hospitals and hospitals. Interconnection, data sharing, and business collaboration with regional centers. At the same time, it provides the diagnosis and report of digital pathology, and the process management of authority, as the management of digital pathology diagnosis and management between the main hospital and branch hospitals, medical consortia and remote. In 2019, the FOSUN AITROX medical pathology cloud platform obtained the trusted cloud certification jointly issued by the China Academy of Information and Communications Technology and the Internet Medical and Health Industry Alliance.
At the same time, as an intelligent medical platform, MIIS also realizes the functions of AI intelligent diagnosis and treatment and building an intelligent scientific research platform, which can support all clinical scientific research needs of undergraduate rooms, departments and clinics, cross-divisions, and cross-regions.
In the scientific research of AI in cervical cell pathological diagnosis conducted in cooperation with a hospital in Shanghai, the characteristics of Xingmai Jingling have been perfectly demonstrated. Research results show that the introduction of artificial intelligence technology into cervical screening will help reduce the time of single-chip screening, significantly improve the efficiency of cervical cell screening, and enhance the consistency and stability of cell screening results and the consistency of comparison with biopsy results It can also increase the positive rate of cervical cell screening and reduce the risk of missed diagnosis.
Not only the application of cervical cell pathology diagnosis, FOSUN AITROXAI products are also widely used in the fields of bronchoscopy puncture ROSE, lung cancer immunohistochemistry PDL1, breast cancer immunohistochemistry HER2, etc., helping doctors improve the efficiency and accuracy of cancer screening, and reduce missed diagnosis. Rate and cost of screening.
The FOSUN AITROXROSE intelligent analysis system has withstood the test after being applied in the top three hospitals in Beijing, Shanghai, Jiangsu, Sichuan and other places. In terms of efficiency, the system can complete the scan of the entire ROSE smear within 60 seconds, automatically perform analysis on the scanned image, and display the types of detected cells; in terms of accuracy, the sensitivity of system infection sample interpretation reaches 90%*( Clinically verified scientific research data), specificity is above 95%* (clinical verification scientific research data); artificial intelligence judges tumor positive accuracy ≥90%* (clinical verified scientific research data), and provides positive classification results to assist in improving the accuracy of biopsy. It is suitable for HE, Pap staining, TCT, LCT, centrifugation and other production methods. Among them, the precision and high sensitivity of TCT is ≥95%* (clinical verification scientific research data).
FOSUN AITROX uses artificial intelligence to assist cervical cancer TCT screening, which can quickly locate and classify diseased cells, intelligently analyze and make diagnoses, generate test reports, and realize large-scale, full-process, and automated intelligent screening, which greatly improves the basic level The screening capacity of medical institutions for cervical cancer. It mainly serves the "two-cancer screening" project for women in my country, which can reduce the workload of pathologists by at least 60%, increase sample processing capacity, and at the same time improve the predicament of high demand for cervical cancer screening and serious shortage of pathologists, and improve screening efficiency .
In the application of lung cancer immunohistochemistry PD-L1, the PD-L1 immunohistochemistry artificial intelligence assistant system developed by FOSUN AITROX and Fudan University Cancer Hospital can intelligently identify tumor areas and other cell types, assist in manual interpretation and analysis, and greatly Reduce the workload of pathologists. It is understood that FOSUN AITROX will use the PD-L1 intelligent detection as the entry point to drive the innovation of precision medical clinical research and service capabilities in Shanghai, such as companion diagnosis, immunotherapy, and tumor diagnosis.
According to the "Healthy China 2030 Plan", the national policy encourages the sinking of high-quality medical resources and encourages the development of medical artificial intelligence. Through the exploration and learning of artificial intelligence, the best doctor experience is brought to the grassroots level and to thousands of households, so that the common people can experience the same diagnosis results of the best doctors in the best hospitals in the country at their doorsteps.
To this end, FOSUN AITROX launched the MDT doctor group solution for industry-university-research, and carried out a grassroots plan for doctors to provide specialized and branded diagnosis and treatment services for remote diagnosis and treatment and individual health management. It cooperates with internal and external enterprises in the ecology to provide modular AI imaging tools and expert diagnosis and treatment. Suggest.
FOSUN AITROX strives to build an innovative ecosystem in the field of digital pathology in China, fully promote communication and interaction between industries, and promote a series of cooperation with pharmaceutical companies, third-party medical service institutions, and Fosun diagnostics, such as Fosun's internal and external companies, through the layout of the entire industry chain. Fully cooperate to promote the implementation of the "AI+X" commercialization model, and comprehensively promote the construction of an innovative ecosystem of digital pathology in China. At present, the FOSUN AITROX product line has accumulated more than 40 AI disease model reserves, and has reached cooperation with more than 500 hospitals across the country.
In the future, FOSUN AITROX will continue to focus on in-depth research around the needs of clinical scenarios. Through independent research and development of AI algorithms, it will empower multi-disease and multi-scenario medical diagnostic analysis tools to truly realize the vision of "AI creates healthy lives for 1 billion families in the world".
With the emergence of all-digital slices and the subsequent introduction of AI-assisted diagnosis, AI-based digital pathology technology is booming all over the world. Although there are still shortcomings in terms of supervision, payment, and deployment, medical professionals in the field of pathology and oncology are increasingly interested in the development and use of these technologies. Challenges are inevitable, but digital pathology has become an unstoppable trend. In the past few years, medical institutions around the world have digitized or are digitizing the entire pathology workflow.
Unlike other industries, the medical industry is not as fast as possible. It needs tireless patience, needs to truly meet the clinical needs of doctors, and more needs to be meticulous and humanistic care for patients. As practitioners and breakers of digital pathology, you must understand and perceive the true needs of pathological diagnosis, and build products and services with patience and energy. In this process, time may be the best answer and the strongest barrier.