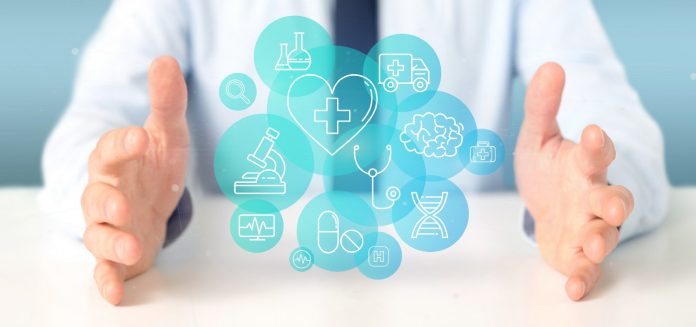 In 2019, the number of patients with chronic circulatory diseases in my country reached 340 million, and the number of patients with other chronic diseases also remained high. The death toll due to chronic diseases accounted for 88.5% of the total deaths. The Internet chronic disease management market with a scale of hundreds of billions is gradually taking shape.
Various chronic disease management companies have sprung up. However, in China, Internet + chronic disease management is still in the early stage of development. At present, the problem of homogeneity of chronic disease management services provided in the market is more serious, and the core business of most companies still focuses on "selling drugs" and "prescribing follow-up consultations."
It is not difficult to see that the core of "re-examination and prescribing" is to compete for limited doctor resources to build a "moat" for enterprise development; while "selling drugs" defines itself as a drug distribution channel provider in the upstream of the service industry. For Internet chronic disease management companies, how to get out of this model and implement real "chronic disease management" with the purpose of empowering patients, so as to obtain long-term benefits, has become a widely considered issue in the industry.
"Regardless of the business model, the most important thing is actually the demand for chronic disease management of patients." In the view of the founding team of CSIH, the provision of chronic disease management services for patients' needs is still lacking. And this will become a huge incremental market.
CSIH, established in 2020, is also aware of the above problems. At the beginning of its establishment, it began to build intelligent and refined chronic disease management around the needs of patients, and explored to build its own chronic disease management ecology and business model.
For chronic diseases, drugs are not the only measurement standard and intervention method for the treatment of diseases. Take diabetes and cardiovascular diseases as examples. Numerous studies have shown that such chronic diseases are highly related to patients' lifestyles. Medication alone cannot achieve a good control effect on these diseases. Poor management may also cause serious complications. If the patient can be supplemented with drug treatment on the basis of cultivating good life behaviors for patients, better results can be achieved. From the data point of view, hundreds of millions of patients with diabetes and cardiovascular diseases also give the market a lot of room for imagination. This is the fundamental reason why CSIH cuts into chronic disease management from "diabetes, cardiovascular disease".
The accelerated aging of the population is a topic that cannot be avoided in the management of chronic diseases. At present, more than 180 million patients with chronic diseases in my country are elderly people (the latest data provided by the National Health Commission on July 31). Diabetes and cardiovascular diseases are the most common chronic diseases among middle-aged and elderly people. In the face of this special group, CSIH fully considers the "adaptable age" factor in the design and service of chronic disease management products. From a more concise UI interface design and operation process, to building a social platform and offering training courses on "how to use chronic disease management applications", step by step to help the elderly bridge the "digital divide" of "no Internet access" and "no operation" ".
"Our founding team also often takes the time to participate in offline community activities, personally answering middle-aged and elderly people's questions about the use of smart terminals, and taking them to walk and walk in some activities." CSIH Chief Medical Officer Xue Yifan told Artery On the Internet, through professional medical staff, continue to provide patients with disease knowledge, medication, nutrition, diet, exercise and other popular science education, and establish online and offline patient community management, which is an important part of the CSIH chronic disease management service. This helps foster the concept of active health and promote patient self-management behavior.
With the development of AI, cloud computing, and big data technology, the biomedical model has gradually shifted to a cognitive behavioral intervention model to a psychological motivational stimulation model, and the core goal has changed from "treating diseases as the center" to providing "prevention, treatment, and nourishment." The whole life cycle of health management services.
The "prescriptions" obtained by patients are no longer limited to medicines, but may also be software and hardware products with remote monitoring, diagnosis, education and other functions. The purpose is to achieve health promotion. In the post-epidemic era, digital therapy, as a brand new digital health solution, has begun to enter the public's field of vision. Unlike other diseases, patients with chronic diseases have a stronger need for out-of-hospital management. The digital therapy "prescription" can cover the range of interventions from drugs to lifestyles, and closely connect the intervention methods inside and outside the hospital.
CSIH is also constantly exploring how to enable technology to maximize medical services and provide patients with chronic disease management throughout their life cycle.
"Since its establishment, the company has been focusing on the construction and application of the underlying capabilities of digital chronic disease management." Chief Technology Officer Huang Bangyu introduced that as a chronic disease management company, CSIH should provide patients with personalized and refined comprehensive chronic disease management. Disease management services. Through the use of AI and big data technology, CSIH connects specialists, nutritionists, and health managers to provide long-term and effective prevention and treatment services for patients with chronic diseases, including the establishment of patient file information, grading evaluation, supervision and management, indicator feedback, reminders and alarms. Individualized intervention plans, treatment plan adjustments, etc., and promote autonomous management behaviors through community management.
On the doctor's side, through AI-assisted diagnosis, intelligent follow-up, intelligent prescription, structured data analysis and other intelligent methods, doctors have created efficient chronic disease management tools to reduce labor costs in the hospital and increase the stickiness of users outside the hospital, thereby realizing the hospital Improve the management ability of patients with chronic diseases.
Combining the company's existing business planning, CSIH will start with health management, life guidance/intervention, and focus on the three directions of "nutrition", "psychology" and "exercise" for digital therapy product layout. Its plan is driven by the three core functions of achieving sustainable multi-dimensional data tracking, grading health risk analysis, and generating personalized intervention plans, to build an AI + big data digital therapy chronic disease management platform, realize the PDCA cycle, and form a chronic disease path. Manage closed-loop systems and services. Specifically, it includes the creation of digital therapy for nutrition management based on nutrition and BCT (Behavior Change Technology), the creation of digital therapy for psychological management based on cognitive behavioral therapy, and the creation of digital therapy for sports management based on algorithm technologies such as visual capture.
At present, CSIH has used AI technology to integrate medical literature data in multiple disciplines and professional fields to identify patients with multiple chronic disease risks and risk factors, and can provide patients with disease and complications early warning and treatment recommendations, and through cooperation with Peking University The medical school, Ruijin Hospital and other well-known domestic hospitals have carried out scientific research cooperation to verify the clinical effect.
In the "Internet +" medical field, the data island problem and industry usage specifications of medical big data need to be standardized. Huang Bangyu believes that in the process of achieving classification and collaborative management inside and outside the hospital, the fundamental core of technology to be solved is "interconnection", the interconnection of patient data, and the interconnection of data islands. At the operational level, it includes legally obtaining patient data, establishing a clean and structured data mechanism, and opening up data operation channels.
Based on actual service scenarios, CSIH has reached cooperation with a number of capable manufacturers to jointly build a chronic disease management ecosystem. For example, it cooperates with Airdoc, which has obtained the "Diabetic Retinopathy Fundus Image Aided Diagnosis Software" Medical Device Class III Certificate, to jointly create a standardized screening process. In the future, CSIH will promote the deployment of cutting-edge and innovative screening equipment in grassroots communities to empower the grassroots application of precise screening for chronic diseases, and at the same time incorporate patient disease risk screening into the chronic disease management standard process system.
In addition, CSIH is conducting technical cooperation and exchanges with many experts and talents by joining the Digital Therapy Association, seeking to further improve the closed-loop system path of systematic chronic disease management with digital therapy.
However, it is difficult to form a closed loop for chronic disease management involving doctors and patients alone. Without a suitable payer, the business model of chronic disease management cannot be implemented. Xue Yifan believes that in the past, chronic disease management companies were more difficult to develop, mainly because medical insurance funds focused more on payment for treatment rather than prevention. In his view, the real core issue at present is whether the medical insurance payment policy will tilt from single-disease treatment to chronic disease management. With the further optimization of medical insurance payment methods, it will benefit chronic disease management companies in the future. It's a good time to enter the game at this time.
As for how to run through the business model, we need to start from the perspective of "solving the pain points of patients with chronic diseases".
Among them, patients with chronic diseases have poor compliance with health management. Due to the shortage of medical resources, patients' strong long-term health management needs outside the hospital have not been met in the current medical scene, especially in terms of lifestyle interventions, compared to the high requirements for doctors' brands and the "oral orders" provided by doctors , Chronic disease patients urgently need to seek more scientific, effective and economical intervention methods, as well as the stability and reliability of doctors. From the corporate perspective, what needs to be resolved is the allocation of medical resources and the completion of the "fragmented" traditional medical service links.
At present, CSIH has created an innovative service model of "Grade A Office + Corporate Customers + Tertiary A Hospitals". The Tomato Tree Health Terminal in Shanghai Center is an online download body for CSIH to penetrate health management capabilities into sub-healthy white-collar groups and office scenarios. Relying on the B2B2C business model to reach users and help users relieve the trouble of registration and queuing in traditional hospitals, a complete cardiovascular-related physical examination can be completed in 15 minutes in a high-end building environment, and the cardiovascular disease risk assessment level can be immediately obtained. High-risk patients open up a green channel for Dongfang Hospital. CSIH provides sub-healthy white-collar workers with comprehensive and continuous health and medical services that integrate "healthy lifestyle education, health management, basic medical care, extended medical care in tertiary hospitals, medicines, and full health management".
"Community + top three hospitals" is also one of CSIH's main strategies to solve the problem of limited medical resource allocation through hierarchical diagnosis and treatment. CSIH takes the health manager service and digital management platform as the entry point, and has reached a cooperation intention with Peking University Hospital to jointly establish a graded chronic disease management system with community service sites, community hospitals, and tertiary hospitals as the origin in Xicheng District, Beijing; and New Mileage Yankuang General Hospital jointly established a chronic disease management center in Jining, Shandong. By providing personalized services and Internet technical support for the development of hierarchical diagnosis and treatment, CSIH further assists the construction of an intelligent disease control system.
In the next step, CSIH also plans to implement projects in Chengdu, Qingdao and other places, copying the model to achieve rapid expansion.
"In the future, health services are more likely to be provided to patients in the form of'derivative services', as a means for medical institutions, pharmacies, pharmaceutical equipment manufacturers, and commercial insurance to enhance service value and diagnosis and treatment efficiency, rather than a direct source of revenue. For example, through hospital SaaS to help hospitals manage patients with chronic diseases, through pharmacy SaaS to meet the needs of chronic patients for out-of-hospital consultations and prescription services, and provide digital marketing services for medical device manufacturers, etc." Xue Yifan told Artery Network that the goal of CSIH is "Patient-centered, around chronic disease management, to provide solutions for all major players in the medical industry chain." This means that in today's chronic disease management and even competition in the Internet medical industry, in addition to competition at the traffic level, it is also necessary to compare the ability to integrate medical resources and provide patients with better quality medical services.
It is worth mentioning that the two core figures responsible for the medical service sector and the technical sector at CSIH are all highly qualified students who have been deeply involved in the medical field. Chief Medical Officer Xue Yifan graduated from the University of Adelaide, Australia, majoring in health management and clinical medicine. He is a cardiologist and a cardiologist. He has served successively in Dalian Wanda Group Health Industry Company, China Resources Medical Holdings Co., Ltd., and also served as the president of 3 large and medium-sized hospitals. During his tenure, he completed the investment due diligence of more than 10 hospitals, the acquisition of 2 tertiary hospitals, and the acceptance of more than 20 medical institutions after the investment.
The person in charge of the technology sector, Chief Technology Officer Huang Bangyu, as the core shaper of the chronic disease management system, has decades of R&D and operation experience in digital technology products and solutions. He graduated from Fudan University with a major in computer software. He served as the CTO of the health sector at Fosun Group and the general manager of the Digital Technology Innovation Department at Fosun Pharma. He has won many industry honors.
With a founding team with a strong industrial and technological background, CSIH takes medical services and technological innovation as the fulcrum, and joins hands with many cutting-edge expert resources to explore a chronic disease management model suitable for China's national conditions and a competitive business path suitable for itself.
"We believe that if the chronic disease management service is done well, there will naturally be user stickiness, and the business model can also be further explored based on this." For start-ups that have only been established for one year, everything has just begun. Starting from the management of diabetes and cardiopathy, CSIH will adhere to the strategy of using cutting-edge technology to assist the construction of a chronic disease management service system. After obtaining an Internet hospital license, CSIH plans to further improve the online and offline management chain, and gradually expand to the wider Internet. Expansion of the medical field to create a patient-centered, multi-party smart medical ecosystem.