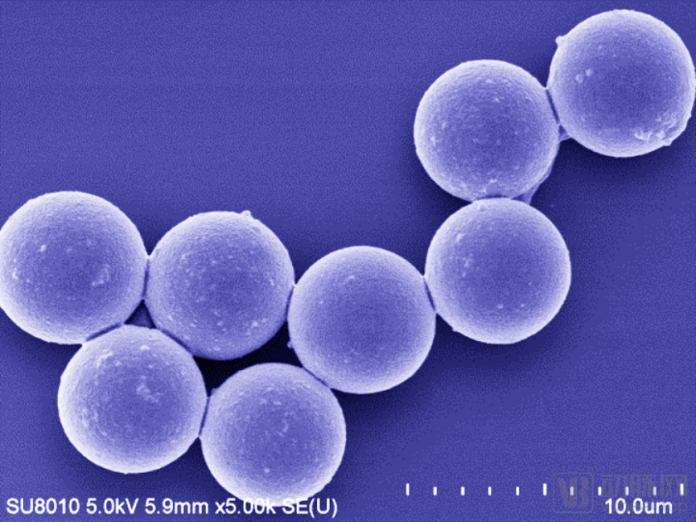 Recently, the spread of new coronaviruses has affected the hearts of people across the country. In this anti-epidemic war, many in vitro diagnostic companies have acted and played an important role in the development of testing reagents.
To assist in the prevention and control of the epidemic, Shenzhen Weigong Bio, a wholly-owned subsidiary of Weigong Technology, deployed 1,000 human lymphocyte T cell test kits and donated them to Shenzhen Sami Medical Center to support the rapid and accurate diagnosis of new coronavirus infections. Help the epidemic prevention and control work in medical centers.
Wei Gong Technology is a high-tech enterprise focusing on the research and development of in vitro diagnostic equipment and reagents. It is also one of the few domestic enterprises with independent intellectual property rights of the flow fluorescence detection platform. The company has achieved many breakthroughs in core technologies such as fluorescence-encoded microspheres and flow cytometry. Its research results are expected to break the global monopoly of Luminex Company in the United States for many years, and promote the flow of fluorescence detection into a new era of high quality and low cost. The flow-type fluorescence detection platform with the advantages of high throughput and multiple detection has entered the field of conventional immunoassay, and has become another force for immunodetection after chemiluminescence and POCT.
Changing the status quo of flow fluorescence technology subject to people
China's immunodiagnostic technology has gone through multiple stages, from radioimmunoassay, enzyme-linked immunoassay, immunocolloidal gold, and chemiluminescence. Chemiluminescence has the advantages of high sensitivity, good specificity, and high precision, and has quickly become the leading technology for immunodiagnosis.
Since entering the 21st century, the flow fluorescence technology has begun to attract the attention of the medical industry. Flow fluorescence, also known as suspension array or liquid-phase chip, is a newly developed multi-index combined diagnostic technology in recent years. It not only inherits the advantages of high sensitivity and precision of chemiluminescence, but also has high throughput, high speed, and multiple indicators. Advantages such as joint inspection overcome the deficiency that chemiluminescence can only detect one index at a time, and can meet the growing clinical detection needs. It is expected to complement chemiluminescence and even replace chemiluminescence.
Flow fluorescence technology has been gradually applied to clinical testing, genetic analysis, drug development, biomedicine, drug genes, and bacterial detection in biological warfare. However, at present, domestic high-throughput flow-type fluorescence detection platforms are mainly imported, and independent research and development have not yet been achieved. Wei Gong Technology was founded to change the situation in which key technologies are subject to others, and to break the monopoly of foreign companies on the flow fluorescence detection platform.
The founder of Weigong Technology, Dr. Li Weigong, is a special expert of the National Thousand Talents Program and has many years of experience in the field of in vitro diagnostics. Dr. Li was the chief engineer of the in vitro diagnostic R & D center at Beckman Coulter. He led multiple core teams to participate in and lead the development of Beckman's high-end blood cell analysis products and flow cytometer products. He has a deep understanding of the current status of analyzer products and future technological developments.
After returning to China, Dr. Li Weigong joined Shenzhen Mindray, during which he presided over and completed a number of national projects including the 863 Program of the Ministry of Science and Technology, "New Generation High-Performance Five-Class Cell Analysis System". In 2014, Dr. Li Weigong led the Mindray R & D team to launch China's first clinical flow cytometer, breaking the absolute monopoly of foreign companies in the field of flow cytometry.
In 2016, Dr. Li Weigong founded Shenzhen Weigong Technology, and continued to explore related fields such as flow cytometry and fluorescent coding microspheres. After several years of development, Wei Gong Technology has set up an experienced R & D and production team. The core members of the company's R & D have an average of 15 years of experience in in vitro diagnostic product development. The core members of the team have led and participated in many in vitro diagnostic products. Research and development, including China's first fluorescent five-class blood cell analyzer, China's first blood cell slide staining machine, China's first clinical flow cytometer, etc., has strong research and development capabilities.
Independent research and development of fluorescent coding microsphere technology, breaking foreign monopoly
Weigong Technology is committed to creating a new high-throughput fluorescence detection platform technology, realizing the core competitiveness of the enterprise in the R & D, application, and transformation system platform. This system is widely used in life sciences, clinical medical diagnosis, and food safety. Livelihood-related fields.
Flow fluorescence technology is based on fluorescence-encoded microsphere technology. It integrates multiple technologies such as flow cytometry, laser analysis, and covalent cross-linking technology. Wegong Technology has achieved core technology breakthroughs and has developed flow fluorescence. Ability to detect platform complete solutions.
Fluorescence-encoded microspheres are a major technological core of flow-based fluorescence technology. At present, although some domestic companies have achieved breakthroughs in flow cytometry, few companies have the ability to independently develop fluorescently coded microsphere technology. "To be precise, a complete flow fluorometric detection platform includes a flow cytometry system and a joint detection reagent based on fluorescence-encoded microsphere technology," said Dr. Li.
Fluorescence-encoded microsphere technology makes the microspheres have different fluorescence intensities by incorporating one or more fluorescent dyes or quantum dots with different concentrations in the microspheres. Since each type of microsphere can be used for the detection of one kind of index, many different coded microspheres in the same reaction system react individually without interference with each other, and can realize the joint detection of multiple indexes.
Wei Gong Technology has developed magnetically coded microspheres with independent intellectual property rights, and has become one of the few suppliers in the world that can provide magnetically coded microspheres, filling the domestic gap. The company's coded microspheres are compatible with mainstream dual-laser 2-6 color flow cytometers, support the development of at least 30 joint detection reagents, and help reduce clinical testing costs and improve detection efficiency.
At present, products such as multi-cytokine joint detection kits based on magnetically coded microspheres developed by the company have obtained registration certificates in the second half of 2019 and have begun to go on sale.
In the recent Lancet, Wuhan Jinyintan Hospital, China-Japan Friendship Hospital, Union Medical University, Beijing Ditan Hospital, Wuhan Tongji Hospital, Wuhan Central Hospital, Wuhan University Zhongnan Hospital, Peking University First Hospital, Peking University People's Hospital, etc. The article "Clinical Features of Wuhan New Coronavirus 2019" co-authored by experts pointed out that the new coronavirus infection is similar to pneumonia and SARS, and MERS is similar, and a "cytokine storm" has also appeared in some critically ill patients.
"Cytokine storm" refers to the release of a large number of pro-inflammatory cytokines (such as IL-6, TNF, IFN-γ, etc.) in the body after being infected by the body to activate or call for more immune cells to participate in fighting inflammation. Too many immune cells and pro-inflammatory cytokines can cause tissue congestion, edema, fever, damage, and eventually cause multiple organ failure and death. Therefore, monitoring cytokines is very important for patients with severe infections, and the detection of multiple cytokines can prompt clinicians to take targeted treatment.
Dr. Li said: "With the multi-cytokine reagents on the market, many domestic and foreign related companies have expressed their intentions to cooperate with the company." At the same time, Weigong Technology has also completed a number of antibody reagents (including donations) for cellular immunoassay. Lymphocyte T cell detection reagent) registration, dual-laser 2-6 color flow cytometer (flow fluorescence detection platform) independently developed by the company, and flow sperm detection reagent will soon complete domestic clinical registration.
Open cooperation to jointly develop the domestic flow fluorescence detection market
At present, Wei Gong Technology has become a leader in the field of flow-type fluorescence detection, and has won the favor of investment institutions such as Songhe Capital, Joint Venture Capital, and shared investment. In 2018, the company was named as one of the Top 300 Most Valuable Investment Companies (Top 300 in the Venture 50 Sprout List) by a well-known venture capital agency in the country, and won the third place in the China Medical Device Innovation and Entrepreneurship Finals in 2019.
Next, Wegong Technology will continue to focus on the development of the flow-type fluorescence detection platform. In the near future, we will complete the development of fully-automatic sample preparation platforms and fully-automatic flow cytometers. First, we will end the status of manual pre-treatment of samples in the flow field for many years. Then complete the automatic flow fluorescence detector, and more supporting joint detection reagents, etc., to enrich and improve the product layout of flow fluorescence and flow cells.
The Blue Book of Chinese Medicine and Health shows that the size of China's IVD market is expected to reach about 73 billion yuan in 2019, with a compound annual growth rate of about 18.7. Among them, the chemiluminescence market size is about 28 billion yuan, with a compound annual growth rate of about 28%. In addition, the market size of traditional flow cytometers is 3 billion yuan. "The flow fluorescence detection market includes the traditional flow market and some chemiluminescence markets, and it will be a huge market in the future."
Dr. Li Weigong said, "Fluid fluorescence detection technology is at a rapid development stage, and there is a lot of work to be done, especially the variety of supporting reagents for the flow fluorescence detection platform. It is difficult to complete all the immunological tests in a short time on its own strength. With an open mind, the company will be willing to provide partners with instruments and fluorescence-encoded microsphere technology, cooperate in the development of supporting reagents, and jointly develop the domestic flow-type fluorescence detection market. "