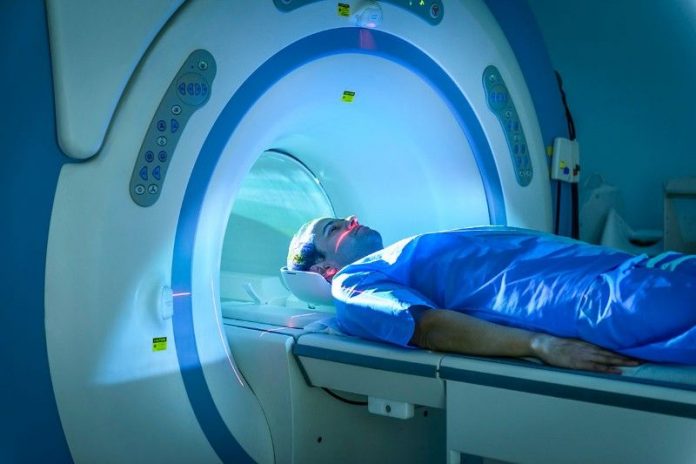 Telefield Medical Imaging Limited (TMIL) is a leading global provider of AI 3D ultrasound imaging technology, equipment and solutions. Its pioneering Scolioscan® radiation-free 3D ultrasound scoliosis assessment system provides a new set of safe and efficient solutions for scoliosis detection.
Recognized and supported by many well-known investment institutions, the company completed a Pre-A round of financing of nearly HK$40 million in April 2023, with cumulative financing of over HK$100 million to date. The investors of this round include Fosun Pharma, Alibaba Hong Kong Entrepreneurs Fund (AEF), The Hong Kong Polytechnic University and some industrial investors, and the funds will be used to further accelerate product development and market expansion, as well as to attract more outstanding talents The funds will be used to further accelerate product development and market expansion, as well as attract more talented people to join the team.
The TMIL team has been rooted in the frontiers of academia and the world's leading technology resources, and is committed to innovating medical technologies for the benefit of society. The company's technology development team is led by Professor Joseph Cheng of the Hong Kong Polytechnic University, who has been named to Stanford University's "Top 2% of Global Scientists" list (in the field of artificial intelligence and image processing) for two consecutive years in 2021 and 2022, and is the founding Head of the Department of Biomedical Engineering of the Hong Kong Polytechnic University. He is the founding Head of the Department of Biomedical Engineering at the Hong Kong Polytechnic University, and is currently the Director of the Jockey Club Smart Ageing Institute and Director of the Jockey Club Smart Ageing Hub. Professor Cheng is also the only winner of the first BOC Hong Kong Technology Innovation Award in 2022 in the field of life and health.
TMIL's brand Scolioscan® is the world's original ultrasound scoliosis assessment system with 19 world firsts and leading technologies and over 100 patents. It has obtained medical device certifications in the EU, Australia and Mainland China, providing orthopedic, rehabilitation and sports medicine practitioners with a radiation-free and safe scoliosis assessment solution with accuracy comparable to X-ray. Scolioscan® is widely used for scoliosis screening, diagnosis, condition tracking and prediction, and visualization and evaluation of treatment outcomes during the non-surgical treatment phase.
To date, TMIL's research team has collaborated with leading international hospitals and universities and has published more than 20 scientific papers in top international journals in the fields of orthopedics and kinesiology, ultrasound, machine vision and pattern recognition: validating the accuracy and reliability of 3D ultrasound technology. The Scolioscan® ultrasound scoliosis assessment system has been tested in clinical trials and demonstrated a linear correlation of 94.64% between the ultrasound UCA angle and the X-ray Cobb angle, and has won several international and national innovation awards.
"X-ray examinations should not be performed too frequently, and the medical community recommends that they be performed at least 6 to 12 months apart, as cumulative X-ray uptake can significantly increase the incidence of cancer. However, for adolescent patients whose condition is worsening, 6 months is already considered a long time. In addition, during the non-surgical treatment of scoliosis, continuous imaging observation is an important part of the treatment outcome, so frequent x-rays are inevitable. According to a Danish study, scoliosis patients who used an average of 16 x-rays during adolescence because of diagnosis and treatment had a 4.8 times higher incidence of cancer after 25 years compared to their peers. Therefore, we invented a safer method of scoliosis assessment than X-rays, and that is the use of ultrasound imaging without the hazards of ionizing radiation." said Professor Yongping Zheng, co-founder of TMIL and inventor of the technology.
TMIL has obtained CE certification in the EU and ARTG certification in Australia, and the ultrasound scoliosis assessment system is now in clinical use in several overseas countries and regions, including Germany, the Netherlands, Poland, Italy, Bosnia, Romania and Australia.
TMIL established branches in Shenzhen and Changsha, aiming to provide fast and convenient localized products and services to Chinese users. in December 2021, the ultrasonic scoliosis assessment system obtained NMPA certification in China, and after more than 1 year of market expansion, the system has now After more than 1 year of market expansion, the system has now been clinically installed and used in more than 40 tertiary hospitals in China, including orthopedic rehabilitation departments and specialist hospitals, and has been used in industry-university research cooperation with a number of universities such as the Capital Institute of Sports and the Guangzhou Institute of Sports to carry out scoliosis-related sports-medical integration and sports rehabilitation to further improve sports intervention treatment for adolescents after scoliosis screening and achieve early detection, early intervention and early treatment.
Scoliosis is the third most dangerous disease to the health of children and adolescents, according to public information, the incidence of scoliosis in China is about 2% to 3%, and the incidence has increased significantly in recent years and the incidence is trending younger. In the post-epidemic era, with the acceleration of population aging, the awakening of national rehabilitation awareness and the strong promotion of national policies, the market scale of rehabilitation medical services industry will continue to grow. 2025 domestic sports population is expected to reach 500 million people, the incidence of sports injury-related diseases to increase, 100 million people in the mainland need treatment and services for sports injuries and diseases. 2025 China's rehabilitation medical services market scale The overall market has a wide scope for future growth, and the potential market size of TMIL 3D musculoskeletal chronic disease assessment and sports rehabilitation product line can reach 10 billion in mainland China alone.