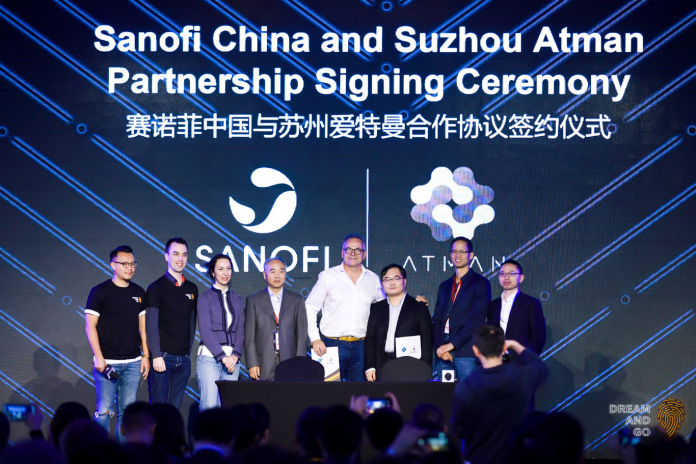 On November 8th, 2019, Sanofi, the world's leading medical and health company, successfully held the first "Digital Healthcare Innovation Summit" in Shanghai, aiming to showcase the latest technologies in the digital medical industry, and work together with innovative partners to empower the medical future and help China. Medical upgrades to digital. At this summit with the theme "Dream and Go", Sanofi and more than 30 high-tech companies, hundreds of start-ups, hundreds of investors and partners, "connected devices and patient follow-up care", Themes such as "Artificial Intelligence and Central Nervous Diseases", "Natural Language Processing and Knowledge Mapping" explore the leading digital innovation trends at home and abroad, and showcase the achievements of digital innovation in the 18 months since its establishment. .
"Digital innovation is the core of Sanofi's future development strategy. We have developed a digital transformation strategy to promote digital innovation to improve the treatment outcomes of Chinese patients." Dr. He Enyi, President of Sanofi China and General Manager of China (Pius S. Hornstein, PhD) said: "In China, Sanofi works with governments, hospitals, commercial insurance, Internet and technology companies to create new solutions through joint ventures and academia through digital technology. Ultimately, We will use digital innovation to maximize the benefits of medical products and services, help Chinese patients improve disease management, and help achieve the goal of 'Healthy China 2030'."Dr. Pius S. Hornstein, PhD, President of Sanofi China and General Manager of China
>>>>
Activate creativity and build a medical innovation ecosystem
In order to meet the needs of people's personalized personalized solutions, Sanofi Integrated's experience and resources in the field of digital medicine, in 2018, set up the first digital innovation platform – "Guang Chuang Alliance", to build a multi-party for local innovative enterprises Bridges, jointly develop medical projects, accelerate the process of digital medical industrialization, and accelerate the introduction of products to the market.
At today's summit, Sanofi and Atman, the pioneer of medical language intelligence, the first collaboration of the "Geng Chuang Alliance", signed a strategic agreement, and the two sides will work together to create a bilingual labor. The intelligent auxiliary medical information platform builds the Sanofi medical communication engine with artificial intelligence (AI) and natural language processing (NLP) technology. Attmann CEO Ma Lei said: "The completion of the platform will help pharmaceutical companies like Sanofi to accurately and efficiently process medical information, scientifically analyze the therapeutic field, and gain insight into the competitive environment, effectively helping companies respond quickly to market changes; A large number of rich, accurate and state-of-the-art evidence can support enterprises to develop medical communication plans and produce medical educational materials, greatly improving the efficiency of their medical communication and training."Signing Ceremony of Sanofi China and Suzhou Aiteman Cooperation Agreement
With the advent of the digital age, Sanofi has been actively exploring cooperation with leading Internet companies, embracing digital innovation and hoping to become a leader in digital innovation in China's healthcare sector.
>>>>
Focus on segmentation needs and lead medical innovation
As one of the most common geriatric diseases, there are many unmet medical needs for the treatment of Parkinson's disease, which seriously threatens the quality of life of many elderly people in China. At the Expo, the "Intelligent Anti-Shake Spoon" of Parkinson's disease, which was jointly explored by Sanofi and Gyenno, was highly regarded by the industry.
This anti-shake spoon not only helps patients to eat stably, exercise hand balance, but also serves as a digital software carrier to track drug efficacy and disease progression, to connect patients and doctors more closely, to provide end-to-end closed-loop management of disease, and to help individualize And standardized treatment, improve the efficiency of management services for Parkinson's disease.
More importantly, the program can also provide cutting-edge exploration for real-world data research in the field of Parkinson's disease in China. Multi-center clinical trials with a number of domestic neurology departments in the top three hospitals were officially launched in September this year. Currently, real-world data is generated for patients who are already valuable.