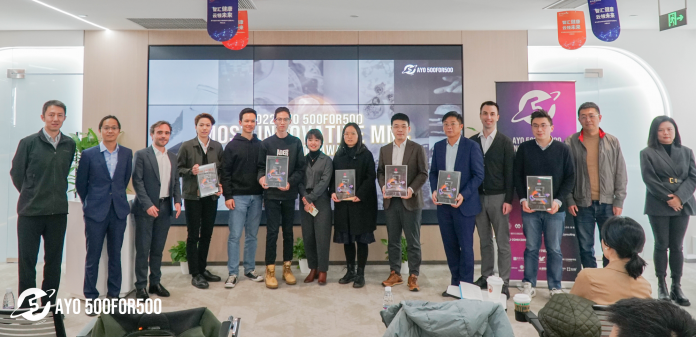 During 2022 "Global Entrepreneurship Week" in China, the AYO 500FOR500 Award was announced to honor the most innovative MNCs in China. Partnering with leading ecosystem players, AYO invited 500 Chinese startups to vote for the most innovative MNCs in China. After three months of questionnaire collection and evaluation, 45 most innovative MNCs and 16 innovation pioneers were awarded. The AYO 500FOR500 innovation award is committed to sparking innovation as well as encouraging win-win cooperation between multinational companies and local startups.
Jerome Scola, Managing Partner at AYO Innovation Consulting, Li Jian, Chief Director at AWS, Huang Yuanpu, CEO at EqualOcean, Liu Xiangnan, Innovation Director at Novartis China, and Zak Manion, Head of Innovation at Budweiser, attended the event and shared their insights on key success factors of MNCs working with local startups in China. The AYO 500FOR500 innovation insight report was also released during the event.
Innovation and localization have become the new engines of investment growth in China for MNCs in the post-covid era
The COVID-19 pandemic has led to an increase in the complexity of the global investment environment, and the industrial chains around the world are currently facing unprecedented pressure to transform. Nevertheless, with highly concentrated supply chains, close global linkages and a lucrative domestic market, China will remain a hot investment destination for MNCs.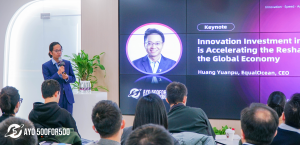 Most importantly, digital innovation has become a driving engine for the country's investment growth. The country's increasingly dynamic innovation is beginning to influence digital trends worldwide. Multinational companies can better develop and compete in the Chinese market by collaborating with local startups to enjoy speed, agility and local insights.
Focusing on speed, agility and local insights, MNCs are working with Chinese startups to thrive
 The Chinese market is undergoing rapid changes. Multinational companies need to be agile and adapt to rapid change and keen local competition to thrive in China.
In terms of innovation capability and speed, startups have an edge over multinational companies due to the agility of their organizational structure. By joining hands with local startups, multinational companies can quickly obtain cutting-edge technologies and resources. Through respective expertise in channels and business models, the 2 parties can collaborate to develop and commercialize projects in the field of digital innovation. The agility of PoC (Proof of Concept) projects also significantly increases the effectiveness of product development with lower risk. At the same time, local startups can help multinational companies gain a deeper understanding of the expectations of Chinese consumers and their consumption habits.
The 500FOR500 Insight Report shows that about 95% of Chinese B2B startups have experience cooperating with multinational companies
The AYO 500FOR500 Innovation Award aims to build a platform to empower and facilitate the cooperation between MNCs and Chinese startups. Together with leading investors, accelerators, and incubators, AYO conducted exclusive interviews with 500 B2B startups to vote for the most innovative fortune 500 MNCs in China. The 500 startups from various fields, including AI, IoT, ESG and many others, were invited to participate in the voting. According to the result, more than 95% of the B2B startups have experience cooperating with multinational companies and view collaborations as a crucial business pillar. About 18% of startups spend 4-5 days per week working with international corporations, 20% spend 3-4 days per week, and the remaining 60% spend 1-3 days per week.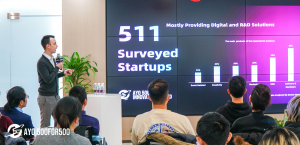 Another key finding of the result shows that about 50% of startups provide software and hardware solutions in co-creation with MNCs, while more than 35% of startups provide R&D services. These statistics strongly demonstrate that multinational companies are leveraging the R&D and innovation capabilities of local startups to enjoy speed, agility and local insights.
The announcement of AYO 500FOR500 Innovation Awards 
The winners of the 2022 AYO 500FOR500 Innovation Awards were announced at the end of the event. The awards were presented to the winning MNCs by Jerome Scola, Managing Partner of AYO Innovation Consulting, along with Tencent WeStart, Daxue Consulting, AWS, Step Fund, Reco space, and Eight Roads Ventures.
2022 AYO 500FOR500 Innovation Awards List