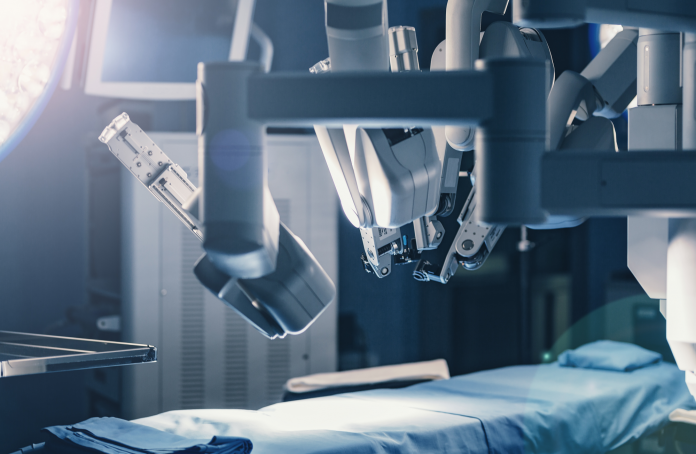 AoPeng Medical, a company specializing in intravascular interventional surgical robots, recently announced that it has completed a round of financing of nearly 100 million yuan. It is reported that this round of financing will be mainly used to start human clinical trials, hardware and software R&D investment, and CE certification.
In less than three years since its establishment, AoPeng Medical has successfully obtained three rounds of financing, which is enough to show that the capital side is optimistic about the company and the track of intravascular interventional surgical robots.
Huge opportunities in the blue ocean market
AoPeng Medical was established in 2017. The company focuses on the R&D and manufacturing of medical robots. Its products are mainly endovascular interventional surgery robots that include concepts such as high-end manufacturing, artificial intelligence, and 5G. The surgical robot can be widely used in coronary intervention surgery, neuro intervention surgery, peripheral vascular intervention surgery, tumor intervention surgery, etc.
The person in charge of AoPeng Medical told Arterial Network: "Currently endovascular interventional surgery is not perfect. From the doctor's point of view, endovascular interventional surgery robots are needed to improve the quality of interventional surgery. This is also the reason for the establishment of AoPeng Medical. We hope to fill in This gap in the market contributes wisdom to cardiovascular interventional surgery."
In fact, no matter from the perspective of the international market or the domestic market, there is a huge market lurking behind vascular interventional surgery.
On August 8, 2019, Siemens Healthineers announced the acquisition of Corindus Vascular Robotics, a vascular interventional surgery robot company, for US$1.1 billion. Layout in the field of endovascular interventional robots, it can be seen that Siemens, a medical device giant, is very important for endovascular interventional robots. The optimism and ambition of the track.
The data in the research report of the brokerage firm further confirms this point. Data show that the use of cardiac stents in percutaneous coronary intervention ("PCI") operations in China has increased year by year from 2010 to 2018. In 2019, the number of PCI operations in China was close to 1 million. .
In general, due to the more adoption of PCI surgery, the number of heart stents used in my country will steadily increase. In the future, as my country's population ages, this number will maintain a relatively high growth rate. Not only is the number of cardiovascular PCI operations increasing rapidly, but the number of patients with cerebrovascular diseases in my country is also increasing. In 2019, the number of neurointerventional operations in China exceeded 120,000, and the number is increasing rapidly at an annual growth rate of more than 30%.
In the long run, China's neurointervention market will reach the current number of coronary interventions.
At the same time, neurointervention, as an emerging and effective method for the treatment of severe cerebrovascular diseases, is also a rigid market for surgical robot-assisted doctors for precise treatment, and the future market space is broad.
For now, China's vascular interventional field is still in a stage of rapid development. Import substitution, innovation and research and development space are large, domestic interventional consumables are expected to accelerate development and gradually increase the substitution of imported equipment.
Aiming at this dormant market, AoPeng Medical is the first to develop a domestic endovascular interventional surgical robot for patients with cardiovascular disease, peripheral vascular disease, cerebrovascular disease, and other vascular tumor diseases. Internal medicine and neurosurgeons provide vascular interventional treatment solutions to solve the pain points of traditional vascular interventional surgery.
Ten years of accumulation to create innovative technology to solve the pain points of traditional surgery
The unresolved pain points of traditional endovascular interventional surgery run through the three stages of preoperative, intraoperative, and postoperative:
First, doctors mostly rely on experience and "trial and error" to complete, without visualized preoperative planning. The selection of the number and model of intraoperative stents relies on subjective judgments. Without the support of 3D intraoperative real-time navigation and imaging, it is difficult to achieve precise operations.
Second, there are many types of intravascular interventional surgery, complicated problems, and a long learning curve for surgery.
Third, if jitter, displacement, over-rotation, etc. occur due to the doctor's operation during the operation, it may bring postoperative sequelae to the patient.
Fourth, there are complicated cases of cardio-cerebrovascular interventional surgery. The operation time is too long. The medical staff is exposed to radiation to complete the whole process. Therefore, doctors face severe radiation damage, and wearing heavy lead clothing can cause bone and joint damage.
With nearly 10 years of forward-looking basic technology research and storage, AoPeng Medical has developed a domestic universal vascular interventional robot project, combined with robotics, artificial intelligence technology, etc., to realize AI judgment of the condition, AI design of surgical plans, robotic semi-automatic or even fully automatic The surgery makes it possible to perform remote and precise cardio-cerebrovascular interventions.
The vascular interventional robot can reduce the amount of radiation exposure to the lowest possible level, and the interventional cardiologist can complete the interventional operation outside the catheter room. Whether it is a cardiologist operating the entire operation independently or arranging assistant assistance, the birth of vascular interventional robots reduces the number of surgical operators to only two. Corresponding to traditional PCI surgery, it often requires 3 to 4 surgeons to be busy at the bedside. The emergence of vascular interventional robots not only protects the health of doctors, but also improves the efficiency of hospital operations.
The vascular intervention robot can perform operations accurately and efficiently. Its master-slave collaborative robotic arm design enables the surgeon to operate the catheter and guide wire with a lever to filter out hand jitter. Due to the inaccuracy of the operation that may be caused by the "feeling" of the doctor's operation, AoPeng Medical has developed a high-sensitivity force feedback amplification and sensing function to amplify the fine movement to achieve refined operation.
At the same time, the surgical robot combines with a 3D navigation system to assist the operator in accurately assessing the length and position of the target stent. It also provides precise planning before surgery, a visual and intuitive operating system, which reduces the difficulty of surgery and improves the accuracy of surgery.
The fusion of DSA (digital subtraction angiography) and preoperative CT images provides virtual reality three-dimensional images, path planning and navigation for vascular interventional operations.
Currently, AoPeng Medical has completed in vitro tests and animal tests. At the main operating table, the doctor controls the interventional robot system to perform the operation by manipulating the two hand levers. During the operation, the catheter guide wire is delivered and rotated smoothly and stably, and has achieved success in coronary and peripheral vascular surgery.
In the future, with the development of AI, 5G and other technologies, AoPeng Medical will continue to improve the existing endovascular interventional surgery robot projects, and upgrade and iterate the products, realize remote vascular interventional operations, and help graded diagnosis and treatment.
If the vascular interventional surgery robot independently developed by AoPeng Medical is successfully implemented in clinical applications, it will greatly alleviate the shortage of high-quality interventional medical resources in minimally invasive interventional diagnosis and treatment, and reduce the clinical technology gap between large and small hospitals in my country. On the other hand, the company has also developed other surgical robots in other departments based on existing technical reserves.
Compared with the only international intravascular interventional surgical robot companies (Corpath surgical robot from Siemens in the United States and Robocath surgical robot in Europe), there is no such type of surgical robot in China that has entered the clinical and registration approval stage.
Judging from the progress of industrialization and certification, AoPeng Medical has conducted product type inspections and will start clinical trials in 2021. It plans to launch the first domestic vascular intervention robot product within three years for coronary and peripheral vascular interventional operations.
In terms of preventing core technology from being imitated by competitors, AoPeng Medical protects patents and software copyrights and has applied for more than 20 patents.
Use the core value of the company to attract professionals from multiple fields to assist technology research and development
AoPeng Medical's advantages in technology research and development and forward-looking vision of industry needs have attracted many industry professionals to join it, forming a technical engineering team that combines scientific research and industrialization. Such a team has brought the possibility for AoPeng Medical to achieve continuous technological iteration in product development and to continuously launch innovative product pipelines.
The core design concept of the intravascular interventional surgery robot is derived from the brainstorming between the AoPeng Medical team and scientists and clinicians in universities and hospitals, continuous communication and exchanges, and the close integration of industry, university, research and medicine into medical transformation.
The core team's nearly 20 years of experience in the vascular interventional industry have enabled AoPeng Medical to accurately understand the market's demand for endovascular interventional surgery robots and the immaturity of interventional surgery in only 30 years. Based on this observation, AoPeng Medical was the first in China to develop an intravascular interventional surgery robot to help doctors improve the quality of interventional surgery.
The person in charge of AoPeng Medical told Artery Network: "From the perspective of doctors, product developers, or market demand, endovascular interventional surgery robots are urgently needed products in the industry. And we not only have products, but also in terms of opening up the market. Unique advantage."
AoPeng Medical brings together senior management talents in R&D and sales from top medical companies at home and abroad, and has established good cooperative relations with many well-known domestic hospitals in cardiology, vascular surgery and neurosurgery.
Different from general technology-based startups, AoPeng Medical has formed a research and development method with in-depth participation of doctors and scientists, close integration of market sales and research and development at the beginning of its business. Medical experts regularly participate in the company's research and development conferences and every key link in the product development stage. , All introduce medical experts for product evaluation and test verification to ensure that AoPeng Medical products can be quickly promoted and applied as soon as they enter the market and accurately solve clinical needs. It also makes arrangements for the company's product registration certificate application, marketing, channel management, etc. . And this will also be a big advantage for AoPeng Medical to win the market.
As the person in charge of AoPeng Medical said: "So many experienced people across various disciplines participated in this project because everyone recognizes that endovascular interventional surgical robots can indeed revolutionize the industry."
Through the development, production and promotion of minimally invasive interventional surgery robots, AoPeng Medical solves the problem of radiation damage to doctors during interventional surgery and precision surgery, so as to improve the working environment of doctors and effectively reduce the labor injuries suffered by doctors, thereby improving the quality of surgery and reducing patients Surgery risks bring changes to interventional surgery.
In the future, as the major giants enter the vascular interventional surgery robot track, the years of experience and first-mover advantage brought by AoPeng Medical's priority entry will enable it to have more room for development and become the "Dafen" in the field of vascular intervention. "Odd", leading the transformation of vascular intervention clinical surgery.