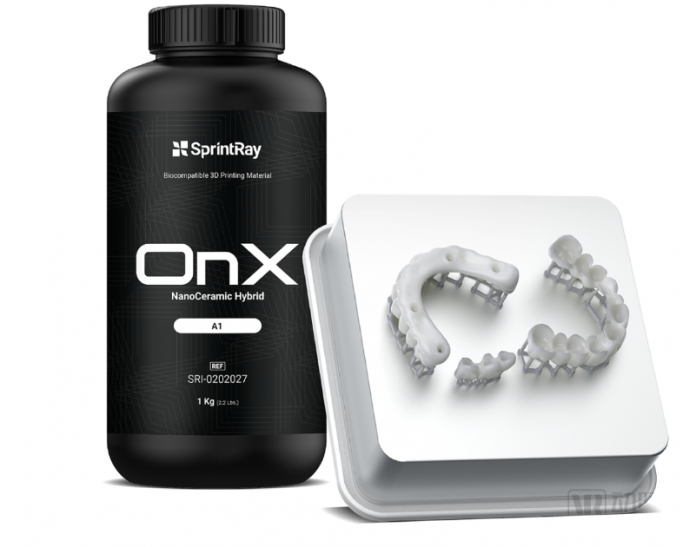 Recently, SprintRay received more than 100 million US dollars in D round of financing. This round was led by the SoftBank Vision Fund, followed by Yiheng Capital and Zhongwei Capital. Existing shareholders Chende Capital, Yuanyi Capital continued to make additional investments. In addition, SprintRay completed the C+ round of financing of tens of millions of RMB independently invested by Shunwei Capital in April 2021.
SprintRay was established in Shaoxing, Zhejiang Province in 2013, providing one-stop digital chairside solutions for dental institutions. Currently, its market share in chairside dental 3D printing in the United States exceeds 50%, and its revenue has a compound growth rate of nearly 80% in five years.
At present, the company has a team of nearly 700 people, of which R&D personnel account for about 35%. There are teams in China, the United States, Europe and other places. The company's chairman and CTO, Dr. Zhang Jing, and the head of SprintRay US, Dr. Amir, have all been engaged in 3D printing research in the Rapid Prototyping Laboratory of the University of Southern California; the company's CEO Jin Liang graduated from Zhejiang University Zhu Kezhen College and Mechanical College. He has a double degree in business management and mechanical design, and also holds dozens of domestic and foreign invention patents.
The company team has established a long-term and close connection with the clinical side, and has more than 10,000 loyal clinic customers. There are nearly 8,000 registered dentist users in the SprintRay Dental Users group. Dentists can share their clinical experience, and the user experience is passed on to more dentists, which increases the dentist's stickiness to digital equipment, and at the same time provides the team with input on the workflow, pain points and needs of oral clinical cases, and the company conducts product iterations and develops new products accordingly. The company's 3D printing equipment has more than 10,000 units in the United States, and the stock market share exceeds 50%. The complete product family created by the company, including 3D printer (SprintRay Pro S), resin material, dental 3D printing software, Pro Wash/Dry, ProCure 2, digital design service, Dashboard 2.0 medical technology interaction platform, etc., among which digital design service and AI design can help dentists to effectively improve design efficiency, reduce operating costs, and smoothly transition from the traditional dental service process to the chairside digital model.
The company has built five major barriers and built a corporate moat. ①Equipment: Dental 3D printer series, ProCure series, ProWash/Dry ②Consumables: Cooperate with internationally renowned material manufacturers such as BASF, Bego, etc. to continuously develop new materials that can meet the needs of dental applications.
③ Workflow: Provide a closed-loop solution for complete workflow based on the understanding of clinical workflow. Dentists can benefit from the efficiency and stability of the product delivered by the company's complete solution compared to competing products.
④Design service: According to the service needs of dentists, the company has developed design services and an interactive platform based on design services to improve the efficiency of user workflow, increase user stickiness, and increase the total life cycle value of active users.
⑤AI design: The company tries to help dentists complete part of the design work through automatic design based on AI deep learning, and help clinics reduce costs and increase efficiency.
With the help of the transformation trend and five barriers of digital oral cavity in the dental industry, the company continues to maintain a high compound growth rate.
The development of 3D printing and new materials has also brought new opportunities for "full mouth dental implants". Under the traditional implant technology, the cost of full-mouth dental implants is as high as hundreds of thousands of yuan. OnX is the company's new temporary tooth material. Its bending strength, impact strength, abrasion resistance and color characteristics can perfectly meet the needs of American dentists and is widely welcomed by American dentists. This new material is not expensive. It is completely affordable for Chinese patients.
China is a high-potential market for the company in the future. Compared with North America, domestic labs have advantages in dental manufacturing and provide more abundant services. Without fear of the storm, the company believes that the high-pressure competitive environment can improve the innovation and competitiveness of enterprises, and provide customers with more efficient and convenient services. In China, the company has expanded to a number of public hospital users, including Shanghai No. 9 Hospital and Peking University Stomatological Hospital.
In terms of market layout, in addition to the North American, European and Chinese markets, the company plans to expand to Australia, Japan, India, the Middle East and other markets. According to Smart Tech data, the global dental 3D printing market size in 2021 is about 3.5 billion US dollars, and according to a compound growth rate of 15%, it is expected to reach 6.6 billion in 2025. The segment where the company is located has maintained a stronger growth trend.