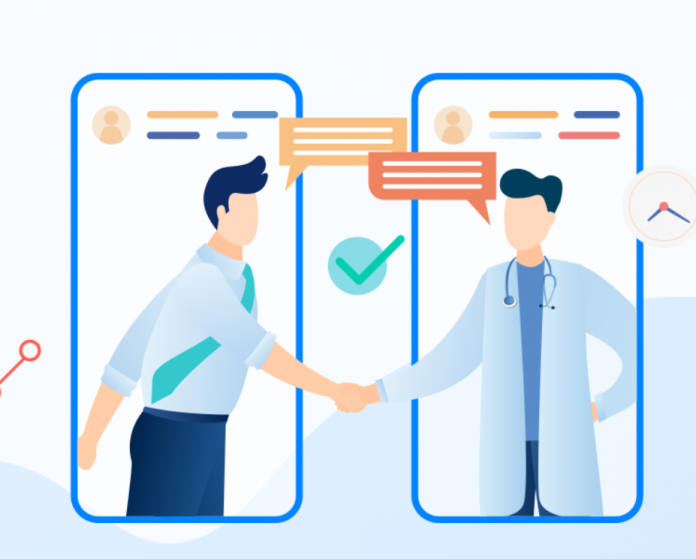 As early as 2010, the founding team of Recloud, which is basically from the background of IT Service, has begun to set foot in the marketing management service of the pharmaceutical and health industry. At present, it has more than 10 years of practical experience in the industry. In 2015, when the digital marketing of pharmaceuticals was in the ascendant, the digital marketing service solution by the founding team came into being, and released the first version of the solution Recloud V1, which is the vanguard of China's pharmaceutical digital marketing segment.
Zhao Zhuwei, co-founder of Recloud, recalled: "When I was doing IT Service, I mainly focused on IT marketing solutions. I would be exposed to multiple industries and multiple marketing scenarios. Among them, the pharmaceutical industry left the deepest impression on me. First, the pharmaceutical industry has high compliance requirements, and high entry barriers. Secondly, the pharmaceutical field is relatively less affected by the economic cycle, and it is a long-term promising sustainable growth industry."
The pharmaceutical industry, which has high barriers and is long-term optimistic, fits Zhao Zhuwei's expectations for the direction of entrepreneurship in vertical industries. Coupled with the influence of various factors such as policy regulations and pharmaceutical company reforms, the pharmaceutical digital marketing track is developing rapidly. Therefore, the decision-making team has devoted itself to the wave of pharmaceutical digital marketing transformation.
Recloud focuses on the marketing digitalization of the medical and health industry, providing pharmaceutical companies with a one-stop digital marketing platform. Currently, it has served more than 150 pharmaceutical companies, and has cooperated with AstraZeneca, Bayer Group, Yangzijiang Pharmaceutical, Jiangsu Hengrui Pharmaceutical Co., Ltd. and many others to empower more than 200,000 marketing personnel to realize mobile marketing and decision-making.
At present, Recloud has established a huge team, including both digital technology talents and medical experts, who can quickly combine IT technology with practical experience of pharmaceutical companies. Utilizing the team's medium and long-term product planning, design capabilities, and continuous product iteration capabilities, the company has built a complete and practical solution.
The one-stop marketing digital platform built by Recloud, includes eight applications of sales cloud, flow direction cloud, marketing cloud, data cloud, performance cloud, business cloud, partner cloud, and cost cloud, OTC dynamic marketing solutions, clinical SFE solutions, AI intelligent flow management solution. These can be flexibly and quickly deployed in combination with the marketing model of pharmaceutical companies.
For example, the marketing cloud application provided by Recloud can help companies carry out private domain operations, realize integrated management from customer registration and identification, labeling and grading, multi-channel access to retention and conversion, efficiently integrate digital marketing management, and improve the communication between sales teams and customers. At the same time, by establishing multi-dimensional tags and improving customer portraits, it can help representatives better understand customers, increase interactive topics, accurately locate customer preferences, and improve the company's digital marketing management capabilities.
After sorting out the layout of the product, several obvious advantages can be found.
The first one is integration. For all pharmaceutical companies, CSOs, commercial contract sales business, whether it is the business needs of the marketing department, sales department, SFE, or the business department, the company can provide corresponding solutions and products.
The second is its omni-channel capabilities. Recloud has realized a promotion model that combines online and offline, which can integrate online and offline scenarios, open up internal and external data, and choose more appropriate and accurate promotion methods based on customer portraits in all scenarios.
The third is highly intelligent. Based on big data and its own business data, it can clearly see various market data and give sales suggestions based on embedded business logic. In addition, Recloud fully considers the continuous update and iteration of business logic best practices, and provides highly configurable business logic adjustment capabilities to adapt to the adjustment of customer management rules.
When the time comes to 2022, China's pharmaceutical digital marketing industry has shown the characteristics of many companies, many products, and a hundred flowers blooming solutions. Technology-based enterprises represented by SaaS, platform enterprises represented by doctor platforms and patient platforms, and retail terminals represented by retail pharmacies and pharmaceutical e-commerce have all actively participated in the field of pharmaceutical digital marketing.
China's pharmaceutical digital marketing market is in a period of great waves. Various types of manufacturers have proposed different solutions from various angles. They all try to integrate upstream and downstream resources and reconstruct business scenarios. After the baptism of time, the true value of various solutions has gradually emerged, and pharmaceutical companies have a more rational judgment on the choice of solutions.
Zhao Zhuwei explained: "Next, the industry will present two scenarios. One is that existing uncompetitive solutions will withdraw from the market, and valuable products will remain. The other is that new solutions will begin to emerge and be gradually verified by the market. As the industry's supply-side reform enters the late stage, the marketing innovation of drugs and devices will enter the stage of landing and deepening. New opportunities and solutions will focus on medical services and pharmaceutical services, that is, how to meet the requirements of patient testing, the needs of the whole life cycle of medication and rehabilitation.
Actively participating in the business scene reconstruction of the medical service link will be the focus of Recloud's future layout. Recloud will release a new version of the product at the end of the year, and the new version of the product will introduce new technologies in speech recognition, image recognition, big data processing and other scenarios. Among them, as for the smart assistant that is more perceived by customers, whether it is market personnel, sales operations personnel, or front-line sales representatives, they can use the smart assistant to discover what problems the organization currently has and obtain targeted solutions. At the same time, based on its own products and experience in business services, the decision-making team continues to standardize digital marketing scenarios, launch business outsourcing services, and realize the transformation from an IT service provider to a marketing service provider.