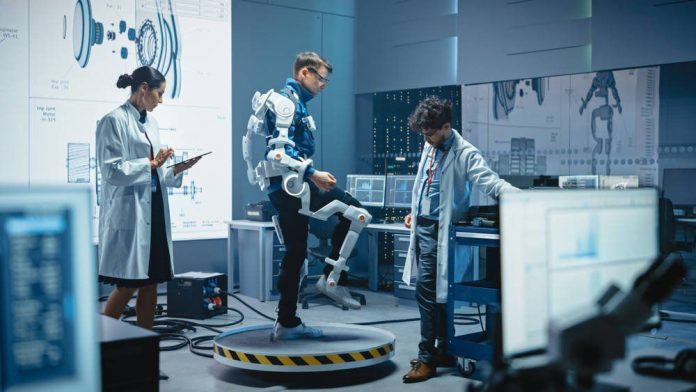 At the beginning of the new year, the field of rehabilitation robotics has received heavy funding news.
("Wisemen Medical"), a leading international rehabilitation robotics company, announced that it has recently completed a Series A financing round of tens of millions of RMB, exclusively invested by SCGC. The funds raised will be used for mass production, marketing and brand building, and continued consolidation of the company's technological leadership.
Founded in July 2019 and headquartered in Shenzhen, Wisemen Medical is an innovative technology company focused on intelligent rehabilitation robots and smart rehabilitation healthcare total solutions. Benefiting from the founding team's more than 15 years of research and development experience and strong technical accumulation in the fields of rehabilitation medicine, medical robotics, artificial intelligence and virtual reality, Wisemen Medical has passed the national high-tech enterprise certification in less than three years after its establishment, and has completed the development of several intelligent rehabilitation robots for upper limbs, fingers, cognition, speech and spine, and has several products approved by NMPA Wisemen Medical has more than 70 invention patents and other intellectual property rights at home and abroad.
Wisemen Medical's self-researched intelligent rehabilitation products have also won the first prize of the China Society of Rehabilitation Medicine, the second prize of the Science and Technology Award of the China Acupuncture Society, the first prize of the Science and Technology Award of the Guangdong Acupuncture Society, and the honor of Guangdong Famous and High-tech Products.
The world's first 3D upper limb mirror rehabilitation robot, providing innovative intelligent neurological rehabilitation solutions
Based on the self-developed unified hardware and software architecture, robot control algorithm, human-robot interaction, intelligent evaluation, exoskeleton bionic design, soft robot, virtual reality and sensor technologies, Wisemen Medical has developed a series of innovative intelligent rehabilitation robots and rehabilitation equipment, and built a rich product matrix.
Wisemen Medical has developed a series of innovative intelligent rehabilitation robots and devices, and has built a rich product matrix, including not only rehabilitation products for hospital specialties, but also community and home rehabilitation products, forming a full-cycle systemic intelligent rehabilitation solution for different scenarios, establishing a collaborative relationship between patients, therapists and robots, and achieving efficient interaction and emotional integration.
Wisebot® X5 is an exoskeleton rehabilitation robot designed for stroke hemiplegic patients based on theories of neuroplasticity and mirror neurons, Wisemen Medical's innovative Brunnstrom grading and intelligent assessment of joint range of motion, as well as deep learning-based intelligent rehabilitation training program generation technology.
Wisebot® X5 not only provides active, passive and active-passive training modes to meet the training needs of different rehabilitation periods, but also pioneers the mirror training mode, which enables the patient to decide the training movements of the affected side independently and realize the coordination of training on both sides of the patient and the patient, significantly improving the rehabilitation effect and efficiency.
The mirror training mode of Wisebot® X5 not only improves patients' autonomy and confidence in rehabilitation, but also enables the uninjured half of the brain to interact with the injured brain, reducing intercortical inhibition, increasing the amount of activation of cortical functional areas and expanding the activation area, thus more effectively promoting plastic changes and functional reorganization of the brain, and facilitating the functional recovery of the damaged areas.
Wisebot® X5 not only demonstrates the core technology level of Wisemen Medical, but also represents the evolution direction of the new generation of rehabilitation robots from both clinical and technical perspectives; it is not only another breakthrough in the key core technology of China's rehabilitation robots, but also fills the international gap in the field of rehabilitation robots and provides innovative intelligent neurological rehabilitation solutions for hemiplegic patients worldwide.
Wisemen Medical's ability to efficiently translate clinical needs and urgent clinical pain points into engineering language, deeply integrate clinical, technology and product, and launch the first international product with independent core intellectual property rights is due to the strong composite medical-industrial crossover R&D team behind it.
The company's R&D team is composed of first-class rehabilitation medicine, robotics and expert teams (academicians, Jieqing, professors, etc.) from the Chinese Academy of Sciences, Harbin Institute of Technology and other institutions. Co-founder Dr. Wu Jianhuang is a researcher of the Chinese Academy of Sciences and a doctoral supervisor. He has been engaged in research in the fields of surgical robotics, computer-aided medicine and medical translation for the past nearly 20 years, and has presided over nearly 20 national, provincial and municipal science and technology programs, and has presided over the development of systems such as vascular interventional surgery robots. The other co-founders include senior experts from rehabilitation industry associations, senior experts who have worked in the State Key Laboratory of Robotics and have been engaged in medical robotics research and development for a long time, sales directors and product directors from well-known medical device groups, and business elites who have successfully created remarkable results in the industry and accumulated rich upstream and downstream resources.
On the other hand, Wisemen Medical has been following the logic of "from the clinic to the clinic" in medical product research and development since its inception, and has been in constant communication and industry-academia-research cooperation with the research and clinical team led by academician Chen Lidian, president of the Chinese Society of Rehabilitation Medicine and director of the National Joint Engineering Research Center for Rehabilitation Medical Technology. We are constantly iterating our products based on rigid clinical needs, pain points and feedback, so that our products can better provide high-quality services for patients, physicians and institutions.
As aging accelerates demand awakening, rehabilitation demand continues to grow and rehabilitation has become a key livelihood topic. According to Frost & Sullivan's forecast, China's rehabilitation medical device market will grow at a compound annual growth rate of about 20%, and the market size will exceed 100 billion in 2025.
On the policy side, China has incorporated rehabilitation into its national development strategy, emphasizing the importance and urgency of developing rehabilitation medicine from a top-level design perspective. The national "14th Five-Year Plan" for the development of medical equipment industry clearly points out that the focus is on intelligent rehabilitation robots, exoskeleton rehabilitation robots and other intelligent equipment; the "14th Five-Year Plan" for national health also clearly points out that the focus is on the development of intelligent rehabilitation aids and other new health products.
With multiple favorable resonances, Wisemen Medical has started a new journey and entered into a commercial explosion period, thanks to the demand awakening, policy support, scale release, head capital empowerment and strong R&D strength.
For this financing, Dr. Wu Jianhuang, CEO of Wisemen Medical, said: "We are very grateful for the recognition and support from SCGC for Wisemen Medical's innovation and industrialization capability, and especially for the continuous support from the team of Prof. Wang Tianmiao, the last round of investors, and for all Wisemen Medical people's We are also grateful for the support from our last round of investors, Prof. Wang Tianmiao's team, and for all the people at Wisemen Medical for their relentless adherence to our mission and vision. Since its founding, Wisemen Medical has been upholding the mission of 'helping people achieve health and happiness'. Combined with the founding team's over 15 years of technical accumulation and R&D experience in the field of medical-industrial crossover products, we will continue to develop innovative products that address the rigid needs and pain points of rehabilitation clinics, help therapists reduce their workload and improve Wisemen Medical will always be patient-centered, create value for the clinic, continuously pursue technology, product and service innovation, actively respond to the national call to promote the localization of high-end medical devices, and strive to become a world-class medical technology company with long-lasting influence. "