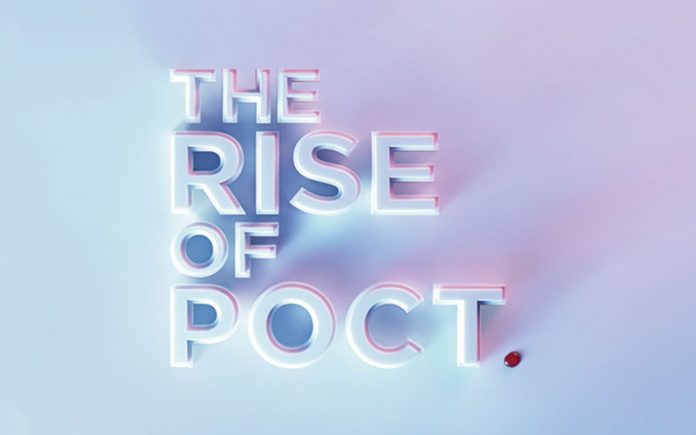 In 2018, the global market for POCT (point-of-care testing) reached 28 billion U.S. dollars, and it is still growing at a compound annual growth rate of 10%. It is expected that the global POCT market size is expected to reach 40 billion U.S. dollars in 2022. Due to its late start, the domestic POCT market has a compound annual growth rate of 20%. It is expected that the domestic POCT market will exceed 20 billion yuan in 2022. In the field of IVD (in vitro testing), the domestic per capita expenditure is only US$4.6, which is lower than the world per capita IVD expenditure of US$8.5 , Which is far below the US$25 per capita IVD expenditure in developed countries. In the IVD field, domestic POCT expenditures accounted for 13.98%, which is far below the world average of 27.38%; the domestic high-end POCT market is firmly occupied by foreign companies.
With the changes in domestic policies, the POCT industry has ushered in new changes. The DRG payment reform, the construction of national city and county chest pain centers, stroke centers, trauma centers, critical maternal care centers, critically ill children and newborn care centers, and the implementation of hierarchical diagnosis and treatment will bring rapid growth of the POCT market and promote POCT equipment Market penetration.
The huge potential of the POCT market and many years of industry experience allowed Dr. Jin Jing to see industry opportunities and established Nanjing RealmindBio Technology Co., Ltd. Dr. Jin Jing believes that the Chinese market will promote a group of POCT companies that have core technology and rooted in the Chinese market like Renmai companies to usher in new development.
Strategically deploy multiple POCT innovation platforms, with the main promotion of MCL60
RealmindBio has completed the strategic layout of multiple innovative technology platforms such as fully automated chemiluminescence POCT, small chemiluminescence POCT, and droplet control POCT. Among them, RealmindBio focuses on the automatic chemiluminescence POCT device MCL60, which is mainly for the high-throughput instant detection market in large and medium-sized hospitals.
It is more suitable for POCT (MCL60) of the top three hospitals
MCL60 has obtained the medical device registration certificate, mainly for tertiary hospitals. Many tertiary hospitals have expressed their intentions. Jin Jing believes that in the past, POCT equipment was mostly distributed in hospitals below the second level because most POCT products use immunochromatography technology, which cannot meet the clinical inspection accuracy requirements of third-level hospitals.
Some manufacturers seek breakthroughs to promote the miniaturization of chemiluminescence equipment, and even launched a single-person small chemiluminescence platform. However, in the face of the huge amount of specimens in the departments of tertiary hospitals, single-person small chemiluminescence is often not enough, and a fully automatic POCT that can meet high precision, high throughput and miniaturization is needed.
In view of this, RealmindBio has launched a POCT that is more suitable for the top three hospitals-MCL60 automatic chemiluminescence POCT, its advantages are:
Accuracy: Compared with automatic immunochromatographic POCT, the sensitivity is increased by 50 times, and the precision is increased by 5 times.
Direct chemiluminescence method based on magnetic particle acridine; precision ≤3%, sensitivity up to 2pg/mL; correlation coefficient with the gold standard of Roche clinical data is over 0.99
Convenient: no need to manually add samples, no need to manually load reagents/consumables frequently.
The width of the table is only 0.5 meters; 20 sample positions are directly loaded without waiting; 50-100 reagents, 8 refrigerated reagent positions
Efficient: Industry-leading efficiency per unit area.
Efficiency per unit area = 433 measurements/square meter/hour; speed measurement 144 measurements/hour, the first result only takes 12 minutes; reaction cups and kits support continuous replenishment without shutdown
2. Digital microdrop control POCT (μDC 800)
RealmindBio's digital micro-droplet control POCT μDC 800 adopts a new technology used in life sciences in recent years-electrowetting technology. Through the use of this technology, the problem of joint inspection of more than 10 indicators that was difficult to achieve in previous microfluidic products has been solved. In the case of a single test, μDC 800 can achieve multiple tests with 20+ indicators. During the collection process, μDC 800 only needs to collect 1-2 μL of blood from a single peripheral.
In addition to the above features, RealmindBio's digital droplet control POCT μDC 800 single test cost has also been greatly reduced. Compared with traditional microfluidic products, digital droplet control products do not require liquid paths such as micropumps, microvalves, etc., with low sample consumption and faster heat transfer.
Digital micro-drop control products are also suitable for tertiary hospitals. The detection scenarios of tertiary hospitals are more complicated. In addition to the large sample size, there are also scenarios where the sample size is small and multiple indicators are urgently needed for simultaneous joint inspection, such as allergen screening. μDC 800 "microdrop control" POCT can be used with multi-index combination package detection such as allergens and self-immunization, and results can be obtained quickly in clinical tests, which fully meets the needs of tertiary hospitals for micro-sample + multi-index real-time joint inspection.
3. Small automatic chemiluminescence equipment (ACL2800)
RealmindBio's automatic chemiluminescence analyzer ACL2800 has the characteristics of being small, stable and versatile. At present, the equipment has been used in many large and medium-sized hospitals and medical examination institutions such as the General Hospital of the Eastern Theater Command and Shandong Provincial Hospital.
ACL2800 upgraded ACL2800s
ACL2800 mainly adopts the sales model combining "CDMO + own brand". Jin Jing said that the CDMO business is mainly operated by the company's wholly-owned subsidiary Wancheng Biological. Chemiluminescence products have barriers such as high technical difficulty, long R&D cycle, and large capital investment. Through CDMO, it can provide economical and effective solutions to help customers enter the chemiluminescence market and reduce their R&D cycle and costs.
Graduated from Los Angeles with a PhD and established a professional R&D team
Behind multiple POCT innovative technology platforms is the RealmindBio technology R&D team. Among them, Jin Jing, the founder of RealmindBio, plays an important role. Jin Jing holds a master's degree in biomedical engineering from Southeast University and a Ph.D. jointly cultivated by UCLA and Southeast University.
At the undergraduate level, his research is biased towards medical electronics, software and hardware; at the master's level, his research is biased towards analytical chemistry and immunoanalysis; at the doctoral level, his research is biased towards biochemistry, nanomaterials, and microfluidic technology. Educational experience laid a solid foundation for the establishment of RealmindBio in the future.
Before founding RealmindBio, there was an episode. After Jin Jing graduated from Ph.D. in 2012, the opportunity to teach in 985 colleges and universities was in front of him, but he resolutely chose to enter the "IVD startup company at the time, and now the head listed company of POCT"-Jidan Bio. At Jidan Bio, it has established a chemiluminescence R&D team step by step, from R&D engineer to department manager and R&D director. Eventually he founded RealmindBio in 2016.
Jin Jing serves as the person in charge of the sub-projects of the national key R&D plan and the secretary-general of the IVD raw materials and components committee of the China Medical Device Industry Association. Among the R&D members of the core team, there are many old friends who have met in Jidan Biology. Both the reagent R&D director and the instrument R&D director have the R&D management experience of Jidan Bio. The operation director used to be the quality director of Dongshan Precision Manufacturing Co., Ltd., and the sales team is from the provincial managers or agents of similar companies. The tacit cooperation between the core team members contributed to the prosperity of RealmindBio.
At present, in addition to completing the strategic layout of the innovative technology platform, RealmindBio focuses on the pan-aging and pan-infant market in terms of reagent projects. RealmindBio has created and launched a series of characteristic reagent projects, including cardiac markers, inflammation monitoring, characteristic tumor markers, growth and metabolism, reproductive function, thrombosis, brain injury, etc., and has obtained a number of product registration certificates.
Aiming at the innovative technology platform, RealmindBio is also further upgrading. For the flagship product MCL60, RealmindBio plans to realize multi-machine cascade and launch a small outpatient and emergency desktop assembly line system connected with specific protein analyzers and hematology analyzers. RealmindBio is also developing an innovative technology POCT targeting the grassroots market that can fully replace immunochromatography. The lack of effective nucleic acid detection methods at the grassroots prevention and control site of the epidemic reflects the lack of molecular diagnostic POCT products. RealmindBio plans to begin research and development of droplet controlled molecular diagnostic POCT products in 2021.
The POCT market has a bright future, but these problems need to be solved
Jin Jing believes that RealmindBio's advantages are mainly reflected in technical strength. Continuous innovation has made RealmindBio one of the most innovative POCT companies in China. RealmindBio's multiple POCT innovative technology platforms are in a leading position in the country, and even filled the market gap. MCL60. For different application scenarios of POCT, RealmindBio has declared nearly 50 reagent projects, including more than 20 characteristic projects.
In addition, the team itself has a composite background. A composite team background in biology, medicine, electronics, software, nanomaterials, marketing and other professional disciplines helps R&D. At the same time, years of experience in the industry also enable the team to accurately determine the current market needs.
After completing Series A and Series B financing in 2018 and 2019, RealmindBio is currently planning a Series C financing. This round of financing will be used to increase the market investment of its own brands, mainly for the market layout of its own brands, especially MCL60. In addition, the funds will be used to continue the research and development of clinical characteristic reagents and innovative POCT technology.
Jin Jing expressed that it is optimistic about the development of the POCT industry. But the current POCT industry is also facing some problems. Although the market has a large demand for POCT equipment, there is still a lack of POCT products that meet the new clinical needs. This is mainly reflected in the following three aspects:
Tertiary hospitals require the POCT equipment to be accurate, fast, high-throughput, and fully automatic. However, some manufacturers are still using the previous generation of fully automatic POCT products. These products are based on the principle of fluorescence immunochromatography and lack accuracy in the detection results, which cannot meet the high standards for the detection results of tertiary hospitals.
POCT equipment in primary hospitals basically meets the needs of "small, fast and easy", but there is still room for improvement in detection accuracy. With the advancement of hierarchical diagnosis and treatment, the sample size of POCT detection in primary hospitals may increase rapidly, and the current POCT product equipment may soon be eliminated because it cannot meet new needs. Products for primary hospitals require technological upgrading and product iteration.
The epidemic has highlighted the problems existing at the grassroots prevention and control site, and the grassroots lack of effective nucleic acid detection methods. In the future, there will be massive market demand for POCT molecular diagnosis at the grassroots prevention and control site. However, the current market lacks corresponding equipment.
Solving these problems means gaining new opportunities. And RealmindBio is on the road to continuously build an innovative POCT technology platform and launch products that meet new clinical needs.