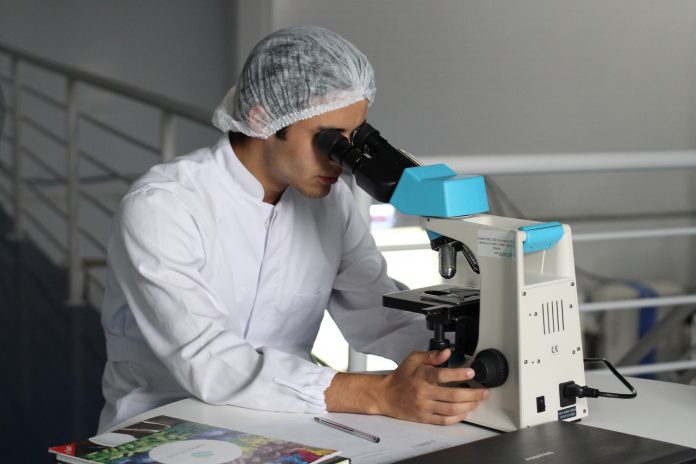 Rainsurebio announced the completion of tens of millions of A-round financing in Suzhou Industrial Park. This round of financing was led by Yuansheng Venture Capital, and the old shareholders Ming potential capital and volcanic stone capital followed.
According to reports, this round of financing will be used for the development of digital PCR systems and supporting kits and the establishment of sales channels. Previously, Rainsurebio has received investment from Real Fund, Volcanic Stone Capital and Mingshi Capital.
Established in October 2017, Rainsurebio is committed to promoting innovation in innovation, intellectual development, and service health. It is committed to promoting the application of leading technologies including digital PCR in medical and health, food safety, inspection and quarantine.
Its founding members are doctoral degree holders of top universities such as the Ivy League School of the United States. They have long served in the industry-renowned biotechnology companies, and have participated in and led the development of many well-known products in the industry. They have a solid academic background. And a wealth of industry experience.
At present, Rainsurebio has set up a complete team framework to realize the construction of talents from product development, manufacturing, registration and sales.
Digital PCR system and microfluidic control: performance does not lose international first-line brand products
According to reports, Rainsurebio has completed the commercial development of digital PCR products, and launched two generations of digital PCR systems including DropX-1000 and DropX-2000.
At the same time, Rainsurebio is the first to launch more than 50 digital PCR self-research kits in China, covering tumor point mutation detection (including non-small cell lung cancer, colorectal cancer, melanoma, breast cancer, gastric cancer and other cancers), gene fusion Detection, copy number variation. Rainsurebio is actively deploying clinical diagnostic tracks including tumor-associated diagnosis and liquid biopsy, and has been approved for two medical device product registration certificates.
According to reports, Rainsurebio's RainSure DropX-2000 system consists of a fully automated sample processing system and a biochip reader. The system's fully automated sample processing system eliminates the need for additional pressure sources or PCR amplification equipment, and with the RainSure RC2000 integrated chip, the sample processing (droplet generation and amplification) is automated through the device; the biochip reader can automatically detect, Analytical data with four fluorescent channels enables more kit detection combinations.
RainsurebioDropX-2000 Digital PCR System
Throughout the RainSure DropX-2000 system, the operator only needs manual loading and chip transfer. It is one of the most automated products in the digital PCR products currently sold, and it is also the only commercially available four fluorescent channel digital PCR. Equipment products. Rainsurebio is closely following the needs of its customers and is also developing a fully automated, highly integrated digital PCR system that is close to clinical pain points and enables alternative upgrades in molecular diagnostics for clinical applications.
The Acer's DropX series currently has many users such as the Chinese Academy of Sciences in China. The company's user base is also expanding. Now it has covered first-line biopharmaceutical companies, universities and research institutes, IVD companies, hospitals and third-party medical inspection institutes. Control center and entry-exit inspection and quarantine institutions. At the same time, in the domestic and international digital PCR equipment performance PK held in a university in China, the performance verification of the Acer's DropX series is also the first-line brand in the United States. Rainsurebio's other product flow controllers are also excellent.
At present, the microfluidic sampling system on the market has a syringe pump, a peristaltic pump, a piston pump and the like. These injection systems are extremely weak in achieving fluids in the nanoliter range, often with a series of problems such as hysteresis, long settling time, poor repeatability, and pulse effects. The microfluidic constant current injection control method implemented by the syringe pump can only provide a limited control channel. If more than 4 channels are required, several parallel syringe pumps are required, which are expensive and occupy a large space.
Rainsurebio's PG-MFC flow controller developed by the R&D team in China and the US is a microfluidic pressure injection system based on precise pressure control. The PG-MFC flow controller achieves accurate and stable pulse-free pressure output by adjusting the pressure of the pressure source. This method facilitates system integration, takes up less space, and does not contaminate the system with fluid.
The PG-MFC Microfluidics Control Unit combines pressure and flow rate control to provide a fast, stable, pulse-free pressure output that provides accurate and stable flow rate control when connected to an external flow sensor. Therefore, this flow controller is suitable for both industrial product development and research, as well as for scientific research and development.
At present, the sales performance of this product is good. Representative customers include Georgia Tech, Virginia Polytechnic University, University of California Irvine, University of Ottawa, Shanghai University of Science and Technology, Shanghai Jiaotong University, Hong Kong University and other well-known universities.
Rainsurebio microfluidic product series
The digital PCR products developed by Rainsurebio have complete independent intellectual property rights and have been laid out in patents. Rainsurebio said: "We have applied for patent distribution according to the market of the products. Currently, we have applied for patents related to products in China and the United States. At present, the products are mainly based on the domestic market, and will actively apply for patents in Europe and Southeast Asia in the future. The patented layout of the core technology."
Continuous layout of digital PCR track, high quality won praise from customers
After this round of financing, Rainsurebio will continue to promote the application of digital PCR in clinical diagnostics, scientific research, food safety and other fields, improve the clinical product research and development registered product team and market sales team, and bring innovative solutions to customers.
Rainsurebio revealed: "In the future, we will develop a digital PCR system integrated machine, which is more integrated, light and convenient. In terms of kits, we will also actively deploy in clinical diagnosis, food safety and other fields to develop application products that meet market needs. ""
On the team side, Rainsurebio has introduced many old guns in the industry. It has rich experience in the operation and management of large-scale diagnostic equipment. At the same time, it actively builds a "direct sales + distributor" network, and hopes to work together with colleagues in the industry to quickly enter the domestic market.
Rainsurebio said: "In the future, we hope to become the world's leading life science and technology company based in China. Our short-term goal is to have a certain voice in the domestic market by virtue of the product's performance advantages, quality advantages and the company's service advantages."
Dr. Wang Yaqi, Chairman of Rainsurebio, said: "Rainsurebio continues to lay out the digital PCR track and firmly believes in the important market position of digital PCR in the field of molecular diagnostics. At present, Rainsurebio has established a professional digital PCR device including innovation with its strong R&D team. The complete ecology of digital PCR, including consumables, general reagents, reagent custom development, and digital PCR detection services, has been well received by customers. In addition, the company's revenue in the first half of 2019 has exceeded 3 times in 2018. Substantial growth."
"Yuansheng Venture Capital, which is the leader of this round, is one of the most professional investment institutions in the life science field in China. Many innovative companies investing in it are the leading companies in various fields. After this strategic investment, we have confidence and yuan. Together with Shengchuang, we will promote the construction of the digital PCR ecosystem better and faster."
Lin Yi, a managing partner of Yuansheng Ventures, said: "Yuansheng Ventures has been paying attention to innovations in the field of digital PCR in China. The absolute quantitative and high sensitivity of digital PCR in the past decade has made great achievements in scientific research applications. Digital PCR Since the commercialization of products in 2011, it has rapidly entered scientific research and enterprise users, and gradually replaced fluorescent quantitative PCR products with its clear technical advantages."
"In 2019, the digital PCR equipment and test kits were first approved by the US FDA to enter the clinical diagnosis market for hematological diseases, which means that the clinical application of digital PCR will gradually enter the stage of scale application. When the original quantitative PCR technology was popularized in China, it was created. An excellent group of benchmarking companies such as Ang. As in the year of fluorescent quantitative PCR, there will be excellent benchmarking companies in the field of digital PCR, leading the new generation of molecular diagnostic application market."
"Rainsurebio is a leading company in the field of digital PCR in China, with complete independent intellectual property rights. We fully recognize the innovation vitality of Rainiumbio and the spirit of product-oriented craftsmanship. We hope that through this round of investment and the ecology of Yuansheng Venture Capital in the field of life sciences. The ability to empower Rainsurebio accelerates the market layout and product footprint of Rainsurebio."
>>>>
About Rainsurebio
Rainsurebio (RainSure Scientific) was founded in 2017. Since its inception, Rainsurebio has been adhering to the philosophy of global research and development in China, with innovation, intellectual creation, and excellence in life as its mission, focusing on cutting-edge technological innovation and product development in the field of health.
Currently, Rainsurebio products cover two major segments: digital PCR systems and microfluidic solutions. And in Suzhou (Suzhou Rainbiobio Technology Co., Ltd.) and the United States have established production bases.
Rainsurebio has won many excellent reviews in the world. It has won the first Western Overseas Entrepreneurship Competition of the China Association for Science and Technology, the US West Group Championship, the entrepreneurial leader of Suzhou Industrial Park in 2018, the entrepreneurial enterprise of Gusu in 2018, and the entrepreneurs of returning students from Jiangsu Province in 2018. Project project units, 2019 Jiangsu Province high-tech enterprise cultivation library and many other honors, and has received investment from well-known institutions such as Zhenge Fund, Volcanic Stone Capital, and Mingshi Capital.
>>>>
About Yuansheng Ventures
Yuansheng Venture Capital is an investment institution focusing on the early stage and growth stage of medical and health fields. Based on Suzhou bioBAY, it radiates globally. At present, the management fund is about RMB 5 billion. It has completed investment in more than 60 high-quality projects, mainly involving new drug creation, medical devices, in vitro diagnostics, medical services, etc., and has achieved rich investment returns, and has been selected as China's medical health field for many times. Top10 Venture Capital Fund, China's most active medical and health investment institutions.
Yuansheng Ventures brings together a team of senior professional investors and the world's top scientific advisory team, with rich experience in entrepreneurship, venture capital and business operations in biomedical and other industries. Through its focus and rich industry resources, Yuansheng Ventures is determined to develop into one of the most successful medical and pharmaceutical venture capital funds in China.