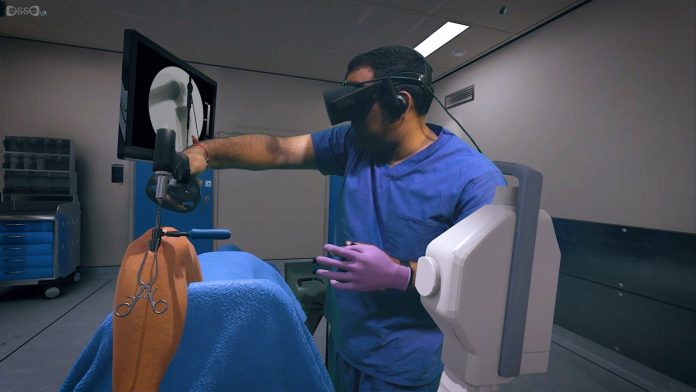 On March 12, 2023, one high-tech enterprise specializing in the research and development of medical digital teaching products and medical virtual simulation teaching industry celebrated its fourth birthday.
Zhushi Information Tech integrates industrial research, product development and industry applications, and is committed to the practice and application of new technologies in the field of medical education. It is one of the few manufacturers in China with a complete line of information and digital systems for medical education. The company's main technologies include cloud computing technology, big data analysis technology, VR virtual reality technology, AR augmented reality technology, MR mixed reality technology, XR extended reality technology, fusion projection technology, human posture recognition technology, voice recognition technology, bio-information analysis technology, etc.
Before starting his own business, Zhou Jian, the founder of Zhushi Technology, has been rooted in technological innovation, starting from the grassroots programmer, climbing the slope step by step to become the vice president of technology, the fields involved in across the Internet, finance and medical. At that time, Zhou Jian found that the medical education industry was a "black mosaic" with great business value.
On the one hand, doctors are a profession that requires lifelong learning, and the demand for education is extremely high. However, in the past, medical training was mostly provided by manufacturers of teaching aids or instruments, and there was more room to improve technical attributes and operational experience. And due to the special nature of the medical industry itself, the application of new technologies in the medical field lags slightly behind compared to the IT industry.
On the other hand, with the aging of the population, medical needs, especially the demand for primary care, are surging. Medical digital teaching products can not only generally enhance the convenience of medical students and doctors' learning, but also meet the industry's demand for education. And it also enables doctors in remote areas to enjoy quality medical education resources, thus improving the level of comprehensive medical services in China.
"We are the only company in the industry that does full-stack medical education, big data, and virtual simulation." said Zhou Jian proudly. Zhushi Information Tech is deeply engaged in the vertical track of medical education informatization and virtual simulation teaching content system, providing one-stop service of integrated software and hardware platform, specialized training content construction and personalized operation service for different aspects of clinical medical skills education and training.
Compared with other digital intelligence medical education platforms, Zhushi Information Tech's competitive advantage is mainly reflected in two points, one is to provide a one-stop solution. The company has now created more than 50 pieces of software, can provide information management software and hardware, virtual simulation digital teaching software and hardware, teaching simulators and other equipment and equipment services, covering emergency, clinical, nursing, public health, It covers dozens of mainstream departments such as emergency, clinical, nursing, public health, dentistry, obstetrics, Chinese medicine, medical imaging, maternity, etc. It can meet the different training and management needs of students, teachers, doctors and managers in multiple roles.
Secondly, Zhushi Information Tech does not limit itself to software service provider, but rather to "medicine" and "technology", to maintain the technical chassis, and continue to export professional medical content to help users In addition to maintaining the technical chassis, we continue to export professional medical content and assist users in developing teaching and research in special subject areas. We also participate in the overall project construction and design planning of large simulation teaching centers, and provide consultancy services for users.
No matter in any industry, the right thinking guidance is especially important. Medical education is even more important as a combination of two serious industries: the health industry and the education and culture industry. Clinical thinking determines the level of a doctor. With this in mind, Zhushi Information Tech has created the Clinical Thinking Training and Assessment System.
It is a system with real clinical cases based on diagnostic thinking, all of which are reviewed by leading experts in diagnostics. It is a full-featured simulation case study system. Through this platform, students can learn and simulate cases to strengthen their clinical judgment skills; teachers can monitor and evaluate the teaching of cases and the training and assessment process of students; the back-end management side mainly includes user management and case construction module with management and statistical analysis functions. It can be used not only for teaching in medical schools, but also for physician training, scientific research, etc.
The big data system and platform for medical education is another heavy product of Zhushi Technology. The platform is built on Hadoop platform, and the independently definable visual data cockpit can provide scientific and effective decision-making and management empowerment.
The software serves a wide range of people, students, teachers and administrators can be used, and the system algorithm will be customized, feedback, correction management and learning according to the situation and data of the user. For example, Zhou Jian said that many short-form video platforms will push algorithms based on user preferences, but what users like is not necessarily what they need, so Zhushi Information Tech designs software and algorithms that are tailored to the user's situation, taking into account both "likes" and "needs. Therefore, Zhushi Information Tech designs its software and algorithms to tailor them to the user's situation, and makes recommendations based on a balance of "likes" and "needs", in order to educate and entertain, and to integrate learning with fun.
In addition, the 3D virtual simulation series is also the fist product of Zhushi Information Tech. It is based on B/S architecture for school students, teachers and school administrators to use, which can realize the open sharing of virtual simulation teaching resources within the school and a wider range of practical teaching resources outside the school to meet the demand of virtual simulation practice teaching in multiple colleges and create a new model of practical training teaching.
With its strong technical strength and strong innovation drive, Zhushi Information Tech launched its first OSCE multi-station assessment management system and medical education big data analysis visualization platform just 4 months after its establishment, and has released several medical education software intensively in the following months.
Zhushi Information Tech achieved profitability in its first year of operation, and completed a positive development of "independent blood generation". The company has now reached an average annual revenue of 10 million dollars. Even with the impact of the epidemic, the company has been able to achieve an annual growth rate of 20%-30% for the past 2 years.
Zhushi Information Tech now cooperates with more than 100 head hospitals and medical colleges nationwide, including Nanjing Medical University, Shanghai Jiaotong University School of Medicine, Fujian Provincial Hospital, the First Affiliated Hospital of Nanchang University, Xiangya Hospital of Central South University, Shanghai Ninth People's Hospital, Western War Zone General Hospital, Southwest Hospital, Children's Hospital of Heavy Medicine, Nanjing Children's Hospital, etc., to provide Many sets of immersive, interactive and exploratory virtual simulation teaching solutions, with a customer repurchase rate of over 50%.
With the increase of medical personnel, the development of technology, and the popularity of online education, the medical education market will usher in a new round of explosion. We believe Zhushi Information Tech will continue to uphold the original intention and goal of "helping the industry to innovate with the extreme of technology", and use the key of technology and innovation to unlock more scenarios and needs in the medical education industry.