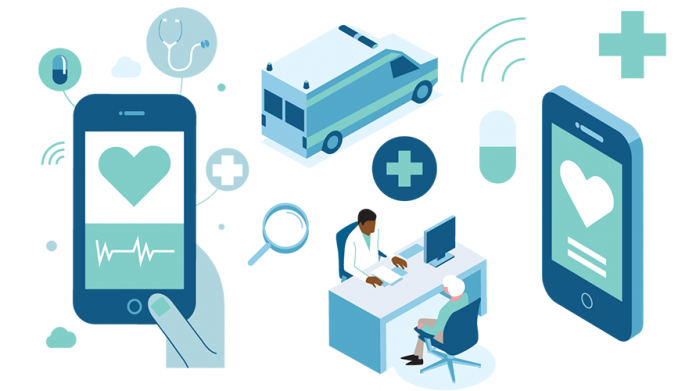 On August 20, Ping An Health Medical Technology Co., Ltd. (stock abbreviation "Ping An Good Doctor", 1833.HK), the world's leading medical and health ecological platform, announced its first half of 2020 performance report. During the reporting period, Ping An Good Doctor maintained a good growth momentum and achieved total revenue of RMB 2.747 billion. Among them, the core business online medical service maintained a rapid growth rate of 106.8% against the market, contributing revenue of RMB 695 million.
Core Business Stands Out and Overall Revenue Grows Steadily
COVID-19 has had a huge impact on the economy and people's lives, but on the other hand, it has also greatly promoted the demand for Internet medical services, increased the government and the public's acceptance and recognition of online diagnosis and treatment services, and accelerated the development of Internet medical services.
In the first half of 2020, Ping An Good Doctor's core business: the service capability of online medical services has been released at an accelerated pace, and profitability has increased significantly. During the reporting period, the online medical sector achieved operating income of RMB 695 million, maintaining a rapid growth rate of 106.8% against the market; its revenue accounted for 25.3% of the group's overall revenue, a significant increase of 10.5% from the 14.8% in the same period in 2019. Driven by the strong growth of core business, the company's total operating income reached RMB 2.747 billion, a year-on-year increase of 20.9%. Net loss narrowed by 22.1% year-on-year to RMB 213 million.
With the continuous improvement of operational management efficiency and continuous enhancement of business operation capabilities, Ping An Good Doctor's traffic indicators continue to climb to new highs, and the strategic focus is on medical realization. As of the end of June 2020, the number of registered users of the company reached 346 million, an increase of 30.98 million from the end of 2019, and a cumulative increase of 56.9 million in the past 12 months. In the first half of 2020, the average daily consultation volume of Ping An Good Doctor reached 831,000, a year-on-year increase of 26.7%. In terms of active users and paying users of the entire platform, in June 2020, the number of monthly active users and monthly paying users reached 67.27 million and 2.95 million, respectively, a year-on-year increase of 7.3% and 32.3%.
Comprehensively Deploy Medical Insurance Services and Accelerate the Promotion of Internet Hospital Projects
In recent years, Internet healthcare has become an important driving force for the "three-medicine linkage", playing an important role in improving medical quality and reducing medical costs. COVID-19 that broke out at the beginning of this year has accelerated the implementation of the medical insurance payment system, and many governments have responded actively. Ping An Good Doctor quickly responded to the call of the country, comprehensively deployed medical insurance services, and fully promoted the construction of Internet hospitals.
As of mid-August, Ping An Good Doctor worked closely with offline hospitals. Among the Internet hospital projects signed with offline hospitals in various places, 14 projects have been put into operation and actively connected to the local medical insurance payment system. Among them, Ping An Good Doctor has opened up the local medical insurance payment system in Hubei, Dongguan and Yinchuan, bringing convenient, efficient and safe Internet medical services to local citizens. In addition, Ping An Good Doctor gives full play to the advantages of online diagnosis and treatment, empowers the majority of public hospitals, and provides services such as online follow-up consultations and prescription renewal for offline users of local hospitals. It is worth noting that the Fuzhou Regional Internet Hospital platform that the company signed at the end of 2019 has been put into operation in mid-July 2020. In the future, Ping An Good Doctor will continuously, rapidly and actively invest more resources and funds to give full play to the synergistic advantages of Ping An Group, fully develop medical insurance online payment business, and accelerate the pace of building an Internet hospital.
While expanding its business, Ping An Good Doctor fulfills its social welfare responsibility, actively responds to the government's "Healthy China 2030" plan, and works closely with local governments to promote the "village doctor" project. As of June 30, 2020, Ping An Good Doctor has upgraded more than 900 rural health clinics, trained nearly 1 million village doctors, and covered more than 66,000 people in free clinics, greatly alleviating the problem of shortage of medical resources in rural areas and effectively improving Improve the level of medical services in impoverished areas, thereby improving the health of people in impoverished areas.
Continuously Consolidate Medical Service capabilities, and Rapidly Increase Member Product Income
During the reporting period, Ping An Good Doctor continued to consolidate its medical service capabilities, and its membership product revenue increased rapidly. The current total revenue of membership products exceeded RMB 420 million, a year-on-year increase of more than 200%. It has established a good reputation for service and formed a scale effect.
At the beginning of 2020, Ping An Good Doctor upgraded the first member product "Medical 360", which had been on the market for two years, to "HealthGuard 360". The upgraded member product won unanimous praise from insurance agents and policy users; in the first half of 2020, "Health The sales of "Guardian 360" grew strongly year-on-year.
At the same time, Ping An Good Doctor has provided one-stop services including one-to-one private doctor online consultation, offline hospital outpatient registration assistance, and escort services for more than 500 corporate customers, covering real estate, medicine, retail and other fields.
Strategic Upgrade-mission: to Build a Professional Doctor-Patient Communication Bridge
With the promotion of market demand and policies, the business of Internet medical services has been further enriched, the scale of the industry has continued to expand, and competition has intensified. In order to strengthen health and medical services, improve the construction of online and offline ecosystems, and consolidate its leading position in the industry, in mid-2020, Ping An Good Doctor launched a comprehensive strategic upgrade. Convenience is the goal, to build China's future Internet medical service platform with the largest scale, the most advanced model, and the strongest barriers to competition.