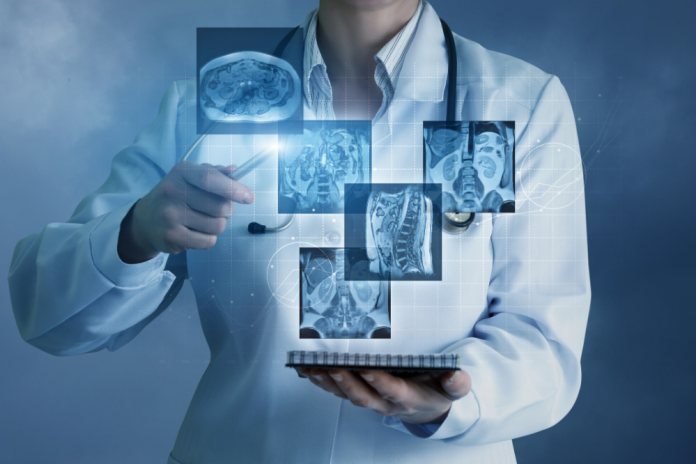 Recently, Deepwise Breast AI software was awarded the NMPA Class III certificate for medical devices. This is the first and currently the only Class III certificate for breast AI issued by the NMPA in China. So far, Deepwise has received six NMPA Class III certificates, expanding the application of artificial intelligence to a new field.
The AI product of Deepwise, the first domestic NMPA Class III certificate for breast, is composed of a software installation, including a web end and a server end, including a task creation module, a communication and transmission function module, a data overview module, an image browsing and processing module, a deep learning-based breast lesion automatic detection module, a breast lesion labeling module, a BI-RADS classification module, a graphic report module, and a server end. module, graphic report module, and the server end includes home module, service management module, operation monitoring module, user management module, configuration module, etc. The product is developed with clinical a priori knowledge and is mainly applied to breast cancer screening and auxiliary diagnosis. Meanwhile, the structured detection information provided by the system also lays the foundation for the construction of specialized disease database and further research applications.
The incidence of breast cancer in China is increasing year by year, and the trend is younger. Deepwise is the first to solve this problem through its innovative AI algorithm for ultra-small object detection in high-noise environments.
Deepwise uses innovative deep learning technology to promote the integration of product development and clinical research. The company has collaborated with several domestic medical institutions to conduct a series of breast cancer-oriented research to improve the performance of breast disease-related detection and diagnosis algorithms. We have published nearly 20 scientific papers in top conferences and SCI journals, for example, a scientific research result on automatic detection of mammogram lumps, which is included in TPMAI (IF 24.314), a heavyweight journal in AI field. At present, Deepwise is an international leader in the use of AI technology to integrate the most current academic results in the field of breast disease, such as target detection, instance segmentation, and sequence regression.
China's medical AI market is showing a good trend of orderly upward and high-speed development. the value of AI applications is beginning to reshape the smart medical system, and the overall business is spurting as commercialization matures. This first Class III certificate for breast AI issued by the State Drug Administration makes Deepwise's AI products leap to the top of the industry in terms of the number of certificates it holds. Deepwise's strong innovation capability has driven its business to surge in 2021, and in 2022, Deepwise's overall business will continue to rise sharply, providing professional, accurate and efficient AI products and solutions to thousands of medical customers in more than 30 provinces, cities and autonomous regions across China, and comprehensively helping the construction of medical wisdom.
At present, Deepwise has taken the lead in 7 key R&D programs of the Ministry of Science and Technology, 14 National Natural Science Foundation of China projects, and more than 30 provincial and municipal research projects, covering various research directions such as medical image processing, construction and application of medical big data knowledge system and related digital therapies. Meanwhile, in the list of unveiling units of AI medical device innovation tasks announced by the Ministry of Industry and Information Technology and the State Drug Administration in 2022, Deepwise has a total of 6 projects led or participated in the list, which is rare among medical AI companies for the number of projects on the list and the breadth of research span.
With the popularization and application of new technologies, the medical imaging field is gradually overcoming difficulties and breaking through bottlenecks with the support of science and technology, and the application scenarios are extending from a single diagnosis and treatment to more scenarios, with the continuous expansion of scenarios, traditional medical treatment is leaping towards the stage of intelligent medical treatment. Deepwise will continue to create new products, promote the transformation of scientific research results to clinical applications, create more new scenarios and new models, and open a new chapter in the development of medical AI.