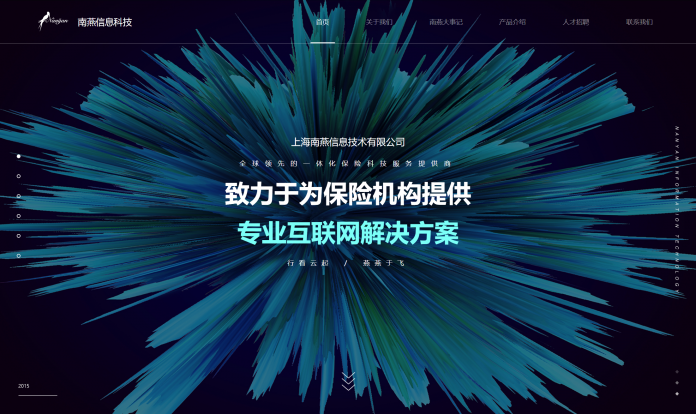 Nanyan, the world's leading integrated insurance technology service provider, recently announced that it has completed a B2 billion round of financing. It is understood that this round of financing was led by BOC International, a private equity investment institution with a domestic state-owned enterprise background. Shareholders such as Lanchi Ventures, Hainer Asia and Shidai Investment followed suit. This round of funds is mainly used for the acquisition of Medilink Global, a third-party service company specializing in third-party management of health insurance, to lay out high-end medical insurance services including direct payment. Qingtong Capital continues to serve as the exclusive financial advisor.
Nanyan was established in September 2015 as a professional third-party insurance e-commerce comprehensive service platform. Carry out third-party service business for insurance companies, insurance intermediaries, and insurance part-time agencies, provide one-stop insurance products and system services for upstream and downstream, and completed A in December 2015, December 2017, and October 2018, respectively. The round, round B and round B + of financing have accumulated hundreds of millions of financial funds.
Next-generation information technology optimizes insurance processes
Since it has been online for more than 4 years, Nanyan has fully developed its insurance management and monitoring processes from product design, trading system, and core ERP based on the Internet's open source technology and cloud computing SaaS platform and the industry's first SaaS + MGA model. The process SaaS service platform serves more than 1,000 insurance companies and insurance intermediaries including Ping An of China, China Taiping, AIG, etc., covering an annual premium of nearly 1.5 billion, depositing more than 200,000 policies per month, and a market share of about 30%.
According to Mr. Gong Xun, Nanyan's core team has both insurance and technology genes, and has been in the industry for decades.
Aiming at the two major pain points in the domestic insurance industry: the asymmetry of customer demand and the supply of insurance companies, resulting in difficult transactions and redundant processes, as well as the inefficient transfer of insurance policies, insurance underwriting, underwriting, distribution methods, system design, customer service, and reinsurance Digital and intelligent elements are integrated into a series of insurance business links such as arrangements to improve the efficiency of the industry while strictly controlling various risks.
Quickly build a new health insurance business closed loop
Nanyan CEO Mr. Gong Xun said that based on the data advantages of insurance technology Saas business, it is an important way for Nanyan to continuously enrich its business pipeline based on the acquisition of high-quality service carriers in the vertical segmentation field.
Nanyan's acquisition of Medilink Global (also known as the mid-band) was established in 2005 and originated in Malaysia's Medilink-Global, which has the industry's leading ECCS core system. Since its establishment, the Middle Belt has been adhering to the principle of independence and focus on providing third-party health insurance management services, direct payment medical networks and corporate health services for Chinese and foreign insurance companies, reinsurance companies, insurance agencies, insurance brokers and large captive companies. Sarin, founder of Medilink Global, continues to serve as Nanyan senior consultant.
Middleband has long been focusing on high-end health insurance services. It is the only front-end solution provider in the industry, with more than 40 cooperative insurance companies, serving more than 150,000 members and more than 500 large enterprises. The middle band is based on the "ECCS system + front-end direct payment solution" and has realized direct health insurance payment in more than 1,700 hospitals in 24 provinces, 188 cities in China. In addition, the intermediate direct foreign payment network covers 1.36 million hospitals in 150 countries and regions.
Mr. Gong Xun pointed out that Nanyan acquired the intermediate zone in November 2019, completed the business closed-loop construction between insurance companies, medical institutions and sales networks, strengthened data and risk control, and achieved efficiency improvements and optimization of health insurance products and services.
Wang Lixin, managing director of BOCI's direct investment department, said that with China's GDP per capita reaching 10,000 US dollars in 2018, the golden age of China's rapid growth of the insurance industry has begun. The huge market scale and high-speed economic growth have provided fertile soil for new companies providing technical services, and strongly supported the mid-to-long-term booming development of the insurance technology industry. The high professionalism and strong regulatory nature of the insurance industry requires that successful entrepreneurial teams must have a deep understanding of the insurance profession in order to seamlessly integrate technology and expertise to bring real value to the industry and shareholders.
About BOC International
BOCI is one of the earliest established Chinese banks and one of the largest and most powerful Chinese investment banks in overseas markets. It can provide clients in domestic and overseas capital markets with stock and bond issuance, mergers and acquisitions, financial advisory, investment research, private banking, direct investment, A full range of investment banking products and services including asset management, securities and equity derivatives trading, leverage and structured financing. In addition to its own capital investment, BOCI currently manages three large investment funds such as China Cultural Industry Investment Fund, Bohai Industry Investment Fund and BOCI International Infrastructure Fund. Equity investment businesses are widely used in finance, mobile internet, artificial intelligence, culture Entertainment, infrastructure and other fields.