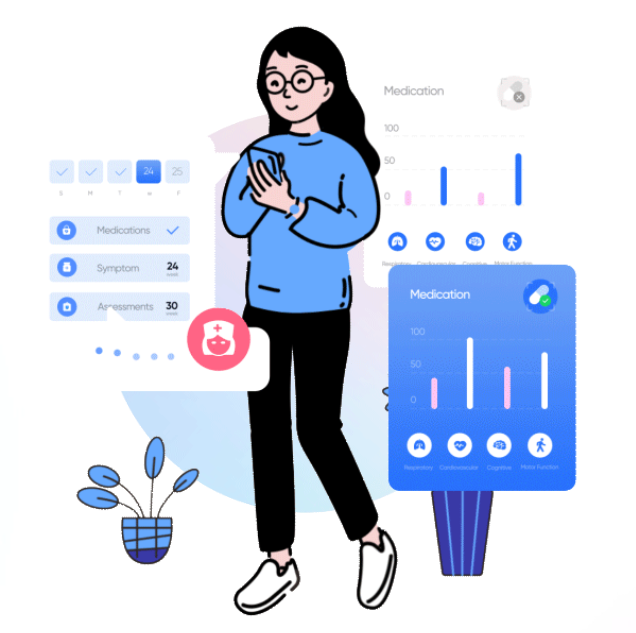 Recently, Luca Healthcare, a digital biomarker research and development company, has completed its Pre-A round of financing of tens of millions of yuan. This round of financing was led by Lightspeed China Partner, with participation from Jinding Capital and Picus Capital. This round of financing will be used for the R&D and verification of Luca's existing digital target pipeline, international scientific research cooperation and the upgrade of the digital target R&D platform.
Founded in 2020, Luca is a company focusing on the development of digital biomarker in the field of digital medicine. The main application scenarios of digital biomarker cover drug efficacy evaluation in clinical trials, as digital companion products for paired drugs and devices, and for the development of stand-alone digital therapeutics. Up to now, Luca has successfully developed more than 40 digital biomarkers, mainly focusing on the fields of breathing, neuromotor and cognition; its 4 related products are applying for Class II and Class III medical device registration certificates respectively. "With the development of digital biomarker as the core, through the combination of business models, we can conduct business layouts that connect digital biomarkers and different application scenarios." said Luca founder and CEO Chen Si.
Digital evaluation, digital companion, digital therapeutics, digital biomarkers with wide application scenarios
Digital biomarkers are widely used. For example, before the drug is launched, digital biomarkers can be used as the clinical endpoint of the drug to more objectively evaluate the clinical efficacy. Not only that, from the perspective of medical services, digital biomarkers can also be applied to disease screening, diagnosis, remote monitoring and management of patients, prediction and early warning of acute events. From the perspective of improving the therapeutic effect, the digital biomarkers can be used as a digital accompanying product of the drug to improve the overall therapeutic effect through AE management, dose adjustment, medication management and other methods. From the perspective of intervention, digital biomarkers can also be used as evaluation endpoints for intervention, forming a closed loop of diagnosis and treatment for digital therapeutics, and realizing digital and personalized precision medicine. "In traditional drug development, there are active pharmaceutical ingredients, which is API. In fact, digital biomarkers can be regarded as active digital ingredients." Chen Si said.
Whether it is in the field of digital clinical assessment or digital therapeutics, Luca has achieved certain results. For example, in the development and application of digital companion, diagnosis, and digital clinical endpoint assessment tools, Luca has reached cooperation with well-known multinational pharmaceutical companies such as Shanghai Pharmaceuticals and AstraZeneca, as well as Thermo Fisher, leading global medical service companies.
In terms of product development of digital therapeutics, Chen Si has repeatedly emphasized: "Luca chooses the field of digital biomarkers, not a certain disease field, that is, for digital phenotypes, to discover new features from the data dimension." Luca is currently developing digital therapeutics products either by itself or jointly with industry stakeholders, covering multiple disease areas, especially in respiratory and neurological diseases.
Compound talents, various application scenarios, scientific orientation–LUCA's weapon to success
Luca's team members come from the fields of biotechnology, medicine, artificial intelligence technology, Internet technology and algorithms, and have unique understanding and advantages in the combination of technology and medicine. Chen Si's academic background and industry experience in biosensors in Cambridge are closely related to digital biomarkers and digital therapeutics. She was the manager of the UK digital health unicorn Huma China, responsible for remote patient monitoring, development of digital biomarkers and digital therapeutics; served as the R&D and business development director of DRW in vitro diagnostic technology company; participated in leading the development of POCT infectious disease detection software and hardware technology platform, development of digital biomarkers in the fields of pulmonary hypertension, neurology and hip replacement Point and digital therapeutics products. The founder and core team's deep cognition and understanding of the industry have given Luca the ability to successfully pass the first level of digital biomarker development.
According to Chen Si, in the whole process of digital biomarker development, Luca takes "Meeting patients where they are" as the core, based on rigorous medical logic, evaluates technical feasibility and accessibility, and uses a complete set of the advanced data processing and algorithm development process to solve problems such as raw data volume and inter-class balance to improve the prediction accuracy of deep learning models in complex scenarios. "These breakthroughs allow us to accurately capture the medical evidence-based digital targets for disease diagnosis and monitoring in a simple way, through the technical configuration that fits the scene, and deeply adapt the application scene to the most suitable technology.
The future of digital therapeutics should be divided into three parts: one is the current mainstream digital therapeutics based on CBT or guideline path digitization; the second is digital therapeutics accompanied by drugs or treatment processes; the third is the most popular digital therapeutics in the future OTC with potential for development." Chen Si said. In order to truly allow digital therapeutics to be recognized and achieve clinical benefits and health economic value, further regulations on the evaluation and certification system of digital medicine are needed, as well as more in-depth, broader market education.