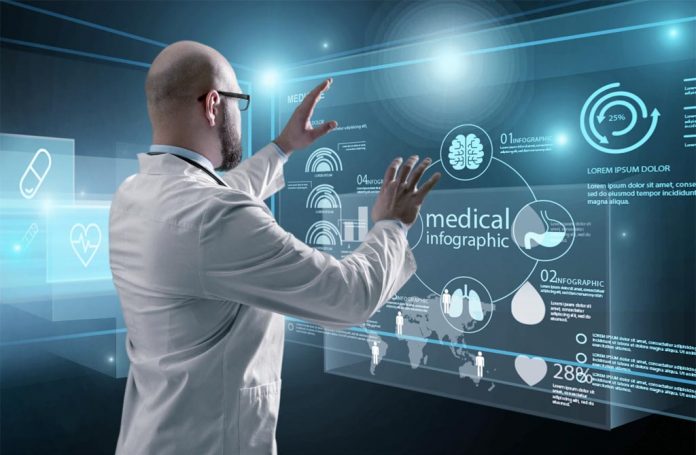 For a long time, my country's radiotherapy market has been dominated by imported companies. International radiotherapy equipment manufacturers account for 90% of my country's market. At the same time, they also dominate the development of radiotherapy technology. In recent years, with the continuous integration of artificial intelligence, big data and other technologies into radiotherapy technology, intelligence has become a major development trend in radiotherapy. The trend of intelligence has also provided Chinese companies with opportunities for overtaking in corners. In the research of smart radiotherapy technology, a group of local head companies have been born. They redefine the standard of radiotherapy treatment through efficiency improvement, accuracy improvement, and process innovation in the field of radiotherapy.
LinkedMed Smart Radiotherapy Cloud Overall Solution
LinkingMed is one of the representatives. LinkingMed covers more than 80 hospitals in China and serves more than 8,000 people every week. It is the leading company in the field of smart radiotherapy in China. In the process of promoting the development of smart radiotherapy, LinkingMed has reached a cooperation with the precision medical "most powerful brain" AskBob under Ping An Smart Medical. LinkingMed's cloud-based smart radiotherapy solution will be equipped with Dr. AskBob to cover head and neck, esophagus to chest cancers.80 +GTV for organ-threatening and esophageal cancer, automatic radiotherapy delineation products at 12 lymphatic stations in the chest, bring domestic doctors an intelligent radiotherapy solution with accuracy comparable to international and domestic authoritative radiotherapy experts, and improve the quality and consistency of radiotherapy delineation. By greatly shortening the drawing time, improving the efficiency of diagnosis and treatment, and truly benefiting patients.
The rapid expansion of the radiotherapy market, AI improves the consistency of radiotherapy
Nowadays, radiotherapy has played an increasingly important role in cancer treatment: According to WHO statistics, about 45% of tumors are curable, about 40% of cured tumors are cured by radiotherapy, and about 70% of cancer patients need it at different stages. Receive radiotherapy. At present, in European and American countries, the application rate of cancer radiotherapy has reached 60-70%, but this ratio is less than 30% in China, and there is still a lot of room for development.
As the huge number of cancer patients in China continues to grow, the domestic radiotherapy market is rapidly expanding, and the gap between my country's radiotherapy market and developed countries is being filled. my country's radiotherapy market has also ushered in the dual opportunities of heavy market volume and intelligent upgrades.
The trend of market expansion can be intuitively reflected from the data. According to the data in the "Research on the Basic Situation of Radiotherapy Staff and Equipment in Mainland China in 2019″, the total number of beds in radiotherapy units in Mainland China in 2019 is 97,836, including some oncology departments. The number of beds is 1,259,602 per year. Compared with the survey results in 2015 (102,171 beds, 919,339 annual treatment), the number of beds decreased by 4.2%, and the number of treatments increased by 37.0%. Top 15 common radiotherapy diseases: lung cancer, esophageal cancer, breast cancer, cervical cancer, rectal cancer, nasopharyngeal cancer, brain metastases, bone metastases, stomach cancer, central nervous system, laryngeal cancer, liver cancer, oral cancer, lower Pharyngeal cancer and oropharyngeal cancer.
The emergence of intelligent technologies such as artificial intelligence and big data has accelerated the process of market expansion.
Radiotherapy is actually a very mature technology, but the difficulty lies in how to accurately know where the boundary between the tumor and the normal tissue is, and to reduce the effect of radiation on the normal tissue during the radiotherapy treatment. Another difficulty is that tumor treatment is a dynamic process, and its size, shape, and location of other organs will change during the treatment.
In clinical practice, in order to solve these two major difficulties and ensure the quality of radiotherapy, radiotherapy doctors need to spend several hours to delineate the target area and organs at risk, and design the dose prescription and target area. The two tasks of target area work and treatment plan design occupy a lot of doctors' time and energy. In the delineation of the radiotherapy target area, 50% of the daily task of the radiotherapist is to delineate the target area. The anatomical structure of the tumor is very complicated. While delineating the target area, it is necessary to outline the surrounding organs at risk. In addition, doctors also need to predict the path of metastasis of the lesion in advance based on the ability of anatomical structure to form spatial imagination.
The intelligent radiotherapy planning system using artificial intelligence technology can realize automated target area delineation, radiotherapy plan formulation and quality control, ensure high-quality radiotherapy treatment effects, and free doctors from a lot of boring and time-consuming work. Although intelligence is already a major trend in the development of radiotherapy technology. However, most of the current radiotherapy treatment plans are based on a certain group of people, a certain hospital, and are not precise, detailed and comprehensive. How to make smart radiotherapy more accurate and efficient has always been the direction that smart radiotherapy wants to break through.
LinkingMed chose Ping An Smart Medical's automatic target area delineation product because Dr. AskBob realized the accuracy of the automatic target area delineation product to a higher level, which can improve the standard and consistency of radiotherapy treatment in a wide range of clinical applications. Taking nasopharyngeal carcinoma as an example, nasopharyngeal carcinoma is a very difficult disease in the delineation of the target area. Ye Xianghua, deputy chief physician of the Department of Radiation Oncology, the First Affiliated Hospital of Zhejiang University School of Medicine, once said in a speech: "The anatomy of the nasopharynx is particularly complicated. It may not be enough for junior doctors to memorize five or six times. Very familiar. A patient with nasopharyngeal cancer did not have a plan that took 3 to 5 hours to make, and we couldn't get it."
Technology empowers Ping An Smart Medical Doctor AskBob's Ping An Medical Technology Research Institute, which develops radiotherapy from head and neck cancer (applicable to oropharyngeal cancer, nasopharyngeal cancer, hypopharyngeal cancer, oral cancer, laryngeal cancer, brain metastasis, etc.) to The 46+35 automatic delineation models of organs at risk for chest cancer (applicable to lung cancer and esophageal cancer) have become a relatively comprehensive and accurate model and product for the automatic delineation of organs at risk in the world. In the radiotherapy of esophageal cancer, a precise model of cancer tumor target area delineation has been developed. In the delineation of the chest lymphatic station, an unprecedented accurate automatic delineation model of the 12 lymphatic stations of the chest was realized. Related radiotherapy AI model work was published in MICCAI 2019/2020 (4 selected papers are all difficult early accept articles), IEEE CVPR 2020, Medical Image Analysis 2021 (selected as the best paper candidate for MICCAI 2019), SNMMI 2020, RSNA 2020, etc. More than 10 articles on top artificial intelligence, medical imaging and clinical medicine annual conferences and journals. In these very competitive conferences, the incredible 100% acceptance rate reflects the quality of the work, the advanced nature of innovation, and the unanimous acceptance by the technical and clinical judges in the peer review.
The medical imaging research and development team of Dr. AskBob of Ping An Smart Healthcare is a team composed of industry elites located in the United States, China, and Taiwan, and has made achievements in various international summits in artificial intelligence, computer vision, and medical imaging. Its Washington Research Institute won the best paper candidate for two consecutive years at MICCAI 2019 and 2020. Esophageal cancer GTV tumor target delineation work was presented at MICCAI 2019 as one of the five industrial MICCAI conference oral reports, and the extended version of the best paper candidate was also published in the top medical imaging international journal Medical Image Analysis 2021. The Washington Research Institute published a total of 15 MICCAI and 10 on ECCV/CVPR/AAAI/IPMI during 2019-2021. Among them, 4 of the 23 biological and medical imaging papers in the three major international computer vision conferences ECCV2020 are close to 20% of the world; 3 medical imaging papers (two of which are to solve the core problems of cancer diagnosis and treatment) have been published on CVPR 2021, which has just released the results, with an acceptance rate of 75%; fully demonstrates the team's world-leading medical technology innovation Competence and results. In addition, he has published more than 10 top journals including Nature Communications, Clinical Cancer Research, Medical Image Analysis and IEEE Trans Medical Imaging. Published 20 peer-reviewed clinical abstracts at the top professional annual conferences of multiple clinical departments such as RSNA/EULAR/AASLD/ACR Convergence/SNMMI/SABI, 14 of which were oral reports at the conference, and submitted 29 US patents. In the five years from 2016 to 2020, its team members have won the best paper award in the clinical big data category of RSNA (Annual Conference of Radiology in North America, the world's authoritative annual conference of radiology). Has achieved a very significant academic reputation and clinical reputation in the world. With regard to the full-process AI solutions for precise cancer medical imaging, from cancer screening to precise diagnosis, to treatment plans and patient prognosis, as well as treatment response measurement management, Dr. Askbob of Ping An Smart Healthcare ranks among the world's leaders.
From top to bottom, Ping An Smart Medical Doctor AskBob provided (1) esophageal cancer GTV and CTV target area delineation; (2) head and neck cancer organs at risk (46 organs at risk), suitable for oropharynx, nasopharynx, and hypopharynx (3) Segmentation of thoracic anatomical structure (35 organs/tissues); (4) Segmentation of thoracic tumors at 12 lymphatic stations.
At present, Dr. AskBob of Ping An Smart Healthcare has also provided data with 4 hospitals including Chang Gung Memorial Hospital in Taiwan and the First Affiliated Hospital of Zhejiang University. Clinical trials have completed the very challenging multi-center clinical validation of GTV tumor target delineation for esophageal cancer. Whether it is an internal independent validation set or an external multi-center validation set, nearly 90% of patients in the GTV automatic delineation result do not require a doctor Additional modifications, or only a small amount of modifications are required. Esophageal cancer tumors may be multi-focal distributed in any one or multiple positions of the upper and lower esophagus, and the surrounding soft tissues have low contrast under radiotherapy RTCT. (1) In the quantitative verification, the automatic delineation of the esophageal cancer GTV (total tumor volume) tumor target area provided by Ping An Smart Medical's AskBob platform only takes 30 seconds to complete the automatic delineation. Both the automatic delineation models based on RTCT and RTCT+PET can reach The accuracy (corresponding to 81% and 83% Dice scores) of the second-line senior clinicians of radiotherapy within the outline of changes. (2) The training data is center A. In clinical verification, a total of 355 new patients in the three other hospitals of B, C, and D across centers are used, of which 88% of the validation set patients (312/355) AI automatically delineated the esophageal cancer GTV The tumor target area, second-line radiotherapy oncologists in the esophageal cancer specialist believes that it can be directly accepted or only a very small amount of modification is required. (3) Specialist 2-line radiotherapy oncologists can modify the results of the AI ​​target area delineation, which can shorten the time by 48%, from 10 minutes to 5 minutes to complete. The overall accuracy is only the result of the second-line radiotherapy oncologists delineating the special esophageal cancer. , Even higher. (4) If it is a foreign scenario, these digital quantitative indicators will be more significant in terms of time-saving and efficiency-increasing.
Based on cloud solutions, promote AI radiotherapy to sink to the grassroots
The integration of AI and radiotherapy redefines the process of radiotherapy treatment, but if smart radiotherapy solutions want to play a greater value, they should not stay in a few top hospitals or laboratories, but land in the vast hospitals.
Let the radiotherapy AI enter the hospital and radiate a wider range, which is why Dr. AskBob of Ping An Smart Healthcare chose LinkingMed as a partner. Choosing LinkingMed, Ping An Smart Healthcare is interested in LinkingMed's accumulated strength in the field of intelligent radiotherapy and its intelligent solutions based on the whole process of cloud-covered radiotherapy.
LinkingMed has been deeply involved in the field of AI radiotherapy for many years. It is the first domestic technology company to apply artificial intelligence technology to the field of tumor radiotherapy. LinkingMed independently developed a cloud-based intelligent radiotherapy cloud solution that provides automatic organ delineation and target area based on artificial intelligence. Delineation, adaptive radiotherapy planning, radiotherapy quality control and other technical tools and cloud service platforms provide professional remote collaboration and radiotherapy operation network services for users of radiotherapy doctors and physicists.
In addition, LinkingMed has been committed to providing cloud-based solutions. LinkingMed enters the hospital through a hybrid cloud, and has complete technologies and solutions for data encryption, distributed storage and computing, and mobile terminal interaction.
Cloud-based solutions can achieve wide coverage, and land in tertiary hospitals and grassroots hospitals at the same time. LinkingMed adopts the SaaS model, which eliminates the need for software download and installation and the storage of a large amount of patient data. It can realize mobile office, remote delineation and remote collaboration, optimize the space and time of radiotherapy experts, improve work efficiency and reduce the operation and maintenance costs of radiotherapy units, and apply at the same time Cloud technology to achieve remote delineation also reduces the problems of contact and gathering of people.
Cloud-based solutions can help radiotherapy AI sink to the grassroots level. In my country, conventional cancer treatment techniques include radiotherapy, chemotherapy, and surgery, while only 7% of county-level hospitals across the country have radiotherapy departments. LinkingMed's cloud-based solutions can use Internet collaboration to enable doctors in large tertiary hospitals to provide high-quality treatment plans and recommendations for local and municipal hospitals, as well as related technical support for remote medical quality control, so that large tertiary hospitals can improve themselves At the same time of efficiency, it can radiate its capabilities to a larger range.
The shortage of radiotherapy-related talents including radiotherapy doctors and medical physicists (radiotherapy physicists) is also an important reason hindering the development of grassroots radiotherapy technology in my country. LinkingMed cooperates with Ping An Smart Medical to place Dr. AskBob's powerful AI radiotherapy automatic delineation system in LinkingMed's solution covering the whole process of radiotherapy, which can provide hospitals with accurate whole-process intelligent radiotherapy solutions; based on artificial intelligence technology, it can be done automatically Target area delineation, automatic preparation of radiotherapy plans, and automatic completion of equipment quality verification; provide quality verification for doctors and physicists throughout the entire process of radiotherapy, so that limited resources of radiotherapy doctors and physicists can save more patients; let AI+radiotherapy be used in More hospitals have landed, so that smart radiotherapy services covering the full cycle and scenes can reach more patients.
Professor Lu Le from Ping An Medical Technology Research Institute said: "Through system deployment with LinkingMed and various existing hospital systems, we can honed shoulder to shoulder with top doctors and hospitals to build the world's most advanced clinical medical AI technology. Popularization and universalization. In the diagnosis and treatment process of doctors, it will shine and generate heat, which significantly improves the quality, accuracy and consistency of tumor target area and organ-at-risk in precise cancer radiotherapy. By greatly shortening the delineation time, improve the efficiency of diagnosis and treatment. Optimize the prognosis of patients and truly benefit the majority of patients."