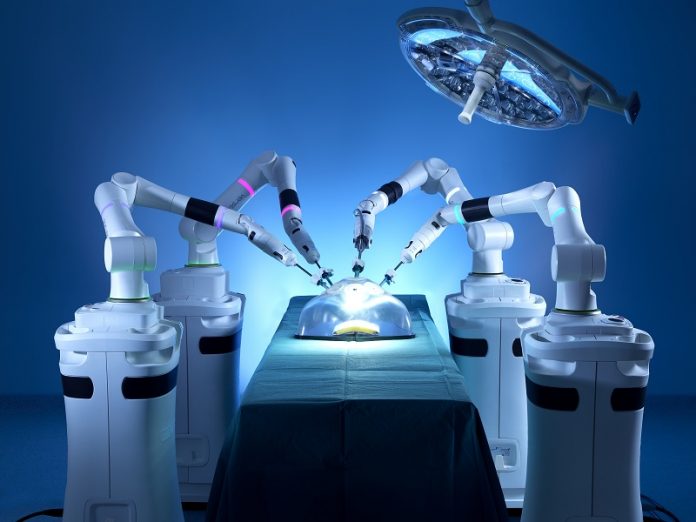 IHS recently completed an angel round of financing of several million yuan. The investors in this financing are Yuanzheng Value Investment and Hongtai Zhizao. The funds are used for product development and market expansion.
IHS is a robot technology company specializing in the development of robot haptic technology and its applications. The company was established in September 2017. It has dual centers in Shenzhen, China and Vancouver, Canada. It has a technical team composed of top Chinese and Canadian experts and has entered Canada. National incubator SFU VentureLabs.
"The incidence of digestive tract diseases is extremely high, the traditional digestive endoscopy training model is inefficient and time-consuming, and the industry urgently needs to be updated iteratively." Tang Zhouming, founder of IHS, said.
In the three years since its establishment, the company's core product, the Digestive Endoscopy Surgery Training Robot, holds a number of US and Chinese invention patents and software copyrights. Tang Zhouming, founder of IHS, said that the training robot for digestive endoscopic surgery based on robot haptic technology, virtual reality technology, cloud computing technology and artificial intelligence technology developed by IHS will be commercialized in September this year. At present, the company has reached cooperation with more than ten famous top three hospitals, medical universities and medical schools at home and abroad.
What is the current development process of surgical simulation training equipment in China? What are the characteristics of this IHS product? Which market pain points will be addressed? Recently, Arterial Network interviewed Tang Zhouming, the founder of IHS, to make relevant interpretations.
Is expected to fill the market gap in the field of virtual surgery training for digestive endoscopy
According to data released by the Ministry of Health in 2015, there are 120 million patients with digestive diseases in my country, and there are nearly 30 million cases requiring digestive endoscopy each year, while there are only nearly 30,000 licensed physicians in the country.
"The market gap is large, and the demand for clinical endoscopic surgeons is about hundreds of thousands of people." Tang Zhouming pointed out.
In view of the huge demand for talents, the traditional endoscopic surgery training model needs to be reformed. Tang Zhouming introduced that traditional endoscopic surgery training generally has long cycles, small scale, and low efficiency. Usually, a tutor needs to lead 2-5 students for 6 months of training. The training process includes lectures, trainees, hand-to-hand missions, etc. Multiple stages. Compared with traditional surgical training, virtual simulation training for digestive endoscopy surgery can greatly save costs and improve training efficiency.
Different from traditional digestive endoscopy surgery training, in the virtual simulation training of digestive endoscopy surgery, it uses robotic haptics, VR, AI technology, highly realistically simulates the environment similar to clinical endoscopy operation, so that beginners get an experience The feeling and experience of the environment;
In a period similar to traditional training, more cases can be trained and the surgical knowledge and skills can be improved more effectively, depending on the number of devices. Generally, a training center has 10 devices, and the number of students can exceed 100. In most cases, no tutor is needed; in addition, virtual simulation surgery training can comprehensively monitor various training points and steps through artificial intelligence technology and data analysis .
"Virtual simulation surgery training overall increases the training scale, saves training costs, and greatly improves efficiency. It is suitable for medical schools and hospitals to carry out surgical training." Tang Zhouming introduced.
Tang Zhouming is a master of robot technology and control engineering from Simon Fraser University in Canada. He is a medical robot and robot haptic system. He has 5 years of experience as a senior system chip architecture verification engineer. As early as 2007, he was engaged in research on medical robots and tactile simulation systems. He completed the design of a minimally invasive surgery simulation system with a 7-degree-of-freedom operating arm in 2010 and won a US patent. He has published 5 articles on medical treatment in IEEE International paper on simulation system development.
"I have had the urge to start a business since the day I graduated. I have been experiencing technology precipitation for nearly 7 years. After fully understanding the development of domestic surgical simulation training equipment and the great opportunities, I returned to Canada and founded Shenzhen Zhi Touch." Talking about the entrepreneurial process, Tang Zhouming told Arterial.
He introduced that domestic surgery training robots started late, and currently there are only endoscopic surgery training robots on the market. Surgical training robots for digestive endoscopy are still in a blank stage. IHS is expected to fill this market gap.
Launched training robot for digestive endoscopy surgery and reached cooperation with many top three hospitals
The interview with Tang Zhouming coincided with the opening of the 2020 World Artificial Intelligence Conference. At the 2020 World Artificial Intelligence Conference held on July 10th, IHS won the road show of the top ten excellent projects of AI+Medical in the 2020 World Artificial Intelligence Conference. It can stand out from hundreds of projects without its strong technical strength and product strength.
"Our core competitiveness has two points, one is the team and the other is the product." Tang Zhouming shared. On the team, IHS has several senior technical members from Canada and China with more than 10 years of industry experience, covering robots, medical, mechanical design, computer software and hardware, artificial intelligence and other fields. On the consultant team, there are Professor Jiang Po, director of the digestion center of Beijing Tsinghua Changgeng Hospital, Professor Gong Wei, director of the Department of Gastroenterology of Shenzhen Hospital of Southern Medical University, and Dr. Shahram Payandeh, an internationally renowned expert in the field of medical robotics.
Tang Zhouming introduced that with the unremitting research spirit of technology, since the establishment of IHS, the core product-IHS digestive endoscopy surgery training robot has gone through three update iterations. "Behind the continuous update, we insist on combining the most cutting-edge technologies in robotics, haptics, artificial intelligence, etc. to give users the most realistic visual tactile and auditory surgical operation experience." Tang Zhouming said.
IHS Digestive Endoscopy Surgery Training Robot is an all-in-one virtual surgery simulation machine based on computer virtual reality technology, robot haptic technology and artificial intelligence technology. The product consists of IHS Digestive Endoscopy Surgery Simulation Terminal, IHS Expert System and Cloud Service Platform.
IHS gastrointestinal surgery training robot prototype physical map
Relying on the cloud service platform, the top secret data and algorithms such as medical pathology, imaging data, and intelligent analysis engine for surgical training are stored in the cloud. When the user extends the operation handle into the instrument, he will get real-time force feedback, which makes the texture of the virtual patient's inner wall touch and lesion touch very similar to the real situation. When touching the inner wall and the lesion, the image will also be deformed accordingly, and corresponding sound effects will be emitted at the same time.
"When medical technology is unfamiliar, it is not appropriate to directly perform endoscopy on real people. Our surgical training virtual simulation system can come in handy." Tang Zhouming said.
He introduced that the mechanical and electrical system of the endoscopic operating handle and the human-machine interactive mechanical and electrical system used by the IHS training robot for digestive endoscopy surgery were independently developed. In addition to the excellent functions of surgical operation, this product also integrates teaching, scoring and evaluation, and can perform human-computer interaction in real time.
IHS endoscopic simulation handle physical map
With good product experience, at present, IHS has reached cooperation with more than ten well-known top three hospitals in China, and will be put into commercial use in September this year.
Tang Zhouming told Arterial.com that the current domestic market for virtual simulation teaching in surgical training has reached hundreds of billions of dollars, and the market prospect is broad. In the next step, IHS will develop tracheoscopy and endoscopy in multiple directions while deepening the field of digestive endoscopy to enrich the product pipeline.
IHS Expert System Cloud Platform
In addition, the Pre-A round of financing will be launched this year, with a planned financing of 12 million yuan for large-scale mass production of core products, research and development of new products, team expansion, and expansion of marketing channels.
"We hope that in the future, IHS will become a benchmark enterprise in the field of virtual simulation surgery training." At the end of the exclusive interview, Tang Zhouming said.