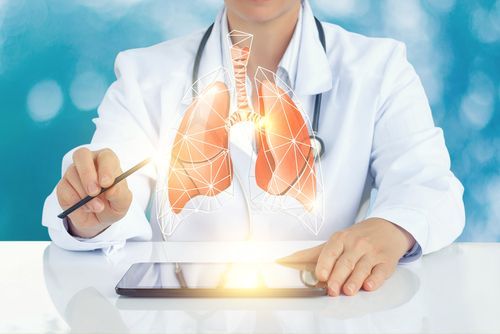 The incidence and mortality rate of lung cancer have always been the highest in China.
China reported 4.57 million new cancer cases in 2020, with 820,000 new cases of lung cancer topping the list, according to the latest estimate of the global burden of cancer in 2020 released by the International Agency for Research on Cancer (IARC), a unit of the World Health Organization.
Early screening and diagnosis have become the key to the prevention and treatment of lung cancer.
According to statistics, up to 67.7% of lung cancer patients are already in the advanced stage when diagnosed. Usually, the diameter of early lung cancer is more than 1cm, hidden without symptoms. By accurately predicting the nature of a patient's lung nodules (benign and malignant), the survival rate of a patient with lung cancer can be greatly improved — the 10-year survival rate can be as high as 90% if the diagnosis and surgical treatment are performed in the early stage of lung cancer.
Improving survival rates for lung cancer patients, starting with lung nodules, is a problem that a number of medical companies in the technology field want to solve.
Feizhenwang is an internet technology and medical company founded in 2018. They try to gather domestic renowned experts in thoracic surgery, imaging, respiratory and oncology through integrated systems, data centers and diagnosis and treatment service platform, and adopt MDT (Multi-Disciplinary Team) to help patients protect lung health.
Miao Peisheng, one of the founders, was also a doctor with eight years of clinical experience. After leaving in 2004 to go into business for a while, he chose to return to the medical profession, where he still had ambitions and aspirations. His return to the industry, especially the pulmonary disease specialty, is related to his understanding of the industry and the accumulation of his own medical resources.
At present, there are a large number of patients with pulmonary nodules and lung cancer in China. With the improvement of socioeconomic level and the popularization of medical equipment, especially CT equipment, more and more patients with pulmonary nodules have been screened out. However, the industry has not paid enough attention to patients with pulmonary nodules, and the patients' awareness of the disease is not high. Therefore, a large amount of medical knowledge popularization and patient-based education are urgently needed to change the current indifference of both doctors and patients to pulmonary nodules, so as to better promote the early diagnosis and treatment of pulmonary nodules and lung cancer.
Based on a clear understanding of the industry, Miao Peisheng and his mentor Yang Zhiyin (co-founder of Feizhenwang, chief physician of the Thoracic Surgery Department of the Ninth People's Hospital affiliated to Shanghai Jiao Tong University) and other co-founders founded lung Zhiyin, a platform dedicated to the diagnosis and treatment of lung diseases, especially pulmonary nodules and lung cancer.
Compared with the general Internet medical model, Feizhenwang focuses on lung health, especially on pulmonary nodules and lung cancer at present.
In terms of medical service supply, in order to better guide doctors online, in addition to providing sunshine income, Feizhenwang focuses on the building of doctor IP, helping doctors to further improve their personal popularity, and thus helping doctors and hospitals to improve their influence.
Miao Peisheng says there is a mindset difference between younger doctors and older ones. Although there is no shortage of patients for older doctors to have a certain reputation, fame itself is regional. Through the efforts of the lung screening network, doctors can increase their visibility across the country. Take a well-known doctor, for example, who quickly gained influence across the country through lung diagnosis online. In addition to helping doctors establish IP, Feizhenwang also carries out patient education and links patients through medical knowledge popularization. At the same time, Feizhenwang is also constantly exploring its own business model in this process.
At present, Feizhenwang is mainly divided into two parts:
First, the initial intention of the lung diagnosis network is to improve the attention of both doctors and patients to pulmonary nodules. Therefore, lung diagnosis network part of the business for doctors and patients lung disease popular science content. It is reported that the total number of hits on the platform has reached 500 million.
Second, as an Internet technology company, Feizhenwang has created an intelligent Internet medical platform based on data center and aims at early screening, early diagnosis and early treatment of lung cancer patients. In terms of early screening, the lung diagnosis network is realized by assisting doctors with third-party testing institutions through artificial intelligence. After screening patients, Feizhenwang can realize the diagnosis and timely treatment of patients through the platform doctor resources. After surgery, Feizhenwang can provide postoperative health management services for patients.
As medical information data gradually breaks the situation of information isolation, Feizhenwang believes that patient data can be better used to help patients with disease diagnosis and treatment in the future. At present, Feizhenwang has also achieved tens of millions of revenue. As the health science knowledge further covers the population, Feizhenwang also believes that its follow-up services will further expand the base of the population, and further promote the growth of business.
Compared with other Internet medical platforms, Feizhenwang is characterized by MDT (Multi-Disciplinary Team) diagnosis and treatment.
When patients receive the services provided by the Feizhenwang, they do not need to go to the destination hospital, but only need to upload medical data such as CT chest X-ray through a small program. Doctors in the Feizhenwang, including thoracic surgery, oncology and radiology departments, will interpret the image data and give diagnosis suggestions. In the treatment process, more department doctors will participate to help patients solve problems and save patients' time, energy and financial resources.
In order to better serve patients, Feizhenwang plans in east China (Shanghai), north China (Beijing), southern China (Guangzhou), northwest (xian), southwest (Chengdu), central China (Wuhan), northeast China (Changchun), Taiwan region (Hong Kong) respectively construction remote video center (the mainland bracket for remote video center is located), By pooling high-quality medical resources, we will help build a healthy China and build a healthy industry ecology. At present, it has established consultation centers in Shanghai, Beijing, Xi 'an, Changchun and other places and put them into operation.
In addition to the landing remote video center, Feizhenwang also cooperates with a number of hospitals in landing one-stop service center, and realizes the homogenization of services in different cities through AI technology and famous doctors and experts, so as to improve the medical service level of the hospitals.
At present, Feizhenwang mainly focuses on patients with lung nodules and lung cancer. In the future, they will continue to focus on lung diseases and expand to COPD and other lung diseases that seriously affect the quality of life of patients.
At present, Feizhenwang has completed two rounds of financing and is preparing A+ round of 30 million yuan financing, aiming to further improve the ability of early screening, early diagnosis and early treatment of cancer patients. It is planned to build a lung disease hospital in 2023, with a high degree of integration between online and offline, to provide patients with better specialized medical services.