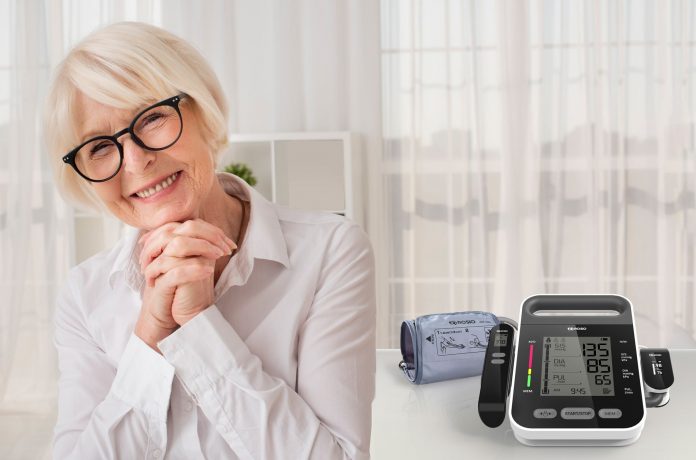 In December 2022, breathing, heartbeat, blood oxygen and other vital signs monitoring medical devices suddenly became popular and entered ordinary households, which may be unexpected by many people. Behind this is the high level of public concern for self-health and the increased awareness of health management brought about by medical science popularization.
This has also brought to our attention a company that uses millimeter-wave radar technology to provide low-cost, highly reliable and accessible vital sign monitoring for disease groups, including patients with Covid-19.
Founded in 2019, Qinglei Tech has already received three cumulative rounds of funding. Qinglei Tech's technology for vital sign monitoring is based on 20 years of research in millimeter wave radar technology from Tsinghua University. The products developed by Qinglei Tech based on this technology are popular for their non-contact, non-sensory experience for sleep monitoring and vital signs monitoring.
The company was founded with two key people: Ding Yuguo, founder and CEO of Qinglei Tech, and co-founder Professor Li Gang from the Department of Electronics at Tsinghua University.
15 years of entrepreneurial experience left a deep imprint on Ding Yuguo. "There were many achievements and setbacks in the first round of entrepreneurship, which provided valuable experience for my second round of entrepreneurship." Ding Yuguo said.
For this venture, he found Professor Li Gang, a long-appointed professor and doctoral supervisor in the Department of Electronics at Tsinghua University (who is also currently the co-founder and chief scientist of Qinglei Tech). Professor Li Gang has over 20 years of experience in basic research and practical application of intelligent radar. As a fellow undergraduate student at Tsinghua University, Prof. Gang Li and Yuguo Ding made the decision to set up Qinglei Tech together, choosing to apply the radar technology accumulated over the years to the medical and health track.
In the field of vital sign monitoring, the advantages of millimeter wave radar technology are obvious. On the one hand, compared with contact vital signs monitoring devices, millimeter wave radar technology is non-contact sensing, which will not affect the user's normal life and is suitable for a variety of scenarios such as hospitals and homes; on the other hand, compared with monitoring devices such as smart cameras, millimeter wave radar will not violate user privacy.
Compared to other companies engaged in millimeter wave radar R&D, the technical advantages of Qinglei Tech are also obvious, as it achieves the detection, parameter estimation and modal recognition of very weak signals such as breathing and heartbeat, achieving a level of data accuracy that provides a reliable basis for medical diagnosis.
In order to better promote the application of millimeter wave radar technology in the medical health field, Qinglei Tech has formed an efficient and collaborative team of more than 50 people. Among them, most of the team responsible for core algorithm and data processing are PhD graduates or post-docs out of Tsinghua University; while the team responsible for medical related are mostly people with clinical medical, medical quality system and medical device registration experience. In addition, Qinglei Tech also strengthens the in-depth cooperation with medical expert teams, covering subject leaders and industry experts in various fields such as sleep science, respiratory science, oncology nutrition, etc.
"The vital sign signals collected by millimeter-wave radar devices are used for data fusion and AI analysis in the cloud, which allows the relevant data to be used for life monitoring, disease diagnosis, risk prediction and more. In terms of accuracy, effectiveness and accessibility of the product, it can be the best in the segment and fill the gap in the healthcare industry."
In October 2021, Qinglei Tech's Sleep Breathing Recorder received a Class II medical device registration certificate. According to Ding Yuguo, this is the first product in China to use millimeter wave radar technology for medical-grade vital sign monitoring.
Empowering medical diagnosis
At present, Qinglei Tech's products have entered many tertiary hospitals, including Beijing Medical University Hospital, Tsinghua Changgeng Hospital, Fu Wai Hospital, Century Temple Hospital, etc. The cooperation departments cover respiratory department, sleep center, ENT department, cardiovascular department, oncology nutrition department, etc.
Professor Shi Hanping, Vice Chairman of the Chinese Anti-Cancer Association, Director of Gastrointestinal Surgery and Director of Clinical Nutrition Department of Beijing Xitantan Hospital affiliated with Capital Medical University, is initiating a clinical research project with Qinglei Tech to carry out sleep vital signs monitoring for tumor patients through millimeter wave radar. Prof. Shi points out, "The biggest value in this is the predictive capability of the big data and artificial intelligence analysis formed by the long-term monitoring of millimeter wave radar devices. Traditional methods like checking the patient's blood routine, etc., are impossible to do continuously without interruption. With sleep monitoring by radar, it is possible to analyze metabolic highs and lows, changes in physical performance, and changes in sleep quality during patient treatment, to warn patients of infections, complications, and bleeding risks, to predict clinical outcomes, and to improve treatment plans."
Jinglei Tech is currently working on its second medical device clinical trial and registration. It is reported that through the cooperation with medical institutions such as Beihang Hospital, Tsinghua Changgong Hospital and China-Japan Friendship Hospital, Jinglei Tech collects patients' PSG sleep polysomnography data and millimeter wave radar data to complete the AI diagnosis system for sleep apnea through machine learning. Aiming at the core indicators of sleep apnea diagnosis such as AHI index, respiratory event classification, sleep duration comparison and sleep staging, Qinglei Tech's millimeter wave radar system has achieved non-inferior performance against PSG sleep polysomnography devices in clinical data.
Complementing the elderly care
In the senior care scenario, Qinglei Tech's cooperation targets include Taikang, Fushoukang, Fosun Health and other recreational and community-based senior care service organizations. The use of millimeter wave radar technology and products in the field of senior care, monitoring the vital signs of the elderly, realizing emergency information instantly alerted and potential risks predicted in advance, can not only improve the efficiency of operation services, but also give the elderly a safer senior care experience.
In a partnership with the Foshan Home for the Aged, Qinglei Tech helped to install millimeter wave radar equipment for sleep monitoring and fall detection. In the caregiver service station, the data management platform can provide real-time feedback on the elderly's vital signs, significantly reducing the frequency of room visits and effectively avoiding disturbing the elderly's sleep at night. And once there is a life abnormality or the elderly fall, the platform will automatically alarm. This effectively improves the efficiency of the management service team and reduces operational risks.
In a community elderly service organization in Shaanxi, after deploying the Qinglei Tech millimeter wave radar smart elderly care system, the radar equipment monitored an elder's abnormal rapid breathing and tachycardia at night, and the data deviated significantly from the user's vital signs data portrait formed by the system's multi-day monitoring. The system analyzed the potential risk of his physical condition, and promptly notified the abnormality automatically through the 400 phone number to the The system analyzed the potential risk of his physical condition and promptly notified the abnormality to the caregiver automatically via 400 phone. After the examination, it was found that the elder's nighttime problem was related to the disease, and the emergency situation was avoided due to early detection.
In the new period, there has been a surge in the number of critically ill patients with Covid. In the coming period, there may still be a situation of medical resource shortage. Facing the situation of insufficient monitoring resources for primary hospitals and primary patients, Qinglei Tech uses millimeter-wave radar monitoring system for continuous monitoring of respiration, heartbeat and blood oxygen of patients with new coronary pneumonia based on the "Novel Coronavirus Infection Treatment Protocol (Trial Version 10)" issued by the National Health Care Commission to achieve clinical typing of intermediate and severe cases and early warning of patient risk.
For Qinglei Tech, it is its tireless pursuit to solve the current pain point problems in the industry through its own technology and to establish a higher professional potential. For the future, its plan is also very clear – first, to increase the cross-research cooperation between medical industry, further enhance the clinical value of the product, and serve more diseases and patients; second, to expand the C-terminal market, push the product to more families, achieve greater coverage of the health problem population, and form the largest sleep vital Secondly, we will expand the C-terminal market, push the products to more families, achieve a wider coverage of people with health problems, and form the largest IoT platform for sleep vital signs at home and abroad; once again, we will further open our own platform capabilities, optimize its cloud-based disease model and provide it to third parties, so that more partners can participate and better serve different scenarios.
After completing three rounds of cumulative financing of tens of millions of RMB, Qinglei Tech also plans to launch a new round of financing in 2023, which will be mainly used for the research and development of refined algorithms, the expansion of cross-team talents in medical-industrial combination, and C-terminal market expansion.
Ding Yuguo confidently pointed out, "Combining sensor, big data, cloud computing, artificial intelligence and other technologies, through innovative products and services to change sleep monitoring, vital sign monitoring, improve the efficiency of medical diagnosis, so that digitalization helps people to better complete health management, we are confident that Qinglei Tech will create a brand new in the medical and health care arena future."