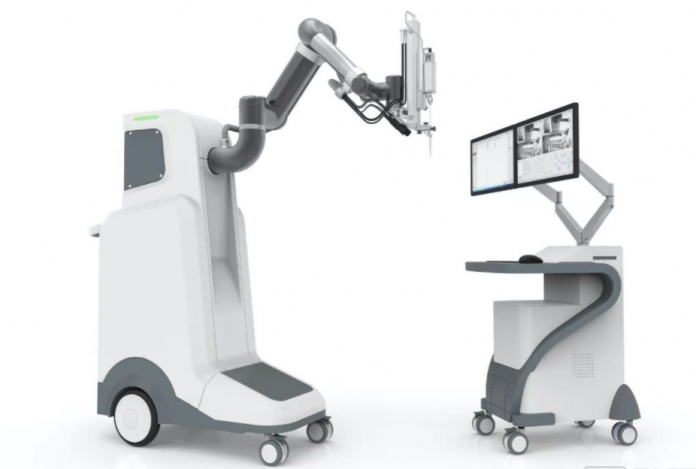 Recently, Futurtec, an innovation platform for domestic orthopedic surgical robots, completed B round financing of hundreds of millions of Yuan. This round of financing was jointly led by SoftBank Vision Fund, Huataizijin and Sinovation Ventures. ABC International and Morningside followed the investment. Haoyue Capital once again served as the exclusive financial advisor.
Futurtec was established in 2015 and is a national high-tech enterprise. The company is committed to building the most intelligent innovative platform for orthopedic surgical robots in China, realizing the combination of "robot + AI". The company is composed of an international team with rich industry experience and innovation capabilities. It has a solid technical foundation and profound industry experience in the fields of orthopedic surgical robots, medical imaging, and medical artificial intelligence.
Jiang Liwei, the chairman, used to be a doctor in Shanghai Ruijin Hospital. After leaving the hospital, he successively served as senior management positions in international orthopedics giant ZIMMER and Smith&Nephew, general manager of BIOMET China. The core R&D team has an interdisciplinary, medical-industrial background, and is assisted by orthopedics experts, which provides an effective guarantee for product innovation, improvement and subsequent commercialization.
Futurtec has a deep layout of a complete solution for orthopedic robots. The core product ORTHBOT is China's first fully intelligent spine surgery robot with active needle placement function. It has obtained the NMPA registration certificate at the beginning of this year. Compared with robots which are only for navigation and positioning, ORTHBOT realizes the functions of navigation and positioning + surgical execution, and is a true orthopedic surgical robot; in addition, the osteotomy module and the joint replacement surgical robot are also in development. The company has applied for 55 patents, of which 22 have been granted (including 1 US invention patent) and 15 PCT international applications.
In recent years, orthopedic surgical robots have become the hottest topic in the field of global orthopedics development. In China, the amount of orthopedic surgery is increasing rapidly. It is estimated that by 2021, the annual number of joint replacement operations will be close to 1 million, and the number of spinal operations will be close to 800,000. The orthopedic robot market with a scale of over 10 billion has become the next blue ocean market.
Jiang Liwei, Chairman of Futurtec, said that intelligence, digitization and minimally invasive surgery have become the trend of future surgical development, and Futurtec conforms to this development trend. The company has an independent R&D team and independently developed a number of proprietary surgical robot technologies to fully solve clinical pain points and effectively improve surgical efficiency. Futurtec will continue to focus on innovation and build an excellent team to launch more excellent products to serve doctors and patients.