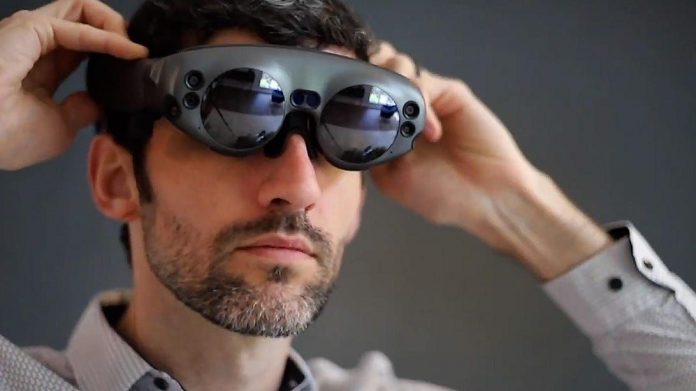 No one seems to be able to deny the remarkable contribution of optometry programs to the development of the ophthalmology industry in recent years.
With the rise of the concept of digital therapeutics in recent years, its promising application in optometry has also attracted innovative companies to explore it. MAXS Vision, the subject of this article, is one of them.
MAXS Vision's management team has both Fortune 500 company executives, communication technology industry background professionals, but also a collection of senior experts in medicine, VR technology, based on the Institute of Physiology of the Chinese Academy of Sciences more than 30 years of prior research and development results, modern ophthalmology theory and practice and VR technology, it has launched the "Huoyanjinjing" intelligent vision device, which can be used for myopia prevention and control and amblyopia training.
And, the smart eye guard also passed the national standard – "Virtual Reality Products Visual Health Impact Evaluation Method" led by Zhongshan Ophthalmology in 2022, which was verified as a low-risk product for visual health after laboratory testing and human experiments, and will be qualified as a Class II medical device in April 2023.
CEO Yang Peng and Chief Marketing Strategy Officer Chen Wei – one has worked for Huawei for 18 years as President of R&D product line, General Manager of overseas multi-country and President of Latin America regional operator business unit; one was the head of Huawei wireless 4G & 4.5G launch, and served as Executive Vice President of Best Consulting Group and Vice President of Xingsen Technology Group He was also the head of Huawei's wireless 4G & 4.5G launch, Executive Vice President of BEST Consulting Group and Vice President of Xingsen Technology Group. With deep experience in the communications industry, the two MAXS Vision core members are firmly bullish on the development of terminals and eco-applications in the post-5G era, especially VR technology. Therefore, in the second half of their careers, Yang Peng and Chen Wei tried to find entrepreneurial opportunities in the VR vertical, hoping to use their past accumulated ICT and digital experience to help and empower certain traditional industries.
By chance, the two entrepreneurs met Xiong Xu, who is now the Chief Product Officer of MAXS Vision, a PANCAKE technology professional with 8 years of product experience in VR/AR industry and has designed VR solutions for many well-known large enterprises. Unfortunately, Xiong Xu's child suffers from severe amblyopia and has suffered in the process of seeking medical treatment in the past. Therefore, after a banquet, a business idea rose from the hearts of the three fathers – since the imaging principle of VR is similar to that of the human eye, and there are successful cases of VR being used for eye health recovery abroad, could the content of optometric training be moved to the VR platform to enhance patient compliance through interesting content, coupled with a more scientific training The company has also conducted preliminary market research.
And, after the preliminary market research, the three were even more excited: the youth and children's myopia prevention and control market is large, encouraged by policies and anxiety by parents, but there is industry fragmentation and unequal medical resources – for example, according to Frost & Sullivan, the number of eye hospitals per million people in China in 2019 is only 0.7, and the number of ophthalmologists per million population is about 3.5, much lower than the 127 in Japan, 72.1 in the United States and 56 in Europe.
At the same time, with the policy boost in recent years, industries related to myopia prevention and control for children and adolescents, such as OK lenses, atropine, and defocus lenses, have been flourishing, but each of them has certain shortcomings and adaptability. For example, OK lenses are expensive, require professional optometric review, and need to be replaced every year, and are not qualified for use in secondary care facilities. Off-focus lenses are purely optical solutions with no active intervention effect, while atropine has a potential risk of adverse drug effects and is currently only an in-hospital reagent.
In other words, "On the one hand, the demand for myopia prevention and control is huge; on the other hand, the market for myopia prevention and control is still relatively fragmented and to some extent mixed with good and bad people." This means that non-surgical, non-drug, safe, healthy and effective professional vision training programs can provide a good alternative for doctors and parents, said Chen Wei, chief marketing strategy officer of MAXS Vision.
And in the face of the fragmented industry, how to propose a more professional solution to meet the huge demand? MAXS Vision refers to the logic of the Internet platform – on the one hand, through joint innovation with experts, transforming knowledge results, feedback user treatment data to further iterate and finally form a unified medical paradigm; on the other hand On the other hand, through good products and good content to further aggregate users. Therefore, MAXS Vision would like to be a platform company for optometric digital therapeutics rather than a pure medical device company.
The training paradigm of the first generation of MAXS Vision "Huoyanjinjing" is based on the "Measurement and Research of Eye Stability Adjustment" developed by Professor Ji Wanzhong, a professor-level senior engineer at the Chinese Academy of Sciences, and Mr. Yang Xiongli, an academician at the Chinese Academy of Sciences.
The academic principle applied in this device is the regulation theory, that is, the cause of myopia is the decrease of ciliary muscle regulation ability caused by visual fatigue, forming pseudo-myopia, increasing the farsighted out-of-focus and imaging lag, which in turn tends to induce the growth of the eye axis and the development of true myopia, and through targeted training of ciliary muscle regulation power and sensitivity, the stimulation of the eye axis growth by regulation lag can be reduced and thus effectively controlled. Myopia.
In the early documents issued by the State Education Commission, Shanghai and Nanjing Education Commission referring to the CAS Weishi instrument, the words "treatment efficiency of 92%" appeared. However, the CAS Vision device is a product of 1993, and it is the priority of MAXS Vision to make it better meet the needs of the current and future optometric training.
In this regard, based on the core functions of the CAS Acuvue, MAXS Vision put forward the product development concept of "more scientific, more portable, more intelligent". By "more scientific", we mean that CAS Vision is only an optometric training instrument, while MAXS Vision adds optometric testing, vision archiving, personalized and customized precision medical treatment, and training plan, training effect tracking, and training effect tracking, based on the overall solution of "measurement, care, practice, and consultation". The training plan, training effect tracking, and expert consultation are added to meet the characteristics of myopia prevention and control and chronic disease management.
In addition, MAXS Vision also inherits and optimizes the advantages of CAS Vision in terms of training paradigm and training content. Among them, it is needless to say that fun training contents have been added to improve compliance, but there are two main points that need to be pointed out in particular: First, the "monocular training" feature of CAS Vision has been continued. This is mainly because "for the case of binocular refractive error, such as the use of binocular training, the brain will automatically block the image of the supplementary eye, so in this case, the so-called binocular training in fact only trained monocular, and the supplementary eye may also be trained in the 'shielding' and lead to increasingly poor visual acuity. Poor." Chen Wei explained.
At the same time, MAXS Vision uses VR display technology to achieve a continuous reciprocal movement of the visual marker in a specific rhythm between 0.15 meters and infinity, thus improving the adjustment ability of the ciliary muscle. And, because high-energy blue light tends to cause damage to the retinal epithelium, MAXS Vision has also joined with BOE to launch a custom anti-blue light design and passed the German TUV Rheinland anti-blue light certification, which reduces the intensity of high-energy blue light by 77.5% while ensuring that colors are not distorted.
Not only that, the CAS Defender weighs about 1kg and needs to be plugged in, while the MAXS Vision Smart Defender weighs only 0.16kg and can be carried around for use. The lightness and portability of the product is due to the core advantages accumulated by MAXS Vision in hardware technology.
According to Chen Wei, MAXS Vision Smart Vision uses Pancake lens, the lens barrel processing accuracy and difficulty even more than Nikon SLR camera, is the industry's thinnest home optometry, optometry training device and head-mounted projector.
As for "smarter", MAXS Vision hopes to make personalized training programs more refined through the accumulation of more data. It is reported that up to now, MAXS Vision has accumulated more than 5,000 users and provided a total of 1.2 million minutes of visual training services. Based on the training data of more users in the future, it hopes to "make user test data more accurate, training plans more scientific, and training effect evaluation more optimal", so as to be more targeted and personalized in user training mode, training duration, training content, training frequency, and training effect, and finally form a closed loop of accurate digital therapeutics.
The results of the vision test at the end of the vision improvement camp run by MAXS Vision and the partner private ophthalmology certificate show that the campers' bare eye vision and corrected vision have improved to varying degrees. "This is equivalent to our pre-clinical, after passing the Class II medical device qualification in April, MAXS Vision will officially start clinical trials." Chen Wei introduced to.
But as mentioned earlier, what MAXS Vision really wants to become is a digital therapeutics platform company in the field of ophthalmology.
In this regard, MAXS Vision has done two things: First, it has built the "iOS" system for digital therapeutics in the field of optometry, which is a digital and intelligent R&D platform of light, machine, electricity, software and calculation, integrated with client APP, VR training terminal, with complete Saas/Paas/Iass system. In addition to the adjustment training, the system has now been imported to adjust the sensitivity training, gaber sight mark training, fusion image training and other comprehensive training methods. And based on the VR spectrum adjustable, 3D split vision, MAXS Vision has also developed a unique patented design of infinitesimal zoom (from 0.15m focus to infinity), which can gradually support myopia, visual fatigue recovery, amblyopia, early presbyopia, low vision and other programs.
This is also the "standard" that Chen Wei said. According to the platform built by MAXS Vision, more theoretical achievements of optometrists can be continuously transformed into product content to be stationed, just like the relationship between Apple and many APPs in the Apple App Store. Based on such a model, MAXS Vision can "free up" its hands to focus on its own areas of expertise (VR, big data, AI), and at the same time, the content of the platform is guaranteed to be updated and iterated.
The second is to expand the boundaries of cooperation and explore more cooperation possibilities. For example, MAXS Vision is not only exploring cooperation with some online education platforms and medical enterprises, but also negotiating with schools about the deployment of offline "eye-friendly classroom" deployment.
And, at the end of the interview, Chen Wei also confessed, "In the future, on the one hand, we will continue to cooperate with mainstream hospitals along our existing ideas to improve the clinical validation of the MAXS Vision Smart Vision Instrument; on the other hand, we will first open directly operated smart community optometry centers in Shenzhen, Guangzhou and Shanghai to deepen the scene, sort out the optometry On the other hand, we will first open directly operated community optometry centers in Shenzhen, Guangzhou and Shanghai to deepen the scenario, sort out the optometry service process, polish the optometry training program, gradually realize the operation and management of the cloud, and realize the profitability of the business model, so as to realize the ecological closed loop of "product + service" in another sense.