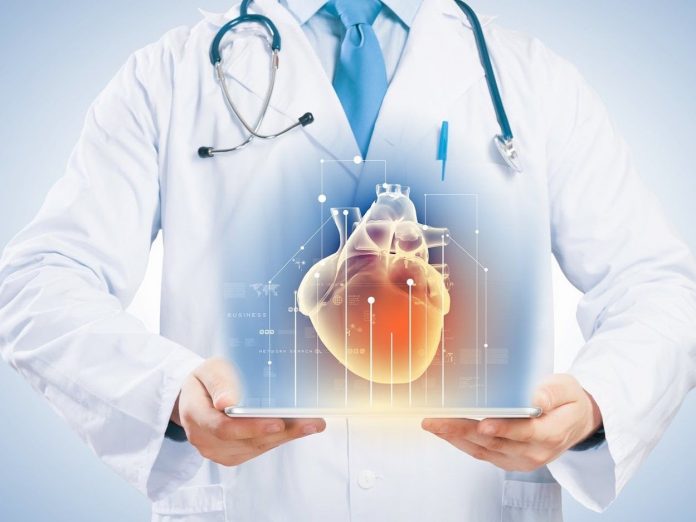 Every year, more than 500,000 people die in China due to sudden cardiac death.
But patients with the disorder face another difficult situation – some patients with symptoms such as chest tightness and panic often have difficulty finding the problem when they go to the hospital for an electrocardiogram. Even if an ambulatory ECG is used, it is difficult to detect the disease if no arrhythmia occurs during the 1-3 days it is worn.
Ambulatory ECG monitoring devices that are online 24 hours a day are becoming increasingly important for patients with underlying disorders. However, medical-grade monitoring devices often have problems such as inconvenience of wearing the device and interfering with normal activities. Industry practitioners are no doubt aware of this.
In August 2022, at the launch of the Medline Cardiovascular Digital Therapeutics Alliance, Medline and Hsintiao Medical entered into a strategic partnership to collaborate on ECG monitoring + out-of-hospital disease management. And this brought Hsintiao Medical into the public eye.
Why did the Internet medical company Medline choose to cooperate with Hsintiao Medical?
Unlike medical founders who have more or less "medical background", the founder of Hsintiao Medical, Li Nayun, comes from a mathematical background.
He studied mathematics at Xi'an Jiaotong University and chose to study in the United States for his master's degree – and the direction of his studies is still mathematics. This is perhaps one of the footnotes of Li Nayun. After graduation, Li Nayun went to a private equity fund, mainly engaged in quantitative trading of private equity funds. This experience seems to have nothing to do with the healthcare industry, but it is also the experience that gives him a more macro insight into the market and makes him seem more rational and calm.
For Nayun Li, he is more willing to push the boundaries and try something new. He admires Wang Xing, who failed one after another to start a business but eventually created Meituan. Wang Xing once mentioned, "There is a book that has quite an impact on me – it is called "The Finite and Infinite Game". The finite game is played within the boundary, but the infinite game is played with the boundary, that is, with the 'rules', exploring to change the boundary itself. There is really only one infinite game, and that is your life, and death is the impenetrable boundary. Compared to that, the other boundaries are not so important."
The year 2020, for Li Nayun, is a year to break through the "boundary" of self. In this year, he entered the medical industry. This move was not made without reason.
On the one hand, the uncertainties brought by the 2020 epidemic made Li Nayun start to think whether there is an industry that can resist the cycle. Like most people in the healthcare industry, he is convinced that the healthcare industry will continue to see a period of upward growth in the future.
On the other hand, objective conditions contributed to his turn. Li Nayun, who was still in private equity at that time, came into contact with a team from Tsinghua University, and he could not hold back his excitement after the site visit, and he chose to manipulate the team for the transformation of scientific and technological achievements. However, due to the existence of disagreement on the future development direction, this also made Li Nayun think about starting his own business to seek development.
In 2020, Hsintiao Medical was officially established.
In fact, in addition to many objective reasons, one subjective factor also influenced Li Nayun's choice of practice – his family environment. His mother was originally a doctor, and as far as he can remember, his mother's hospital department is where he grew up playing. His mother's department was the cardiology department.
After years of learning about the problems of heart disease management, Li returned to the medical field in the footsteps of his mother. What he wants to solve is a pain point that has existed in this industry for more than 30 years.
What is the pain point of the industry that has existed in this industry for more than 30 years?
Perhaps, you can first look at a set of data. From 1990 to 2020, the mortality rate of cardiovascular disease in the Chinese population is increasing year by year. Among them, the number of sudden deaths due to cardiac arrhythmias reached 550,000 each year. And the success rate of saving sudden death from out-of-hospital episodes is only 1%. This leads to the problem faced by patients – the onset is insidious and patients are not rescued in time.
On the one hand, even if a patient is aware of an abnormal condition and goes to the hospital, it takes a long time to perform an ECG test. Moreover, if the arrhythmia does not occur during the test, the patient's problem cannot be detected. Patients face a situation where they cannot detect the disease while wearing the monitoring device, and in addition, wearing medical-grade monitoring devices for monitoring often interferes with normal life due to the bulky nature of the device.
On the other hand, the lack of medical resources is also obvious. With a large number of patients, there is still a shortage of ECG equipment networks and professional examiners. At present, as less than 5% of primary care institutions are covered by ambulatory ECG, it is obvious that they cannot play the role of graded diagnosis and treatment. Most primary care patients can only choose to go to tertiary care hospitals for consultation and treatment. And this further aggravates the burden on tertiary care doctors as well as patients themselves.
"The biggest problem is actually the 'unscientific screening management system'." Li Nayun mentioned in reference to the pain points in the patient treatment process. "The founding of Hsintiao Medical itself is to solve the existing pain points. Especially this kind of pain point, which has existed for more than 30 years, deserves more attention and solution."
Why has such a pain point existed for more than 30 years? Perhaps it has to do with the barriers in the industry itself. He pointed out that technical barriers may only be one of them, the existence of pain points is more comprehensive factors. Because of this, when Hsintiao Medical first entered the field, they tried to get involved in all aspects of the process, with a tendency to "break the boundaries". But then, they realized that based on the company's own genes and strategies, they needed to use their limited resources where patients needed them most – aiming at "serious medical care" and focusing on the pain points of offline tertiary hospitals, primary hospitals and other medical institutions, by entering offline physical By entering offline medical institutions and online Internet hospitals, Hsintiao Medical started to build its own business and finally chose post-operative health management for cardiac patients as the entry point.
At present, Hsintiao Medical is gradually building up a system covering post-operative management of cardiac patients both in-hospital and out-of-hospital, and realizing full coverage of the post-operative cardiac management process for patients.
Within the hospital, Hsintiao Medical is working with more than 10 tertiary hospitals, including Huaxi Hospital, to help doctors manage patients in a more scientific way. In the past, post-operative management of cardiac patients was often done through doctor-patient communication, including asking patients if they had heart pain, angina, fainting, and other conditions before treating them. With Hsintiao Medical's devices, algorithms, and platform, it is now possible to achieve refined patient management based on data. It is reported that Hsintiao Medical is also clinically validating its post-operative cardiac management and adjusting its subsequent expansion direction including device technology based on clinical results to achieve more accurate monitoring and better management, etc.
Outside the hospital, Hsintiao Medical itself is also implementing patient management based on its own devices, platform system and Internet hospital. The partnership with Medlink is in fact based on Medlink's strengths in reaching patients, physician groups and disease SOPs. At present, the main cooperation between the two sides includes pre-operative screening of cardiac patients and post-operative management of cardiac patients, through which both sides work together to provide patients with home monitoring, risk assessment, early warning, remote guidance, physician reports and other content.
The ability to support Hsintiao Medical's post-operative cardiac management is related to the strength of Hsintiao Medical's own technology and product capabilities – it has launched a core-beating portable ambulatory ECG recorder that targets market demand. It should be noted that the device is in fact not limited to post-operative cardiac patients, but can also meet the needs of monitoring patients with chronic diseases.
Li Nayun mentioned that in order to enter serious medical scenarios such as in-hospital, accuracy is the first thing that the device needs to be guaranteed. At present, in the field of atrial fibrillation, the core jump portable ambulatory ECG recorder product can already achieve a very high screening rate. Currently, it is in the process of further improving the screening rate of other detection indicators such as myocardial ischemia.
In addition to its accuracy, another major advantage of Hsintiao Medical's portable ECG recorder is its strong denoising and anti-interference capability. Patients are often involved in different scenarios such as exercise and work during the 24-hour wear. In the past, some manufacturers faced the problem that they could obtain normal detection data when the patient was at rest, but could not obtain valid data when the patient entered a state of motion, etc. Hsintiao Medical has made a lot of efforts to improve the anti-interference ability of its devices and ensure the validity of the data – based on its The device's hardware, algorithm, and structural design have created a comprehensive solution and iterated on the Core Jump portable ECG recorder product.
The anti-interference capability of the device itself, the ability to detect accurately, and the addition of other features such as waterproofing and Bluetooth storage have also led to the rapid expansion of the application of this product, which has certain advantages in price.
In the past 2022, the first batch of high-tech enterprises recognized by the Sichuan Provincial Accreditation Agency 2022 has been publicized, and Hsintiao Medical was among them.
In fact, since its establishment, Hsintiao Medical has led a major national 5G+ smart medical project and participated in several projects such as major special projects of Sichuan Provincial Science and Technology Department and national key R&D programs. It has completed the landing of its products in multiple scenarios in government, state-owned enterprises and hospitals, and has formed a new chronic disease management system including post-operative cardiac management.
At present, Hsintiao Medical has applied for 43 patents and obtained medical qualification of related products including medical device registration certificate.
Li said that it plans to cover hundreds of thousands of patients in the short term and eventually achieve coverage of over 10 million patients. It is also currently considering financing, which will be used mainly for innovative technology development, market expansion and talent recruitment.
Hsintiao Medical is confident about its future development.
First, with the projects it has undertaken over the past three years, Hsintiao Medical expects to exceed its current goal of reaching hundreds of thousands of patients; second, awareness of disease prevention among the potential patient population is increasing significantly. Secondly, the awareness of potential patients is increasing significantly, which will further lead to the rapid development of Hsintiao Medical as the huge patient population attaches more importance to heart health; once again, the exploration of landing in multiple scenarios also gives Hsintiao Medical the ability to expand and replicate horizontally. The most important thing is that Hsintiao Medical has the ability of self-blooding, and further realizes the rapid expansion of the company in the process of commercialization.
It is the continuous goal of Hsintiao Medical to explore serious medical care. In the future, Hsintiao Medical will continue to optimize its management process, including post-operative cardiac health management, based on the feedback from doctors and patients inside and outside the hospital, to help patients achieve better recovery.