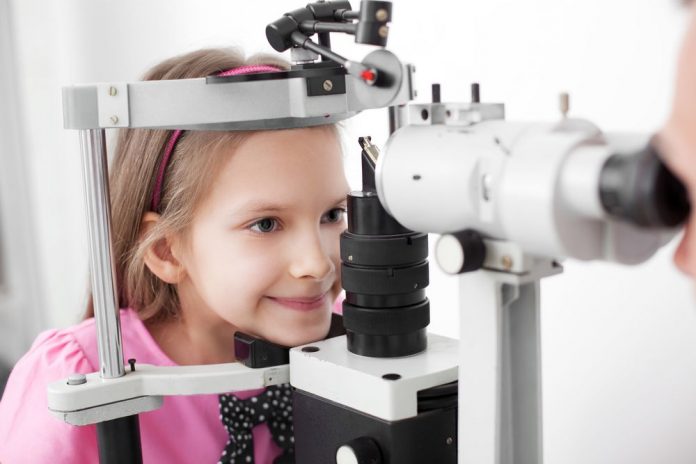 Amblyopia, commonly known as "lazy eye", refers to the best-corrected visual acuity in one eye or both eyes is lower than the vision of the corresponding age, but there is no organic disease in the eye examination, which is one of the main causes of vision loss in children. Amblyopia affects up to 3% of the world. If left untreated, it can lead to permanently poor vision and impaired quality of life.
Existing treatment methods include optical correction, occlusion therapy and optical drug therapy to blur the vision of the main eye and force patients to use amblyopia. But in the actual treatment, many children find these methods uncomfortable, poor experience, difficult to adhere to, treatment results are greatly compromised.
In 2020, Novartis, an international pharmaceutical giant, acquired Amblyotech, an American life science software developer, hoping to develop Amblyotech's software into a game-like digital therapy product for amblyopia, in order to break the limitations of traditional treatment methods. Proof-of-concept studies were conducted in the second half of 2020. Israel, the "power plant" of global medical device innovation, has also walked out of NovaSight, an innovative enterprise of optical digital therapy.
China has 15 million amblyopia children and a large number of other target groups with insufficient visual functions, which has the potential to become a market of hundreds of billions of dollars. How does Guangzhou Topeye Software Co., LTD. (hereinafter referred to as "Topeye") provide solutions in China? How to establish a foothold in China and go global?
13 years of accumulation in technology and market to create digital ophthalmic therapy products
Zhou Mosheng, the founder and chairman of Topeye, has been deeply engaged in the ophthalmology software industry for many years. He found that traditional amblyopia treatment methods are mainly concentrated in the hospital, and the treatment cycle is long. It takes three or four years for quick effect, and five or six years for slow effect. In addition, traditional treatments are boring, and patients often find it difficult to stick to them. Based on these pain points and the judgment of the market, In 2008, Zhou Mosheng decided to establish Topeye, and independently developed an innovative vision training product — Doboso.
Zhou Mosheng introduced that the problem of amblyopia mainly lies in the nerve cells of the retina, the cells of the visual conduction nerve and the cells of the cerebral cortex, and specifically in the reception and conduction of information and information processing problems. The traditional amblyopia treatment can only act on the fundus, and can not change the visual nerve and visual cortex of the brain.
Doboso uses the brain plasticity of neural systems, and according to the mathematical model of visual neurons receptive field, through the "multimedia biological stimulation + visual perception training" way through visual channel, in patients with direct visual central nervous system, improve the function of visual system of neural information processing, at the same time training of the patient's "vision", "brain", "hand, brain, eye" coordination, In order to achieve the oblique amblyopia treatment, improve the purpose of visual function.
Million treasure not only can see cases according to the data center to look at nature, age and refractive status, nystagmus, etc, to generate nearly 1000 kinds of strong stimulation mode of multimedia biological stimulation, also with rich visual training content, including six training module, 8 categories of the training function, training project of 172, 216 kinds of stimulation, 1772 kinds of training.
In addition, the visual health also adopted the "full screen" product development strategy, and saw the Doboso development become much more specifications, including cd-rom, U disk, web, web, mobile, pre-loaded with polarized light, mobile pre-installed version, edition of VR, committed to letting all patients in need have a chance to use Doboso depending on the product.
With the development of digital medical technology, Doboso can also realize the whole course of disease management, which integrates patient training management, electronic case management and amblyopia project performance management of medical staff, helping to improve the work efficiency of medical staff.
Statistical data show that traditional amblyopia treatment methods, such as covering, suppression training, grating, infrared and other amblyopia treatment instruments, have an effective rate of 50%-70%. The application is mainly concentrated in the hospital, and there is a large room for improvement in compliance, interest and treatment cycle.
Based on the development of visual training software, Doboso expands the home scene, makes the treatment interesting and routine, and shorts the treatment cycle to 12-18 months. Based on different sales models, Doboso makes home treatment and remote follow-up possible.
From 2009 to 2019, Topeye has conducted clinical cooperation with many hospitals in China, including The Eye Center of The First Hospital of Peking University, the Third Hospital of Peking University, Beijing Friendship Hospital affiliated to Capital Medical University, southeast Fuzhou Eye Hospital, etc. Clinical trial data show that the total effective rate can reach 88% by using Doboso visual function training and treatment software for amblyopia, binocular function and postoperative recovery of visual function in children.
In addition to ensuring the effectiveness of products, Topeye has been in the channel construction layout for a long time. At present, the company has built a closed-loop ecosystem outside the hospital, realizing the interconnection of "hospital-ophthalmology department-patient-optometry center" to meet patients' different types of treatment needs; Support resource linkage and patient transmission among medical institutions at all levels to ensure continuity and linkage of treatment plans.
Apparent to sell products at present, each version of Doboso has won the second class certificate of medical equipment, the penetration rate of 85% above, covered with 30 provincial regional cooperation, more than 2000 hospitals, including the mainstream public comprehensive hospitals, ophthalmic hospital, children's hospital, the cumulative treatment more than 20m users, the market share in a leading position, and constantly expand the market share.
Oblique amblyopia is a kind of functional eye disease without organic pathological changes, and its pathogenesis is more in the brain area. However, the brain is still poorly understood, so there is a lot of room for development, both in treatment and research.
Combined with the product characteristics of Doboso, it is not difficult to find that digital therapy can not only achieve patient management in the amblyopia field, but also have direct effect, quick effect, high cure rate, and access to real-world data of patients, which is beneficial to the development of treatment products and even basic research on diseases. Digital therapy enabling ophthalmology is a promising direction.
When talking about the company's future plans, Zhou Mosheng also said, "First of all, we will still focus on the development of oblique amblyopia products, hoping to make full use of big data and AI technology to provide more personalized treatment plans for patients, so as to further shorten the treatment cycle of patients and reduce the treatment costs of families. In addition, we hope to provide more interactive and interesting visual training methods based on VR and AR technologies to improve patient compliance and improve treatment effects."
"At the same time, academically, we hope to facilitate the establishment of industry guidelines and expert consensus and promote the development of the digital ophthalmic therapy industry. On the basis of solving the problem of oblique amblyopia, we will also explore clinical indications for digital therapy based on our own advantages, "Zhou added.
It is understood that Doboso vision training products have obtained CE certification of the European Union, and Topeye Association has submitted certification applications to the FDA of the United States and PMDA of Japan to further expand the international market. At present, the company is preparing for a new round of financing and plans to promote the company's product research and development, academic research, brand promotion and operation, channel maintenance and expansion, etc.