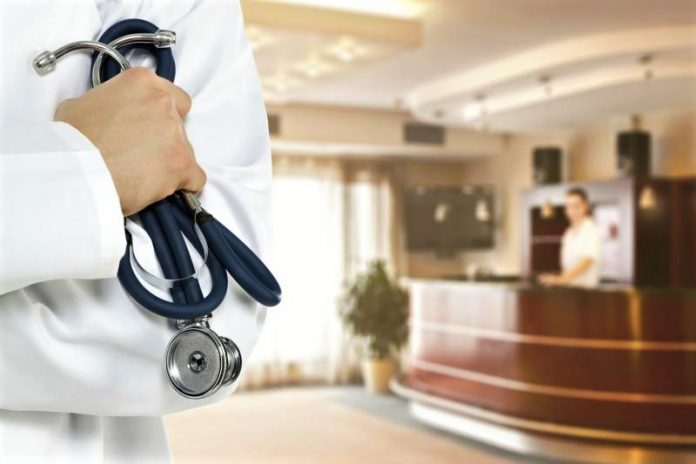 Primary medical care has always been the cornerstone of my country's medical system, with more than half of the number of patients diagnosed and treated, and it is increasing year by year, accounting for 97% of the total. Testing has always been an important basis for doctors' diagnostic decisions and an important source of income for hospitals. Two-thirds of global medical decisions are made based on diagnostic results. 80% of diagnoses are in vitro diagnostics. The number of inspections in most hospitals in China can account for outpatient clinics. 80%-90% of the trips, income accounted for 30%. In primary care, most clinics have almost no testing capabilities and lack scientific testing equipment. Doctors' diagnosis and treatment rely on past experience rather than scientific diagnosis. Therefore, providing testing services for primary care is a huge blank market.
A few days ago, Ehomepoct, which provides innovative POCT (point-of-care testing) testing services for primary medical institutions, announced the completion of the B round of financing exclusively invested by Joy Capital. Prior to this, Ehomepoct received the lead investment from Ziniu Fund, Lenovo Star Co-invested Series A financing and angel investment from Lenovo Star and Xiangjiang Qifu.
Ehomepoct was established in 2014. The company combines high-performance and low-cost testing equipment with the mobile Internet to provide primary medical institutions with comprehensive solutions for precise diagnosis and treatment. So far, Ehomepoct has covered more than 20,000 primary medical institutions across the country. Doctors use Ehomepoct's equipment to perform tests for patients and perform precise diagnosis and treatment based on test data.
The development of the medical industry is closely related to people's livelihood. On September 11, 2015, the General Office of the State Council issued the "Guiding Opinions on Promoting the Construction of a Hierarchical Diagnosis and Treatment System", proposing the establishment of primary diagnosis and treatment at the grassroots level, two-way referral, emergency and slow treatment, and upper and lower linkages. Model, by 2017, the hierarchical diagnosis and treatment policy system will be gradually improved, and the division of labor and cooperation mechanism of medical and health institutions will basically be formed. The implementation of the first diagnosis at the grassroots level requires that the grassroots medical institutions have accurate diagnosis capabilities, and POCT will play a very important role in the construction of the hierarchical diagnosis and treatment system.
According to the latest data released on the official website of the Statistical Information Center of the National Health Commission, as of the end of August 2020, there were 1.02 million medical and health institutions nationwide and 967,000 primary-level medical and health institutions, of which: 35,000 community health service centers (stations) , There are 36,000 township hospitals, 616,000 village clinics, and 252,000 clinics (infirmaries).
At present, China's primary medical institutions account for the bulk of the medical system, with more than 4.5 billion patient visits each year. However, most of the diagnosis at the grass-roots level is still at the stage of empirical diagnosis, and the detection methods are only the old three (sphygmomanometer, stethoscope, thermometer), and have not enjoyed the benefits of technological advancement to the medical industry. Take the common cold as an example. Doctors cannot judge whether a cold patient should be antiviral or take antibiotics based on the third child. This leads to the problem of antibiotic abuse and overuse of drugs.
Hu Shuang, the founder of Ehomepoct, a serial entrepreneur who received a master's degree in biomedical engineering from the University of New York, said: "Testing is necessary for medical institutions, and clinical medicine should follow the essence of "evidence-based medicine" and in terms of economic benefits. The hospital's testing income also accounts for a very high proportion, so the current status of the complete lack of testing capabilities of primary medical institutions needs to be changed. The primary medical scene is the most suitable entry point for POCT. Ehomepoct is deeply involved in the grassroots and focuses on township community hospitals and clinics at all levels. Through Yihong's testing equipment, doctors and patients can obtain reports in just 5 minutes, and make accurate diagnosis and precise treatment based on the reports. We hope that through Yihong's products and services, we can help grassroots doctors to quickly improve the level of diagnosis and treatment, so that patients can The grassroots enjoy the same level of testing services as the hospital."
It is reported that Ehomepoct has fully empowered primary care from online to offline, from hardware to content, and aims to "standardize primary care", help primary medical institutions perform more accurate diagnosis and more accurate treatment, and receive more common Diseases, avoiding medical risks such as misdiagnosis and missed diagnosis, resulting in differentiated operations and forming a word-of-mouth effect.
Through its first POCT product-the "Handheld Test" portable immune analyzer to assist primary-level doctors in diagnosis, help primary-level doctors to establish a standardized diagnosis and treatment process, so that every medication is based on accurate monitoring and diagnosis. At the same time, Ehomepoct's background system also supports iterative learning. In view of the diversity and differentiation of cases in the clinical process, this AI model will conduct deep learning, continuously adjust and improve the accuracy of the model, reduce dependence on people, and create products that are truly suitable for use in the primary medical environment.
Compared with traditional POCT, Yihong's products have achieved a leap from "functional phone" to "smart phone".
First, the cost has been greatly reduced: the electrical impedance method used in traditional blood routines, the core of the machine is a precision instrument, and the overall cost ranges from 15,000 to 30,000; Yihong uses the cell morphology method to avoid high-cost parts in principle. The AIoT framework is used to transfer computing power to the cloud and the AI ​​compensation algorithm is used to control the cost to an extremely low level, making it affordable for primary care.
Second, the operation is foolish, and the use cost is low: cloud quality control, calibration, etc., no longer need "after-sales engineers" to manually maintain the market, and adapt to the characteristics of the diversity of grassroots scenes.
Third, AI-assisted interpretation and data interconnection: improve the efficiency and accuracy of doctors' diagnosis, solve the problem of data islands, and connect to upstream high-quality medical resources. This is the basis for scalability in the "smart phone" era.
Yihong has also built a complete digital operation standard system, which has realized closed-loop digital operation in terms of market development, service, and operation and maintenance, so as to serve primary medical institutions more efficiently; for example, in the service system: large academic exchange meetings, small round tables Meetings, community sharing activities, online courses of "Iraq College", and "Voices of Grassroots Doctors" video column, etc., to improve the level of doctors' theoretical diagnosis and treatment, so that grassroots doctors can form an organization, and attract more grassroots doctors to join them, and jointly create "Standardization of Primary Care".
According to Hu Shuang, Ehomepoct has achieved counter-trend growth under the epidemic. It is worth mentioning that such growth is not only reflected in market penetration, but also in the industry's view of the more gold-rich single-day testing data. Ehomepoct performed even better. Dazzling-In 2020, the number of single-day inspections will increase by 800% month-on-month in half a year, constantly setting new records. In 2021, Ehomepoct is expected to add 10W+ cooperative primary medical institutions. It can be foreseen that the number of single-day tests will continue to maintain a high trend. According to Ehomepoct's five-year plan, it will reach 80W+ grassroots primary medical institutions cooperation by then, radiating more than 200 million people at the grassroots level, and every piece of land at the grassroots level can enjoy the benefits of primary medical standardization.
For this round of financing, the partners of Joy Capital said: Community clinics serve the majority of grassroots groups. Ehomepoct uses the new infrastructure to carry out inclusive medical care, providing services at prices affordable by grassroots patients, returning to the source of medical treatment for good. Joy Capital has long been concerned about the development direction of inclusive healthcare brought about by the new infrastructure, and will continue to support Ehomepoct to achieve excellent medical services for the public.
Dr. Yu Bo, Executive Director of Ziniu Fund, said: It is a great honor to invest in Ehomepoct. This is also another important investment that we have made in primary care. Ziniu has always focused on innovative companies focusing on the primary medical scene. Ehomepoct has helped the new infrastructure of primary medical care with "convenient, intelligent and fully automatic" POCT diagnostic products, and has also made gratifying results. The company's young but combative founding team left a deep impression on us. We look forward to the company's future expansion from a single product and service to a channel platform with diagnostic capabilities as the entrance. Whether it is a horizontal product portfolio or a vertical medical linkage, it will truly develop into an empowering platform for primary care and build a complete foundation in the primary medical scene. Closed-loop medical services.
Lenovo Star Investment Wang Yi said: Ehomepoct is an angel project of Lenovo Star. We are always looking for a technological solution that can link the needs of primary medical care with China's basic IVD industrial production capacity, so that the grassroots people in China can benefit from these years. Benefiting from the rapidly rising production capacity of the medical industry, the insufficient evidence-based habit of prescribing prescriptions that has been in the grassroots for decades needs to be broken through. This is in addition to the fact that the regulator has been in the front for many years. Advocating the rational use of drugs also requires entrepreneurs to develop innovative capabilities to develop products that meet this demand and respond to the opportunities that come. Ehomepoct is exactly this bridge. Whether it is information technology, SaaS cloud technology, AI technology or POCT detection technology, they are not the top technology in various industries, but they have been developed mature and reliable. Yihong is using this technology. The transfer of capabilities combined with years of understanding and iteration of the grassroots market gradually mastered the essence to gain a leading position. We believe that this bridge will play a greater role in the future.