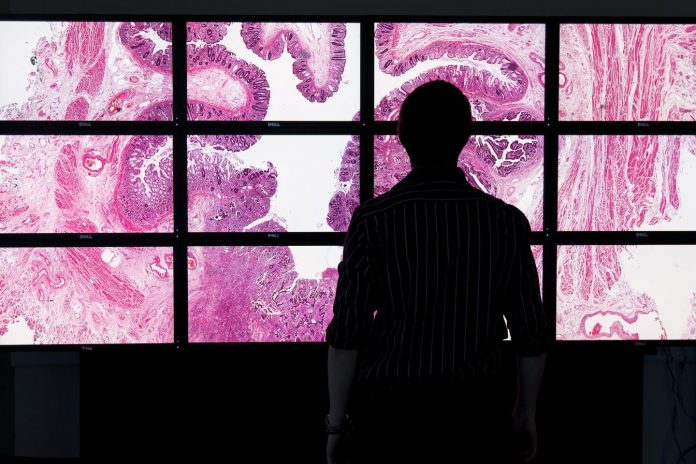 Recently, 91360, which focuses on the development of "Digital Pathology + AI", announced the completion of a new round of tens of millions of financing, led by the Qianzhao Fund. It is understood that this round of financing will be mainly used for product research and development, product chain optimization and upgrading, and deep digging in data value. The company will accelerate the application of artificial intelligence and digitalization in the pathology field, and increase its efforts to build a smart pathology ecological chain.
Qian Zhao Fund, the leading investor in this round of financing, is a fund focused on the pathology industry. In recent years, its affiliated funds have completed nearly 2 billion yuan of investment in the IVD field. The successful completion of the new round of financing reflects the capital market's focus on the future pathology industry and the recognition of 91360's technical strength and commercial promotion capabilities. In addition, since May 2015, it has received angel investors Lu Jianfeng and Hong Ocean Angel Investment, 91360 has successively received tens of millions of investments from institutions such as Wali Investment, Huituo Investment, and Ding Cui Fund.
91360 was established in 2012 and officially launched in 2015. It has been committed to grasping the future development trend of the pathology industry. With "Digital Pathology + AI" as the core, it has built an informatization for the construction of a streamlined, scientific and standardized operation system of pathology The platform is user-centric and quickly responds to users and market needs, providing users with timely, comprehensive, professional and intelligent solutions.
Hu Zhaoming, a partner of Qianzhao Fund, said that in recent years, artificial intelligence and smart medicine have become hot topics in the medical community and the whole society. Pathology has entered the era of digital pathology. "Digital pathology + artificial intelligence" has become a recognized trend in the industry. The future blue ocean of Sino-Wisdom Pathology, especially in the post-epidemic era, the value of companies supporting remote work, promoting internal work efficiency and information sharing is increasingly prominent. As a pioneer in China's Wisdom Pathology, 91360 has accumulated core and powerful resources in the pathology industry for many years. Integration capabilities give 91360 more advantages in professional fields and commercial operations.
Mr. Zhang Guozheng, one of the investors in this round, has extensive investment and management experience. He once served as senior vice president of Fosun Pharma and chairman of Debon Securities. He believes that China's economy has been transformed into consumer services and technological innovation, and the focus of investment should focus on big consumption, big medical care, and big technology. As a leader in the "Digital Pathology + AI" professional circuit, 91360 will gain more favor in the capital market.
91360 founder Di Feng pointed out that in the context of increasing uncertainty in the global market, it can be said that all investment institutions are more cautious and strict than before, and they are more willing to look for opportunities for certainty. Qianzhao Fund's current round of betting funds is a great recognition and trust of 91360, which will also be transformed into a team's driving force.
Giants have entered the game, 91360 comprehensive intelligent pathology digital solutions seize the opportunity
Pathology has always been the "gold standard" in the medical field. However, at present, my country's pathological diagnosis is faced with the problems of uneven distribution of medical resources, a serious shortage of doctors, and uneven levels. The appearance of digital pathology + AI can effectively reduce the waste of pathological diagnosis resources, improve the quality and efficiency of pathological diagnosis, and ease the development dilemma of pathological diagnosis.
Facing the huge potential of the digital pathology + AI application market, Internet giant medical equipment manufacturers, medical image analysis software platforms, third-party detection platforms and other upstream and downstream companies have invested in the "digital pathology + AI industry".
Di Feng told the Arterial Network that although digital pathology has improved the efficiency of traditional pathological diagnosis to a certain extent, at this stage, the development of this technology in clinical application is still at a relatively early stage, and there are still a series of difficulties that need to be resolved.
On the one hand, there is a lack of unified standards for digital pathology equipment from different manufacturers, and the standards for making pathological slices are different among medical institutions, which makes it more difficult to break through the barriers of pathological slice data from different sources. On the other hand, more traditional pathology departments still need to be digitally upgraded, which involves a large amount of capital investment in infrastructure, especially for the primary medical institutions to cause cost burden. "We need to use a more intelligent way to improve the efficiency of digital pathology applications." Di Feng said.
91360 still relies on its own competitive advantages to create a smart pathology digital solution consisting of a smart pathology full-process information solution, a pathology remote consultation solution, and a pathology artificial intelligence solution to empower smart pathology construction.
Specifically, 91360's intelligent pathology full-process informatization solution covers the daily work of the pathology department with the highlights of "creating a paperless pathology department, full tracking of sample status, and full coverage of pathology processes". The pathological artificial intelligence solution was jointly developed by China, Japan, and the United States, with the "high-efficiency and precise assisted pathological diagnosis" to further empower the intelligent pathology department. Relying on 91360 Pathologist Group and partners at home and abroad, through the 91360 Digital Pathology Consultation Platform, domestic medical institutions will be provided with remote pathology consultations, international remote consultation of difficult cases and other services.
Since the pathology teleconsultation solution served the first case in 2015, it has not only effectively alleviated the uneven distribution of domestic medical resources, but also cooperated with Brigham and Women's Hospital affiliated with Harvard Medical School in the United States, Tokyo Medical University in Japan, and Japanese Gastrointestinal Hospital. International resource cooperation has realized the cooperation and exchange of international pathology consultation, and at the same time greatly improved the diagnosis and treatment level of the pathology department.
Di Feng told Art.net that the 91360 team takes "innovation empowers high-quality development of pathology" as the core concept, while focusing on product development, technology, and quality, it also builds a new intelligent pathology ecology with innovative services, and creates online + offline resource docking. The platform, 360° promotes the pathological transformation and development, and cooperates with smart products to create a complete smart pathological ecological chain.
Talking about the future development plan, Di Feng said that 91360 will continue to focus on optimizing the ecological chain, focusing on AI, focusing on information construction, and providing a complete smart pathology full chain solution with standardization, intelligence, and digitization. "Digital solution + pathology expert service + hardware facilities supporting + reagent consumable production + supply chain transformation" to create a complete industrial chain layout in the smart pathology industry and help the future pathology to move forward intelligently.