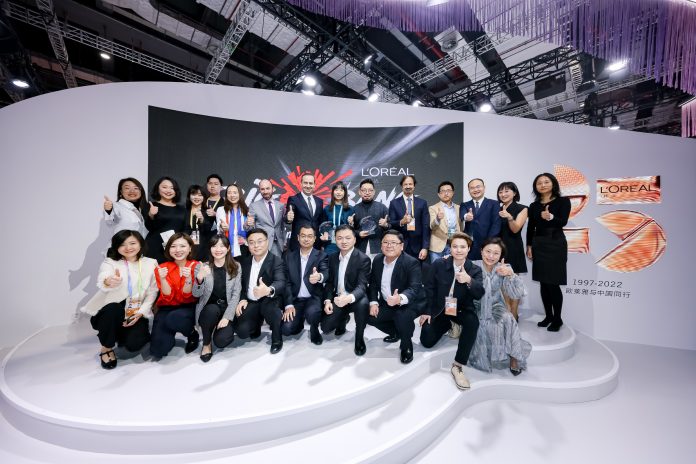 During the 5th China International Import Expo, AYO's innovation partner L'Oréal released the Committed to making the Chinese market the inspiration source for global, L'Oréal, together with its innovation ecosystem partners, brought several investment projects to the exhibition, intertwining opportunities merging from the global with Chinese wisdom.
This year's Big Bang Challenge attracted a total of 414 companies to apply, and after fierce competition, the top 10 companies were finally selected, covering heated tracks including Artificial Intelligence, Metaverse, Synthetic Biology, and Green Science. The winning companies will not only be offered the opportunity to pilot their projects in L'Oréal China but also have the benefit of expanding to North Asia and global markets through L'Oréal's global network, bringing forward-looking beauty technology experiences to Chinese and global consumers.
Since the launch of the first Big Bang Beauty Tech Startup Challenge, L'Oréal has been fully supporting promising startups to commercialize their achievements by pooling resources from all sides, bringing more inclusive, personalized, and sustainable beauty tech solutions to the market. In addition, L'Oréal has joined hands with Oriental Beauty Valley to create China's first beauty technology metaverse roadshow, empowering participating companies to embrace more new opportunities from the public and potential partners.
Another highlight of the event was the showcase of L'Oréal China's first investment company — Shanghai Meicifang Investment Co Ltd. As Meicifang's first venture capital project in China, niche fragrance brand Documents also made a joint appearance. Moreover, L'Oréal's new project "Youth Bang" was officially launched on the stage of CIIE, aiming to empower young entrepreneurs under 30 years old in China to build a more inspiring, passionate, and creative entrepreneurship ecosystem.
Joan Valadou, the French Consul General in Shanghai, Fabrice Megarbane, President of L'Oréal North Asia Zone and CEO of L'Oréal China, and many other leaders and experts attended the event.
"Co-creation lies at the heart of innovating the future," said Fabrice Megarbane at the event, "L'Oréal believes that the future is about technology, shared progress, and belief in the power of beauty. For L'Oréal, China already plays an important strategic role in digital, technology, and sustainability. From the launch of the 'L'Oréal Big Bang Beauty Tech Startup Challenge' to the founding of Shanghai Meicifang Investment Co Ltd, from the investment in niche fragrance brand Documents to today's announcement of the launch of 'Youth Bang', I am really glad to see these investment projects blossoming on the stage of the Expo. With this kind of cooperation, we are confident that L'Oréal will go further in the Chinese market through open innovation. In the future, L'Oréal will continue working with its partners to create beauty and make the world move for it."
Reference:
https://mp.weixin.qq.com/s/AG_hBkk1HY_Bx-PsQYd3Iw
(L'Oréal China Information Center Wechat Public Account)