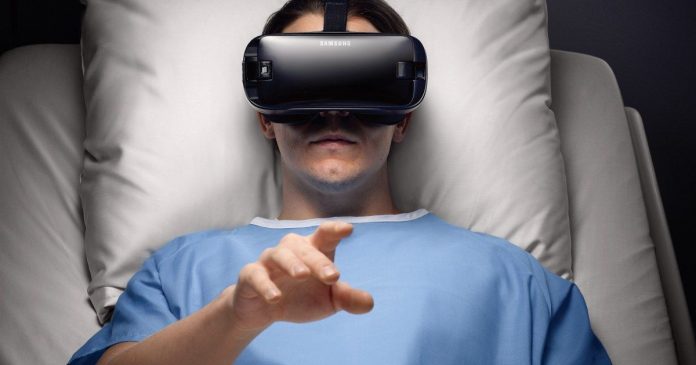 "If you can't make it after spending millions, then quit."
This is one of the hardest words He Chen ever said to Seventh Technology team.
The reason was that Seventh Technology had made an initial product that used cell phone software to treat anxiety and depression. During the development of the product, He Chen found that the threshold of doing software was not high, but later on it still needed to fight capital and traffic, and the further it went, the harder it would be to go.
Then He Chen has been with the major experts to re-discuss the direction of R&D. After several months of discussion, finally found a breakthrough – addiction. Among addictions, drug addiction is at the highest level. He Chen knows that if this piece can be done down, not only for the company is a market opportunity, but also to solve the world problem. But, could he do it with a strong heart? Would it work? It was a question mark.
At that time, Seventh Technology had not yet received its first financing, so it was bold to stop all previous projects, so there was the sentence "I'll admit failure if I don't make it after burning up these millions". Faced with the team's incomprehension, he went to do communication one by one until he was recognized and supported.
After, Seventh Technology team proposed to use VR to treat addiction, and got support from the Quality Analysis Administration and the Chinese Ministry of Justice to help get a number of national experts to argue the program, and the final conclusion was positive. Following this direction, Seventh Technology reviewed countless domestic and international literature, did user interviews, did scene restoration, and slowly made the world's first VR digital therapy product for addiction treatment.
All of the above happened within a year of the company's founding.
In the process of product application, Seventh Technology also discovered multiple needs of users, such as exercise, physical rehabilitation, etc., so it continued to improve the treatment system, and has now formed a VR, exercise, EEG, and other full-system scientific drug treatment solutions, and has done thousands of clinical research cases. The product was evaluated by the Drug Rehabilitation Administration of the Ministry of Justice as one of the "first batch of drug rehabilitation new technology and new method application and promotion projects", leading the country in market share.
In 2018, He Chen and his team discussed expanding the product line to do the brain rehabilitation market. But in the face of the huge market, where to land? Using VR technology or using other means to help patients? Once again, the dilemma arose. He Chen again consulted the nation's top experts in mental and neurological disorders, looking at the disease population, the ratio, the curability, and the synergy, and later decided to cut in from stroke rehabilitation.
When the project started, the team's vision was completely turned upside down. Digital therapeutics is not at all as simple as a game or a piece of software, and it is difficult to advance without the approval of clinical experts, patients, and patients' families on one side. It's not uncommon for programs to be overturned and require constant iteration.
In the end, Seventh Technology directly send the entire team to the First Affiliated Hospital of Anhui Medical University to communicate with patients, their families, doctors, and rehabilitators about their needs for the product.
"The whole team was pressed in there for four or five months. I can't imagine that the team stayed in a small hotel with 30 yuan a bed near the hospital to control expenses. Once near the New Year, team members stood in the snow in front of the hospital and called me crying bitterly, it was too hard to hold on. That's how we came to suffer." He Chen recalled.
He Chen was the director of Alibaba's marketing department, when he was not half as easy as today: "when the establishment of Taobao seller services, at first it was just an idea we had, there was no money, there was nothing. Ma Yun only gave us 200 headcounts, let us play this thing on our own. "
This experience is bitter but also sweet so that He Chen harvested a business partner. The company was founded by Li Hongbo, who had worked in Alibaba Group's marketing department, public relations department, Taobao University, and Tao work department, and had rich experience in business management, website operation, and product innovation, and he was a brother who had fought all the way through.
Today Seventh Technology's stroke digital therapy comes with dozens of gamified treatment plans, with meticulous delineation of each rehabilitation action, taking into account the patient's geographical characteristics, literacy level, cognitive level and other comprehensive factors. Clinical studies have been conducted in tertiary hospitals in Anhui, Zhejiang and Shanghai, and are constantly being iterated and optimized based on the returned data.
Creating a simple and ultimate user experience
Seventh Technology's solution is to keep things simple.
In terms of VR equipment, Seventh Technology investigated and replaced a number of suppliers and finally found a device that was the smallest and lightest to wear, and designed the content to avoid the problem of wearing vertigo to the greatest extent possible.
In the in-hospital or rehabilitation center setting, Seventh Technology only added sensors to the existing rehabilitation equipment. In the home environment, depending on the ability to pay, patients can choose to purchase VR equipment or software embedded in the TV for rehabilitation training.
In terms of content, Seventh Technology has designed targeted training programs for people of different cultural backgrounds and ages. The gamification is designed to be as easy as possible to keep patients happy during training, and the fact that patients are already conscious of exercise further ensures treatment compliance. Training data is comprehensively evaluated and pushed to the patient and family, and sent back to the physician and therapist for feedback on the next instructional program.
This minimalist treatment model breaks the tradition, tedium and inconvenience of traditional stroke rehabilitation. Currently Seventh Technology stroke involves mostly extremity training and covers almost all tertiary hospitals. It will slowly expand to aphasia and functional life rehabilitation, go deeper, and let the products go into community hospitals and towns to open up the market.
In He Chen's opinion, it is necessary to make products according to the standard of tertiary hospitals, but it is unrealistic for all patients to go to tertiary hospitals for rehabilitation treatment. "The future rehabilitation model in China will converge with Europe and the United States and extend to the community. The community is the most concrete place, we will lease the whole set of treatment equipment to the community and help build a rehabilitation center, where patients can feel at ease with their nearby treatment."
Products in place to speed up the marketization process
Seventh Technology's stroke digital therapy products are currently filing for NMPA medical device certification, and have undertaken a pilot project jointly initiated by the National Development and Reform Commission and the National Health Care Commission and landed in Fujian Medical University, and have been used in more than 30 tertiary hospitals nationwide.
On April 15, 2022, Hangzhou Seventh Technology Co., Ltd ("Seventh Technology") signed a strategic cooperation agreement with TMFOX VENTURE PARTNERS. The two parties reached an in-depth cooperation on platform, business and brand, and will jointly promote the overseas promotion of Seventh Technology's series of brain rehabilitation products, which marks the official launch of Seventh Technology's overseas layout of brain rehabilitation digital therapy platform.
At this stage, the domestic market is yet to be educated, while the European and American markets are relatively mature, but both lack quality digital medical products. Therefore, Seventh Technology chooses to develop both domestic and overseas in parallel, and expects to obtain NMPA and FDA certifications respectively within the year to fully start the marketization process.
He Chen believes that with reference to the commercialization experience of addiction products, the revenue growth of Seventh Technology's stroke products will reach an inflection point in the next two years. Seventh Technology is also currently opening a new round of tens of millions of financing plans to expand domestic and international markets, strengthen product development, etc .
"A digital healthcare company is built on time, technology, people and data. It's not just a matter of following the trend and raising money blindly. A truly viable product needs time to prove, and we want to speak with data. This industry is good, really good, we will persistently go on and polish the product to be more accurate and better quality." He Chen is incredibly certain.