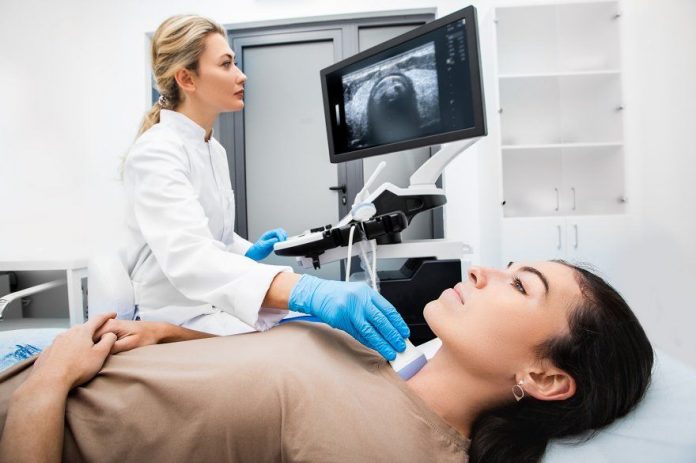 On February 9, 2023, following the $10 billion acquisition of BK Medical, GE Healthcare once again took a shot at the ultrasound track, pocketing AI ultrasound technology developer Caption Health to further ramp up its ultrasound business, which has annual revenues of more than $3 billion.
Although the specific amount of the transaction was not officially disclosed, the event itself is enough to cause industry shock.
On the one hand, GE Healthcare's imaging business has slowed down in recent years, but the ultrasound business still maintains strong growth, and the successive acquisitions have the intention of catching up, which will also effectively promote the implementation of ultrasound in precision diagnosis and portable scenarios, and push the whole ultrasound industry forward.
On the other hand, Caption Health, as a rising star in the field of ultrasound AI, received FDA approval for its core products Caption Guidance and Caption AI in February and March 2020, respectively, and took the lead in starting the commercialization of AI ultrasound in the United States. By merging into GE Healthcare, Caption Health has proven its value in a special way, bringing confidence to its peers in the AI medical track.
On the other side of the ocean, domestic ultrasound AI is also booming, with nearly a dozen companies entering the market, basically covering common applications of medical ultrasound.
What kind of ultrasound-assisted products are more suitable for clinical applications in China? First of all, AI is often used in the more mature radiology department, CT, MRI, DR and other image data acquisition part is completed by the imaging technologist, to the radiologist to read the film, AI processing is static images, do not need to analyze the image in real time. Ultrasound examination generates dynamic real-time images, and image acquisition and reading need to be completed at the same time, so the prerequisite for achieving assisted diagnosis is to achieve "dynamic and real-time detection and diagnosis". This is also equivalent to adding a time dimension to the two-dimensional image processing, which not only requires companies to design multi-step processing algorithms, but also requires additional consideration of the element of computing power.
Second, AI training is based on high-quality data. Due to the browsing and processing storage habits of ultrasound image data, ultrasound images are more difficult to obtain than CT and other data, and the degree of data standardization is lower. The clarity of ultrasound images is dependent on the sonographer's practice and different equipment models. Needed by to give a stronger team of experts to clean and analyze these data, which puts the cost control of the enterprise to the test.
Finally, the algorithm arithmetic self-research needs to take additional risks. In the introduction of medical AI, the vast majority of companies are using open source algorithms, but in the field of ultrasound, there are very few algorithms that can be referred to, and companies need to research their own algorithms from scratch. If the algorithm is too lengthy, the processing speed will be slow; if the arithmetic power is not up to the standard, the algorithm will have difficulty in processing real-time images of tens or even hundreds of frames. In other words, companies need to bear the cost of algorithm research and development, but also need to overcome the risk of not meeting the standards of real-time, dynamic and accuracy.
Therefore the challenge of AI + ultrasound directly dissuades many companies whose technical capabilities are not up to par. Ultrasound's requirements for real-time dynamics are also reflected in algorithm innovation, and it is critical that companies have their own algorithm architecture and support updates and iterations. As the creator of the world's first "real-time dynamic" ultrasound-assisted diagnostic system, Yizhun AI has already laid out multiple parts of the body, including superficial organs, abdominal organs, and cardiovascular organs, and as a company with its own intellectual property algorithm framework, Yizhun AI seems to be approaching Yizhun AI seems to be approaching the "essence of the problem" and trying to solve it.
With over 2 billion examinations per year, there is still room for a huge breakthrough in the ultrasound track
Technical challenges limit the speed of ultrasound AI development, but they also build high technical barriers for companies that break through the many barriers and direct them to a market with unlimited potential.
According to 2018 data from the China Medical Equipment Association, China's ultrasound machine equipment holdings are about 190,000 units, far exceeding DR's 55,000 holdings; CT's 22,000 holdings; endoscopy's 20,000 holdings; and MRI's 9,255 holdings. Only counting the whole body ultrasound, China's annual examination attendance has reached 2 billion, and along with the further improvement of ultrasound clinical recognition, the examination attendance data will progress to amplify.
In addition, along with GE Medical, Philips Medical and other head enterprises continue to research and development, the form of ultrasound equipment and the role of the scene also continue to differentiate.
Ultrasound development is divided into two main routes, a route is in the tertiary hospitals, in AI-enabled, ultrasound value no longer stops at a single imaging device, but becomes a collection of data collection, management, analysis in one, into the depth of learning of the intelligent terminal, its innovation is the integration of software and hardware synergistic innovation.
As an example, many hospitals have the problem of irregular placement of doctors. If we only focus on the hardware, no matter how we iterate, the positioning problem will still exist. To solve this problem, GE Healthcare has introduced artificial intelligence, working with Senographe Crystal Nova AI image quality control system for full-flow mammograms.
Specifically, the AI is a new module of the Nova AI mammography machine, which is based on the "Mammography Standardization Manual" jointly launched by experts from several tertiary hospitals for the examination standard, and can strictly follow the mammography standard, provide intelligent prompting for the whole process of image examination, standardize the operation of mammography imaging technologists, ensure qualified image retention and reduce waste film, while also providing hospitals with It can also provide hospitals with traceable image standard management tools to improve the quality of breast cancer screening from the source of image acquisition and empower accurate diagnosis.
AI ultrasound is also needed in neurosurgery. For example, ultrasound image navigation can provide accurate cranial site and lesion localization for neurosurgery and develop surgical plans, which is an important tool for minimally invasive neurosurgery, especially "locked hole" surgery, thus improving the quality of neurosurgery and reducing collateral damage based on accurate positioning. In breast surgery, the use of ultrasound can improve the efficacy of breast-conserving surgery, significantly reduce tumor retention rates and the rate of reoperative resection and volume of the resected specimen.
Anesthesiology is a potential scenario for future applications of ultrasound. the application of POC ultrasound in anesthesiology is focused on ultrasound-guided vascular puncture, nerve block and intraoperative transesophageal cardiac ultrasound (TEE), aiming to improve the safety of anesthesia operations and the accuracy of organ function assessment. This is different from ultrasound for disease diagnosis. the role of AI in this allows for trauma identification, image alignment/fusion, systematic quality assurance, sweep assistance, and Doppler noise suppression.
Another major route is buried in the primary care scenario. In the domestic medical system, there are nearly 900,000 primary care institutions in China, and among the three links of medical, pharmaceutical and inspection, AI ultrasound aims at the link of "inspection", which is expected to become a "visual stethoscope" for primary care doctors.
Unlike the tertiary hospital scenario, primary hospitals not only need AI to improve "accuracy", "efficiency" and other indicators, but also need a regulatory process for quality control of the ultrasound examination process, to solve the problem of incorrect positioning and unclear images. In addition, the education module is also essential. Only by improving the service capability of primary care doctors can we fundamentally solve the problem of lack of primary care resources.
Overall, the fragmented market gives AI ultrasound more room for development. Automated image quality assessment, image standardization processing, image outlining, automatic measurement, aided diagnosis, and surgical navigation …… all require AI intervention to play a valuable role. The ultrasound doctor of a tertiary hospital in Beijing said in an interview that when AI empowers ultrasound, it dynamically assists doctors in real-time to detect and analyze lesions, providing ultrasound doctors with a "second pair of eyes", which is also "beneficial" for the improvement of ultrasound detection and diagnosis capabilities in primary care institutions. This is also a "welfare" empowerment for the improvement of ultrasound detection and diagnosis ability in primary care institutions.
When digital empowerment has become a certainty, the future development of AI ultrasound is promising in both directions.
Although Caption Health has taken the lead in making revenue with its FDA certification, domestic AI ultrasound companies are not too far behind in commercialization.
Yizhun AI is able to achieve real-time dynamic intelligent detection and analysis of ultrasound images (including abnormal site marking and analysis). According to Lv Chenchong, founder and chairman of Yizhun AI, Yizhun AI ultrasound AI products have been applied to many parts of the body, such as breast, thyroid and abdomen, and are being laid out to multiple parts of the body, currently covering more than 400 medical institutions nationwide.
On the other hand, Yizhun AI has established a partnership with GE Healthcare. With the mature channels and massive landed devices of device manufacturers, AI companies can realize commercialization at relatively low cost and put more energy into the research and development of new products, while medical device manufacturers can also build AI ecology and accelerate the completion of intelligent transformation of devices in this way, so a mutually complementary partnership is gradually being established. Therefore, a complementary partnership is gradually being established.
Reviewing the three directions of application scenarios, market size and development potential, we may already have companies that are comparable to Caption Health, and are even expected to create a richer matrix of AI ultrasound products within a few years.
This means that both ultrasound AI and ultrasound itself are penetrating the Chinese healthcare system, and more patients are benefiting from the popularity of AI ultrasound and ultrasound.
However, it should also be noted that although the landing of AI healthcare, including AI ultrasound, is inevitable, it is a long-term, subtle process. Technical breakthroughs can help companies quickly come up with products, but it is difficult to help them educate the market and take the market.
Revisiting the entire healthcare AI track, it may be a good thing to fall back from the rapid development of 2017-2019. After giving up on disrupting healthcare, AI medical companies are working with clinicians and with device manufacturers to get out of their own AI speed and use AI-enabled ultrasound devices to help solve the many problems facing the healthcare system.