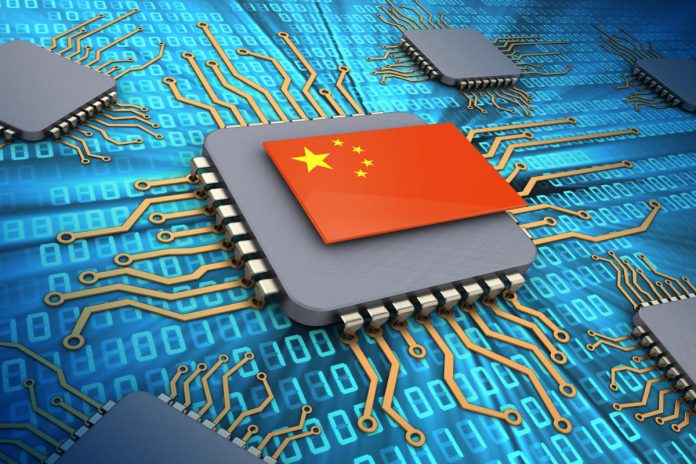 The tragedy of the Covid-19 outbreak has provided an opportunity for many digital health technology companies in China to assert their relevance beyond their expectations. Several technologies have played a key role during the outbreak which will promote the development of the entire market (Zhong Zhenshan, IDC's vice-president of emerging technology research)
The stage of development of China's digital infrastructure combined with vast numbers of internet users (817 million mobile internet users SCMP) has resulted in an explosion in the numbers of Chinese medical Ai companies, with the potential to roll out solutions faster than anywhere in the world.
[Image of Chinese digital health company map – Layers of Apps, Technology & Infrastructure]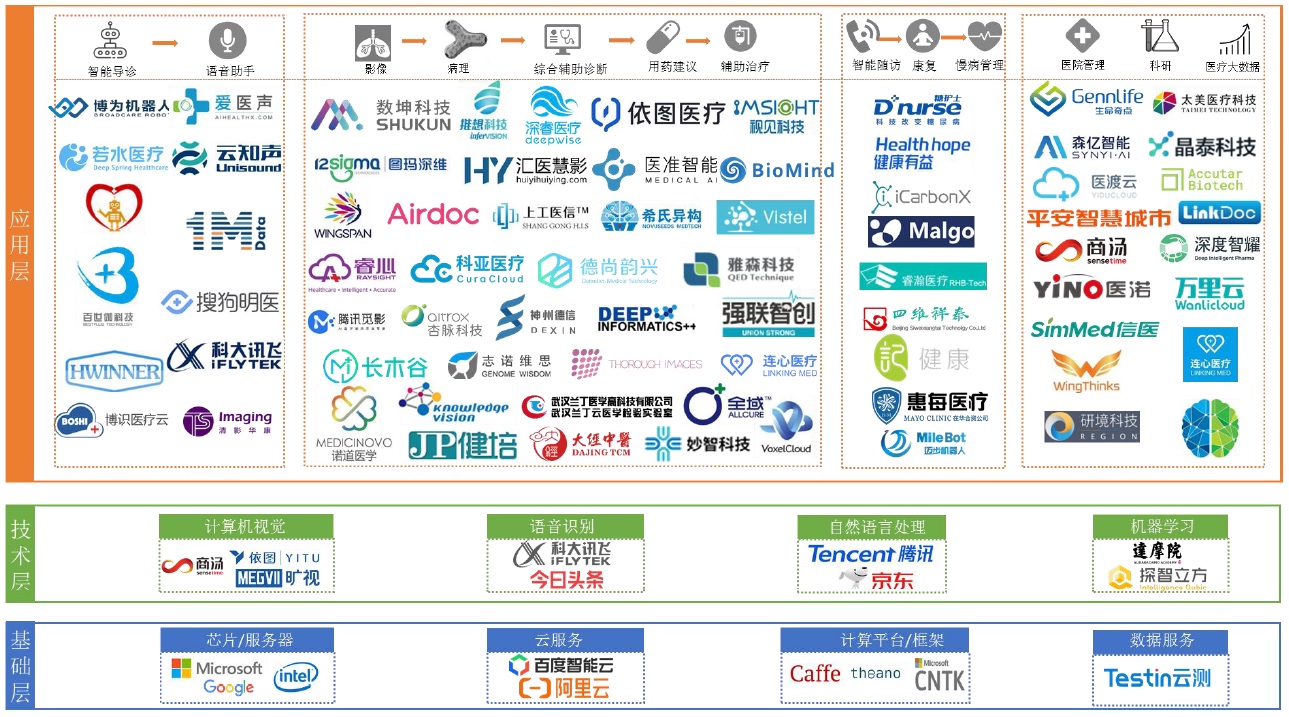 Digital Outbreak Monitoring
At the early stages of the outbreak in China, DXY 丁香园 was able to quickly launch a real-time dashboard map of new cases by city and province. This was widely shared and now has almost 3 billion views, providing a much needed service to citizens desperate for reliable information. In turn raising the profile of DXY's physician network.
[Image showing DXY Real-time dashboard]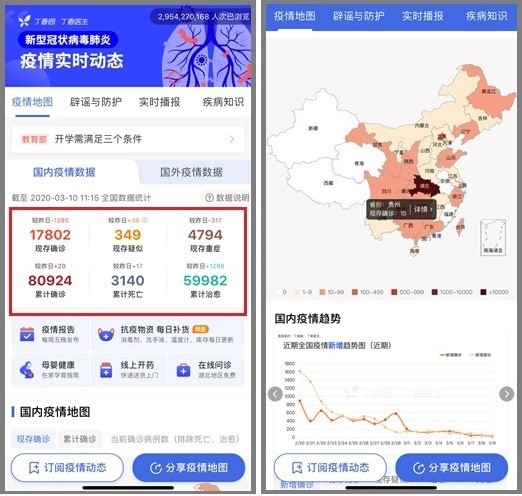 Current cases
Current suspected cases
Current severe cases
Cumulative cases
Cumulative mortality cases
Cumulative cured cases
CT Image analysis
 As the number of cases grew exponentially, Chinese hospitals quickly experienced the limiting factors of nucleic-acid tests (NAT) which although is the standard test, has long detection times and may lead to a high proportion of negative cases, resulting in some patients missing the window for early treatment or quarantine. Research by the (Lancet, January 24th) noted that most coronavirus patients had abnormal findings on their chest CT scans, so Chinese doctors started to screen for pneumonia with CT scans then isolate them as quickly as possible. However, there were simply too many CT scan images for doctors to examine. To address these diagnostic challenges several Chinese AI companies offered their solutions.
YITU Technology 依图 (Shanghai) launched an AI-powered screening and diagnosis platform which in 2-3 seconds can classify patients by virus severity so that corresponding treatment options can be given. It is not relied open to give a definitive diagnosis, but for diagnostic decision support. More than 100 hospitals in China have been using this system since early February, including the Shanghai Public Health Clinical Center, which has used the system to diagnose more than 70 cases of pneumonia caused by the novel coronavirus.
[image shows A doctor in Shanghai Public Health Clinical Center using YITU's AI-powered screening and diagnosis platform for the novel coronavirus pneumonia]
Ping An 平安, launched its COVID-19 smart image-reading system on February 19, which was developed by Ping An Smart Healthcare, the smart health care team of subsidiary Ping An Smart City.
"Since its launch, the smart image-reading system has provided services to more than 1,500 medical institutions. More than 5,000 patients have received smart image-reading services for free. The system can generate smart analysis results in around 15 seconds, with an accuracy rate above 90%."  (Geoff Kau co-president and chief strategy officer, Smart City division)
Alibaba 阿里健康 diagnoses algorithm was developed by Alibaba's research institute Damo Academy, which it established in 2017. It claims to be 96% accurate at detecting coronavirus in CT chest scans of patients with viral pneumonia. The system was trained on images and data from 5,000 confirmed coronavirus cases. At least 100 healthcare facilities are currently employing Alibaba's AI.
Smart temperature detection systems
One day after the city of Wuhan was quarantined, Megvii, 旷视 started working on a smart temperature checking solution that could scan large crowds. 100 R&D staff and 10 days later it was deployed in some of the subway stations of Beijing. Capable of scanning the body temperatures of 15 people every second, at a distance more than three meters, with a margin of error of 0.3 degree Celsius, while supporting up to 16 camera feeds in a subway station. Significantly reducing the need for tediously slow and risky one to one checks.
SENSETIME商汤 -Ai intelligent epidemic prevention solution, uses face recognition algorithm and thermal imaging intelligent temperature measurement technology. It can display various information in addition to temperature, such as their identity and if they are wearing a mask.
[Left is display of Megvii's AI-enabled temperature detection system, Sensetime on right]

TeleDoctor
Ping An Good Doctor 平安好医生, China's largest health care platform is providing free online and telephone consultations to people concerned about catching Covid-19 and reported a surge in online consultations and new users. "Throughout the coronavirus outbreak, it has been demonstrated that online medical consultation is an efficient, convenient method that allows [suspected] patients to avoid catching infectious diseases," (Wang Tao, chairman and CEO Ping an Good Doctor).
WeDoctor 微医 online consultation platform also has been used for patient education to reduce the cross-infection rate of patients in hospitals and relieve the pressure of medical staff in Wuhan and other places. Offering free online consulation as epidemic relief.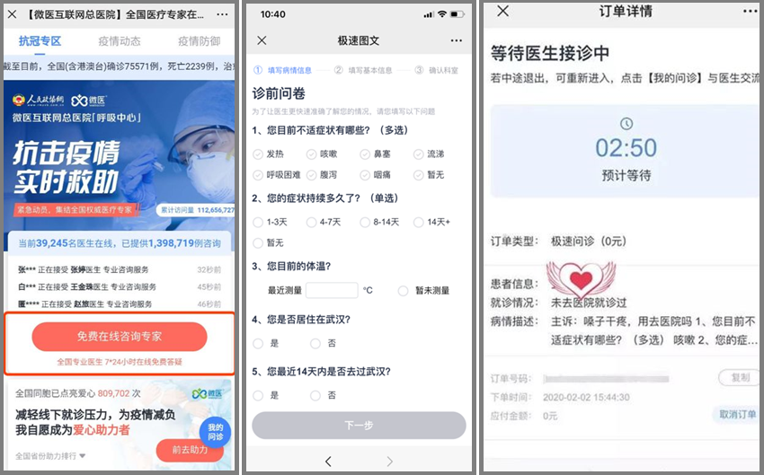 Linkdoc 零氪科技 in addition to an CT Image analysis software, they have added a patient management platform to record the characteristics of patients and a treatment plan. Then using their experience in patient follow up to provide psychological education and prognosis management with telephone consultation.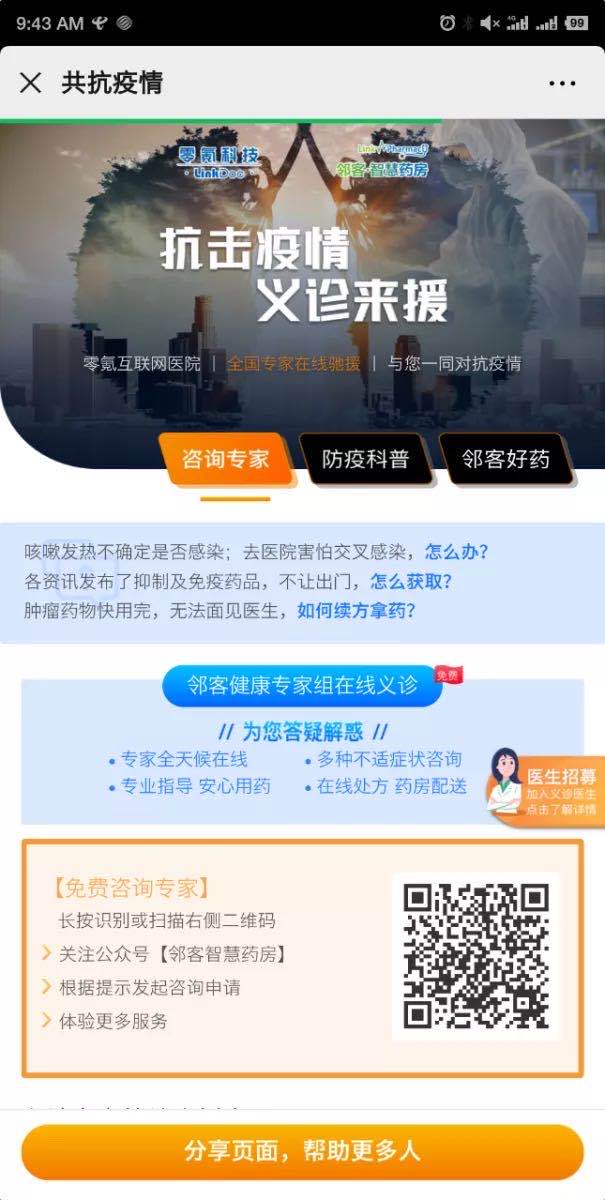 Chatbots
Iflytek 科大讯飞(Anhui) have several hospital automation solutions as part of their internet hospital package. including CT image analysis, robotic hotline analysis to monitor the concerns of callers in relation to the epidemic. Their most used solution in China during the outbreak is chatbots that do outbound calls to high risk population like non city resident, those under quarantine or that have had close contact with infected people. Not only to understanding their identity but also their location and status of health. Chatbots also used to send notifications and education messages via SMS or phone call to city residents. This solution has been used in several cities in China. 10+ million calls made, and 17+ million SMS sent in February. Identifying over 30 suspected cases and over 2k confirmed infected people.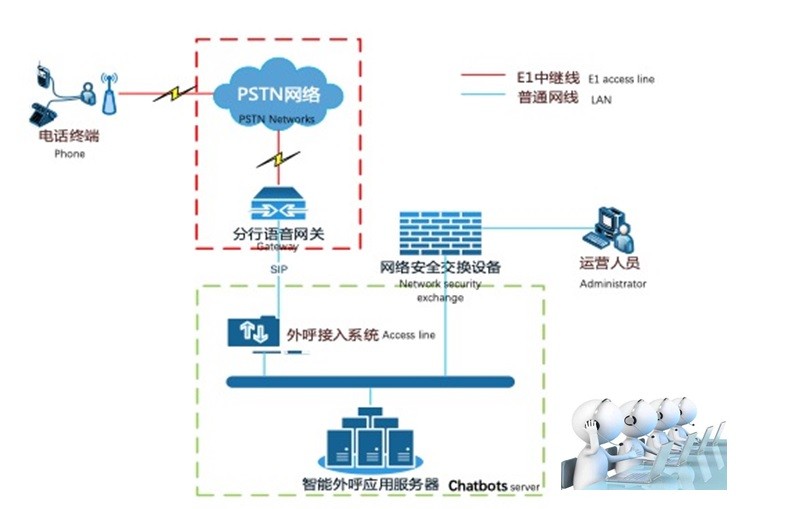 Health Status QR code (available via Alibaba and Tencent )
Jointly developed by government departments, the CETC (China Electronics Technology Group Corporation) and supported by data from health and transport authorities. citizens are encouraged to use functions now built into Alipay and Wechat, in order to gain access to buildings and some other areas
A personalized QR code is generated to advise individuals of their 'Risk status' displayed in a three colour code display' by incorporating geolocation data (provided by telcos), proximity threat assessments (to infected individuals) and local and national public administration health data, In Shanghai, the QR system is called Sui shen ban(随申办) and the code assigned called Sui shen ma(随申码).

In the battle against the coronavirus, China's digital health sector has stepped up to provide valuable tools in support of its overloaded healthcare system. Some of these tools may offer useful examples to other regions as the virus extends its global reach.