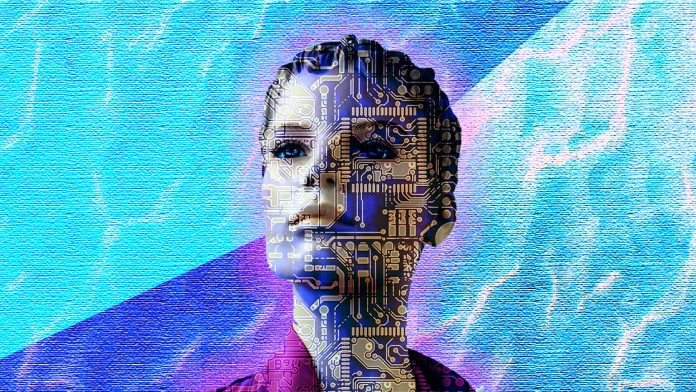 Today, the artificial intelligence industry is endless. The combination of AI and various industries has created a new ecology that was unimaginable in the past. As far as AI + medicine is concerned, from early drug development to clinical decision support systems, it can be clearly seen how AI can improve efficiency and reduce costs for various medical links. AI is constantly creating new possibilities and values ​​for medicine.
In the field of pathology, the concept of "pathological digitization and intelligence" has continued to increase in recent years, especially the combination of AI + pathology, which has effectively promoted the pathology to digital diagnosis and liberated doctor resources.
"Dr. Lan (AI pathologist) is a product that fully integrates AI and pathology. Taking tissue pathology as the entry point, it applies the most advanced big data and deep learning methods. Its use will greatly improve the work of clinical pathologists. Efficiency, make up for the lack of pathology department personnel, low efficiency and other issues. "Zhou Yijian, CEO of Biolanci co-founder, said.
According to Zhou Yijian, co-founder of Biolanci, Dr. Lan (AI pathologist) is a tailor-made for traditional pathologists who use a microscope. It integrates digital full-slide imaging, intelligent early warning of histopathology, and automatic generation of pathological diagnosis report templates. Commonly used functions in one product can reduce the work pressure of the pathologist and enable the doctor's energy to be used on the "blade". The product also supports remote pathological consultation, assists in graded diagnosis and treatment, and assists pathologists in primary hospitals to make fast and accurate diagnoses. The equipment can widely serve the needs of pathology, teaching, scientific research, clinical and other work.
The "initial heart" originated from the clinic: the extreme lack of pathologists, the technology is expected to be combined
In the medical world, pathological diagnosis is the "gold standard" for medical diagnosis and the cornerstone for doctors to treat patients correctly.
The lack of staff in the pathology department is a typical pain point in the pathology industry. According to the disclosure of the Pathology Branch of the Chinese Medical Association, in 2019, there were more than 4,900 pathology departments and more than 17,000 doctors in the country. The number of pathologists is more than 13,000. According to the statistics of job titles, pathologists account for 9.8% of senior titles, 19.5% of deputy senior titles, and 70.7% of intermediate and below titles. Most of them are junior personnel who have just entered the entry threshold; senior pathologists Professional titles account for 4.5%, and intermediate and below account for 95.5%.
Judging from the academic data, among pathologists, doctoral students account for 11%, master students account for 33%, and undergraduate students account for 56%. Among pathologists, doctorate accounts for only 1%, master degree account for 8%, and bachelor degree or below account for 91%.
It can be seen that the pathology staff is not only lacking, but also highly educated talents are lacking. It is difficult for current pathology staff to meet the number of talents required by the pathology department in the new era.
According to Zhou Yijian, co-founder of Biolanci, Biolanci was originally created from the need for clinical pain points, hoping to use AI technology to empower pathology and make up for the shortcomings of pathologists.
Lung cancer is one of the fastest growing morbidity and mortality rates, and the most threatening to the health and life of the population. In recent years, the morbidity and mortality of lung cancer have increased significantly, and the number of lung cancer patients has been increasing year by year. Most of these patients are not timely and early to the end of life because of early detection, and early diagnosis and early treatment are the key to increasing the survival rate of lung cancer. . Unfortunately, the extreme lack of pathologists often causes delays and untimely treatment.
"Often patients are in the middle and late stages of the disease when they are transferred from the grassroots to the higher level hospital. It is difficult to treat. In the face of this dilemma, we dream of one day to integrate scientific technology and medical data resources to effectively improve the efficiency of lung cancer diagnosis, thereby benefiting patients. To reduce the burden on doctors. This is Biolanci's original intention to be an AI pathologist. "Zhou Yijian, co-founder of Biolanci, said.
From dreams to products, not only doctors' feelings, but also scientific guidance, engineering accumulation and market wisdom are needed. Since 2014, Biolanci has been preparing, forming teams, and preparing for technology. In 2018, Biolanci was formally established, and the company brought together a group of highly sophisticated talents from medicine and engineering.
Medical experts include national committee members of the Chinese Medical Association's Pathology Committee, well-known pathologists and post-doctoral fellows in the United States, young experts and scholars from the School of Oncology at Sun Yat-sen University, and pathologists from the University of Minnesota Medical College and Emory University students from the United States. ; Engineering experts come from several colleges of National University of Defense Technology. Their professional directions include artificial intelligence target recognition, visual signal processing, high-performance computing, and automatic control. They have nearly 20 years of military product development experience.
In addition, he has rich experience in operation and management in the field of Internet hospitals, medical consortiums and digital medical services. The original co-founder of Weiyi Beilian (Weiyi Internet Women and Children Hospital) joined in partnership to build an operation team to Biolanci has built operational advantages.
AI cracks the pathological "dilemma": combining medical and business, launching pathology-assisted diagnosis system
From the perspective of disease diagnosis, histopathological examination is undoubtedly the gold standard for diagnosis, and it cannot be replaced by any other examination items.
Traditionally, pathologists use a microscope to observe the cell morphology and cell structure on glass pathological sections. The reading efficiency is low, the information transmission is difficult, and the rate of missed diagnosis and misdiagnosis is high. At present, the development of pathology departments in primary hospitals in China is obviously lagging behind. On the one hand, there is a great shortage of pathologists. On the other hand, the distribution of pathologists at all levels of hospitals is extremely uneven. Caused a serious overload in the pathology department of large hospitals, and the phenomenon of Mencora in the pathology department of primary hospitals.
In addition, a large number of high-throughput scanners of different brands have emerged on the market. Such scanners have not fundamentally reduced the workload of pathologists, but have lengthened business processes and increased the complexity of the work, which has not attracted pathologists. force.
"The pathological diagnosis is decisive and authoritative and of great significance. The current AI solutions mainly focus on relatively easy-to-implement cytopathology, and the histopathology that is in urgent need is rarely appreciated due to the difficulty." Zhou Yijian, co-founder of Biolanci Said.
Based on this industry and market background, the Biolanci team has used many years of professional basic advantages in artificial intelligence and digital pathology to start from histopathology, creating a multi-function that integrates full-slide microscopy imaging, AI-assisted analysis and diagnosis, and remote consultation. All-in-one multi-type intelligent pathology equipment-AI pathologist. The device can help pathologists more easily complete the complete business process from digital reading to difficult pathological diagnosis, fundamentally reduce the work intensity of pathologists and alleviate the pain points of serious shortages of pathologists.
Dr. Yu Li, CTO of Biolanci co-founder, said that at present, AI pathologist products are designed according to user needs. One is inclusive type, which has good efficiency and low cost, and is mainly used in grassroots hospitals. The other is complete function and excellent performance. The high-end version of the software can complete the functions of scanning storage and intelligent auxiliary diagnosis. The integration of software and hardware can complete the scanning and report in real time. The recognition rate of breast cancer can reach 96% and the specificity reaches 90%.
"The advantage of the AI ​​pathologist is that for doctors, it reduces the workload, improves speed and accuracy, and improves the long-term scarcity problem of pathologists; for patients, it can be faster and more accurate. Diagnosis, early detection and early treatment. "Said Dr. Yu Li, CTO of Biolanci co-founder.
She said that thanks to many years of military background, the AI ​​pathologist not only has outstanding performance, but also has very good cost control. At present, the product has been tried in cooperative hospitals such as the Second Xiangya Hospital of Central South University, Hunan Cancer Hospital, Miluo City People's Hospital, Jiahe Hengjia People's Hospital, and has shown stable and reliable performance.
In addition, Biolanci has cooperated closely with MSKCC in the United States and the University of Eindhoven in the Netherlands, and has successfully hosted the ISBI ACDC Challenge.2019, one of the three top academic conferences in the field of biomedical imaging, which has won wide attention from researchers at home and abroad. Published the world's first lung cancer histopathological artificial intelligence recognition paper (arxiv: Computer-aided diagnosis of lung carcinoma using deep learning – a pilot study). At present, it has applied for 3 related invention patents, 4 utility model patents, and 2 software copyrights.
Dr. Li Yu, CTO of Biolanci co-founder, said that this product of AI pathologist is expected to get the NMPA Class II device registration certificate this year.
For the next stage of the plan, Zhou Yijian, co-founder of Biolanci, said that after obtaining the NMPA certificate for the first-generation products, he will work closely with large tertiary hospitals, prefecture-level hospitals, and county-level hospitals in Hunan Province.
In terms of financing, the company plans to open PrA round of financing this year. After obtaining financing, it will fully expand the team and strengthen the construction of cutting-edge technical talents for product research and development. The business scope of future products plans to cover histopathology, cytopathology, molecular pathology, intraoperative freezing, precision diagnosis and treatment and remote consultation and other fields.
In terms of product layout, a matrix product line will be built. In addition to pathology, two product lines will be opened for static analysis of sperm and chromosome morphology detection. The product design has been preliminarily completed, and several large reproductive centers have been docked, with a broad market prospect.
In terms of market expansion, integrated and multi-disorder intelligent diagnostic equipment will enter the market within the next two years; the main product will open a global agent recruitment model; build one (or more) third-party pathology centers / precision medical wards and extend to ten hospitals ; Expect to complete the construction of a "multi-disease" hospital big data platform; plan to complete the construction of a medical big data platform with four major operating modules; embark on the establishment of overseas subsidiaries and overseas market operation centers; complete the perfection from scientific research and development to commercial operation Transformation, etc.
"Our goal is to become a first-class supplier of AI pathology solutions and create domestic industry standards for histopathology and immunohistochemistry AI applications." Said Zhou Yijian, co-founder of Biolanci.