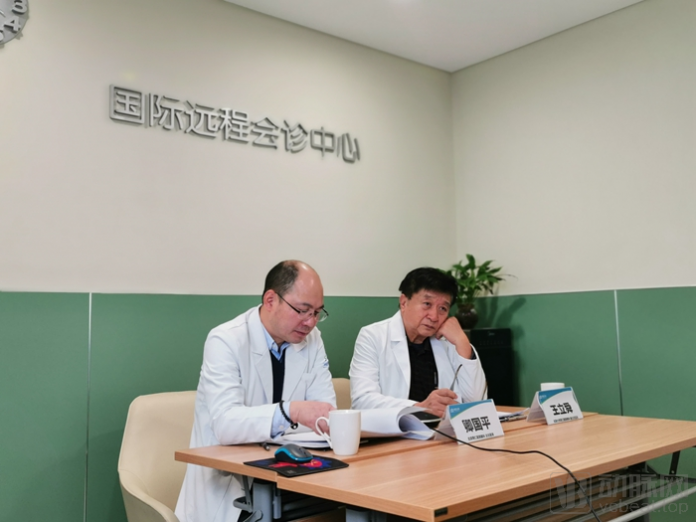 On December 30, 2019, at the Xidan International Building in Beijing, a multi-disciplinary remote consultation was being conducted at the Beijing Micromedical General Center. After hearing the diagnosis from Beijing ophthalmologists, Mr. Jiang, who was far away from Changsha, Hunan, was relieved. He has been troubled by eye diseases for a long time, and finally found the cause. His vision is expected to recover soon.
It is understood that Mr. Jiang's eyesight suddenly dropped early last year, and it dropped from 1.5 to 0.1 in only half a year. Tinnitus, dizziness, chest pain and other symptoms made Mr. Jiang sleep all night. Seeing that his vision was still declining, Mr. Jiang still could not find the cause between the hospitals in Guangdong and Hunan.
After understanding the condition of Jiang, Hu Rong, the ophthalmologist of Hunan Provincial People's Hospital, initiated a Remote Multidisciplinary Consultation (MDT) request to Beijing Micromedical General Center to connect with Beijing Tongren Ophthalmologist Qing Guoping and Peking University Third Hospital Orthopedic Expert Wang Lishun Micro-medicine general expert. After full communication, experts helped patients find the most likely cause of patients' vision loss, and formulated corresponding auxiliary examination, treatment and rehabilitation programs. The patients agreed with the consultation program.
Such a remote multidisciplinary consultation scene is not uncommon at Beijing Weiyi General Medical Center. Since obtaining the first Internet diagnosis and treatment license issued by Xicheng District Health and Health Commission in August 2019 and launching the Internet diagnosis and treatment base, Beijing Micro Medical General Center has conducted many remote consultations, providing patients who repeatedly seek medical treatment but cannot be confirmed. Convenient access. "
It is understood that such multi-disciplinary consultations are also one of the series of public welfare actions of the "Hundred Cases of Famous Doctors with Difficult Diseases" initiated by the People's Daily "Health Times" and Weiyi.
In recent years, the number of diagnoses and treatments in China has increased rapidly, and higher requirements have been placed on limited medical resources. It is also more difficult for the big experts to find the patients who really need it.
After the launch of Beijing's first Internet diagnosis and treatment base, the diagnosis and treatment capabilities of top experts in Beijing's top three hospitals can be smoothly connected through digital networks. Experts from all major hospitals can practice online at Beijing Micro-Medical General Center. "Offline" approach will sink high-quality medical resources and provide diagnosis and treatment of difficult diseases for the people in the country.
As a strong support for the Internet diagnosis and treatment base, Weiyi, a digital medical platform, has 200 million real-name registered users, connecting more than 3,200 hospitals and more than 300,000 doctors in 30 provinces across the country. Relying on physical medical institutions, Internet hospitals and numerous expert resources in many cities across the country, it can accurately match multidisciplinary experts in a short time, and provide users with professional, efficient, and comprehensive medical and health services.
After participating in two long-distance multidisciplinary consultations organized by Beijing Micromedical General Center, Qing Guoping said that the Internet has shortened the distance between doctors and patients and helped patients to consult online, which is something worth promoting. At the last consultation, Qing Guoping encountered a very rare case, and after careful communication with another chief physician in neurology, he finally carefully wrote down the consultation opinion.
For young doctors, remote multidisciplinary consultations are a rare learning opportunity. Hu Rong said that through the Internet connection, discussing each case with experts in different regions is also a process of research and relearning, which helps to improve his own knowledge and ability in disease diagnosis and treatment.