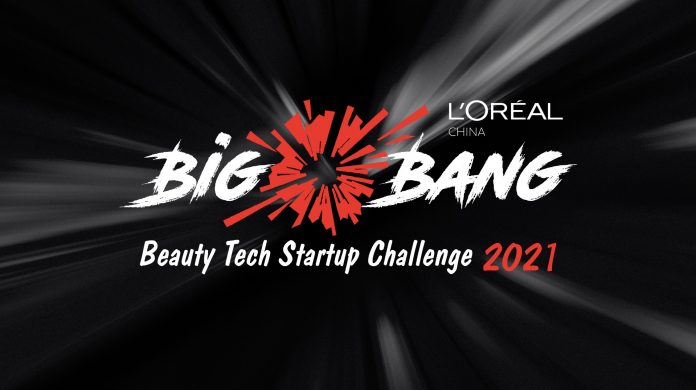 Shanghai, May 18, 2021 –– AYO's Innovation partner L'Oréal China officially announced the launch of the "2021 BIG BANG Beauty Tech Startup Challenge". As a leader in the beauty tech ecosystem, L'Oréal China launches the second BIG BANG Beauty Tech Startup Challenge and invites domestic tech startups to participate and jointly explore and incubate revolutionary beauty tech solutions. Based on last year, the "2021 BIG BANG Beauty Tech Startup Challenge" is fully upgraded. This year, L'Oréal China cooperates with "The Oriental Beauty Valley" to provide special funds, key resources and professional counseling for incubating startups to help BIG BANG become the engine of China's beauty technology innovation. Also, with the cooperation with "Business France", L'Oréal China is dedicated to empowering the flow of innovation elements such as technology and talents. While further helping China become the world's innovation center, it also helps international startups to accelerate the implementation of innovative ideas with the help of China as an innovative country.
At the launching ceremony, Fabrice Megarbane, President North Asia Zone and CEO of L'Oréal China delivered a keynote speech. At the speech, he emphasized that: "For more than one century, L'Oréal has always been exploring and defining the future of beauty. L'Oréal is also committed to the transformation of beauty technology and regards China as a key link in L'Oréal's global beauty technology loop."
This year's challenge has established three tracks: Phygital Consumer Beauty Tech, Operation 4.0 Beauty Tech and Future Science, which focus on the three priorities of beauty tech innovation: consumer experience, supply chain operation, and future product with the new form, new function and new experience. The objective is to put out commercial applications within one year at the earliest to quickly reach the Chinese consumer market and looking forward to promoting these innovations to other markets around the world.
The result from 2020
As the first beauty technology startup challenge in China's beauty industry, the first BIG BANG attracted more than 500 technology startups across the country. In the end, 10 startups successfully launched POC projects with L'Oréal China and received full support from L'Oréal China including market insights sharing, product positioning guidance, marketing strategies teaching, patent deployment, media communication, and POC budgets.
BIG BANG Beauty Tech Startup Challenge is L'Oréal China's first step to build a beauty tech ecosystem in China, and the latest practical of its new strategy in china, the 'HUGE Strategy', which is centered on the core concepts of co-creation, inclusiveness, and the ecosystem.
Any startup who is interested to participate in the "2021 BIG BANG Beauty Tech Startup Challenge" can directly contact AYO to get your ticket to BIGBANG 2021!
BIGBANG 2021 Wechat Mini Program Link